The kitchen can be the heart of the home. Creating the right environment and ambience is important, so that you can enjoy cooking and quality time with friends and family.
Pendant Lighting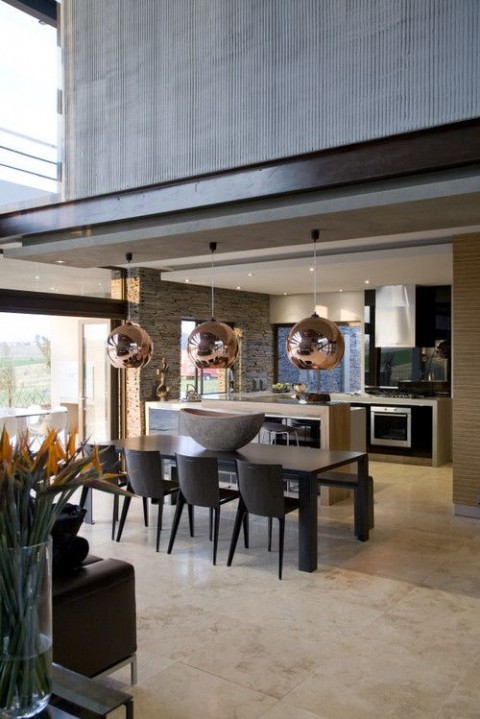 Image Source
I have a very eclectic taste, so would happily like most styles of lighting, my biggest problem would be wanting to swap them about and often change the style.
That is one of the great benefit of pendent lights, it is so much easier to swap around styles and colours depending on how the mood takes you and how often you redecorate your kitchen.
When it comes to the number of options for kitchen pendant lighting, it can depend on what style you want for your kitchen, but the choice of colour and styles are endless. I personally still very much like the copper or brass pendants that have been very popular this last year.
---
Chandeliers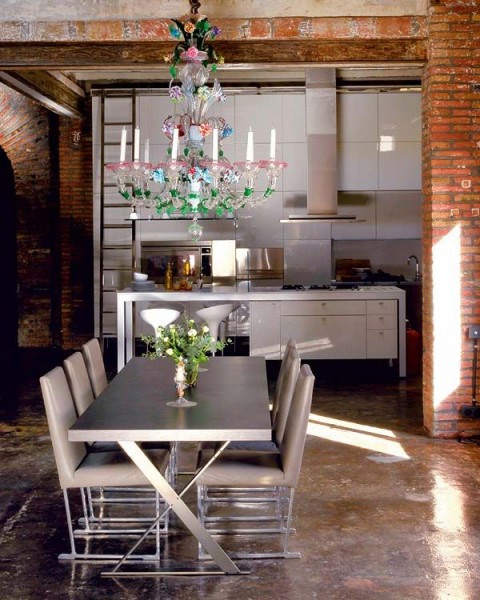 Image Source
This chandelier looks quite kitsch, and in some ways is quite a shocking contrast up against a stylishly sleek kitchen, and industrial looking apartment.
For me, it is such a juxtaposition that it works. Each item in the apartment stands out as a well thought out design choice, and the owners have produced a stunning looking kitchen diner, but the chandelier is the star, the centre piece, the conversation piece and for me the item that would make me smile every time I entered the room.
---
Recessed Ceiling Lighting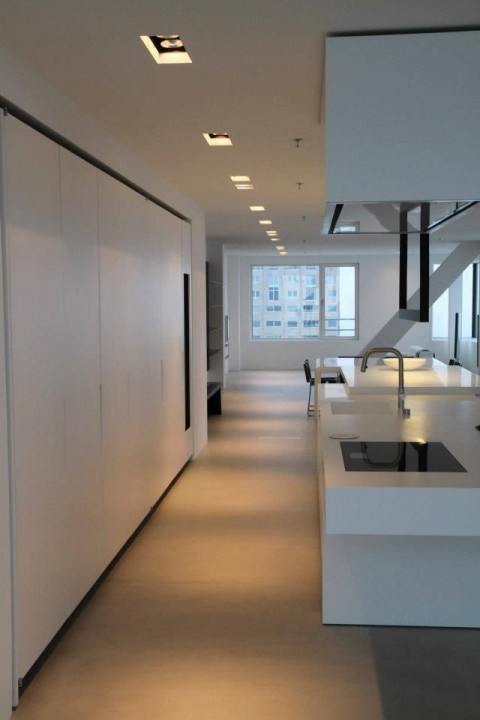 Image Source
When looking for a minimalist sleek look it's popular to use recessed ceiling lights (also known as down lighting), as they keep the design simple, yet at the same time still serve their purpose of lighting up the desired space.
Plus depending on the required look, if the bulbs are a warm light, they can soften what could be a stark looking kitchen.
---
Plinth Lighting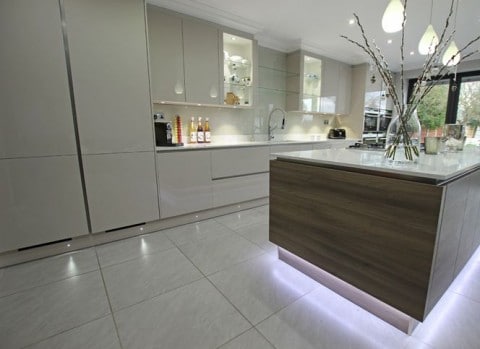 Image Source
Again a brilliant way to add lighting and warmth into a room is to use recessed lighting, but this time they are placed along the plinths between the kitchen units and the floor.
---
Table Lamps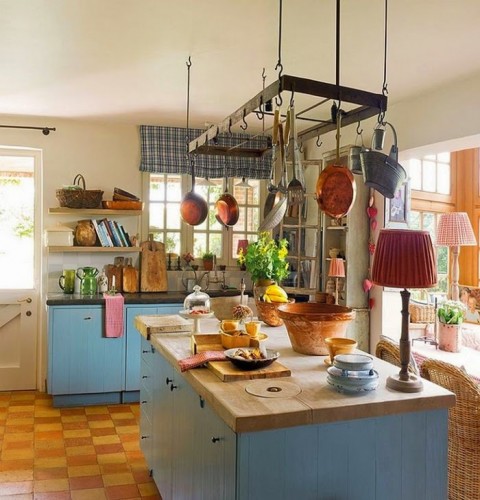 Image Source
Especially if your kitchen is a kitchen dinner, do not feel you can't have a lamp in there just because it's a kitchen. The light from a lamps can add an ambience to any room, plus it's easy to move around the kitchen as and when you need it.
---
Kitchen Cabinet Lighting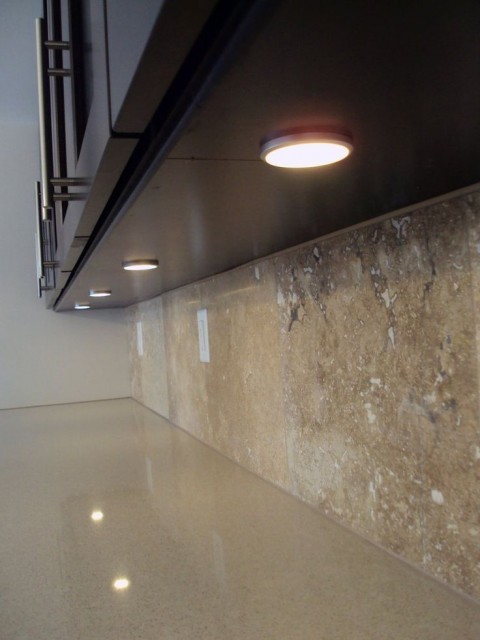 Image Source
Kitchen cabinet lighting can really help when preparing food in the kitchen, as the beam of light is positioned a lot nearer to the kitchen work surface than a ceiling light.
You can have kitchen cabinet lights placed professionally when you have your kitchen fitted, but if you were looking for an easier option you can also fit them yourself with no electric rewiring involved.
You can either get the individual battery powered led lights that stick onto the underside of the cabinets, or you can attach a strip of lights that have a power cable and plug attached, so that you can plug them into the nearest plug socket
---
Floor Lamp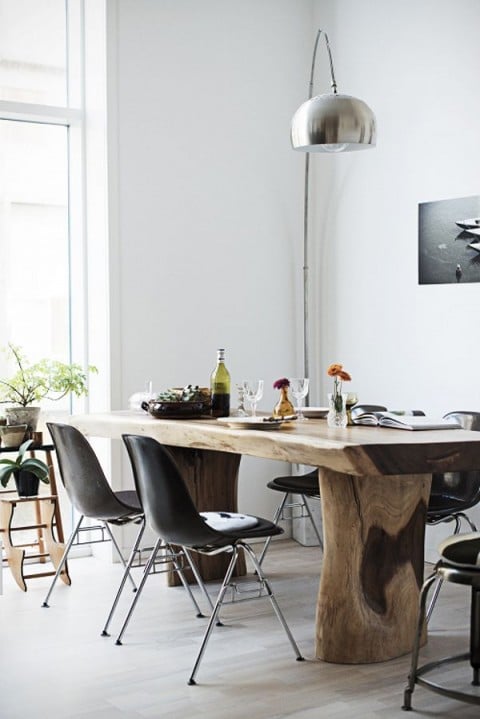 I know it's cheating as this picture doesn't have a kitchen in it, but I was surprised I was unable to find a kitchen with a floor lamp, as I feel it's a great idea and have used it myself when renting apartments with little kitchen lighting, or when I wanted to add more low lighting into the kitchen to produce a more relaxed feel.
I can easily imagine, and hope you can too, that this is the dinning table area to a kitchen diner, because wouldn't that over sized floor lamp look amazing in any kitchen diner.
---
Wall Lights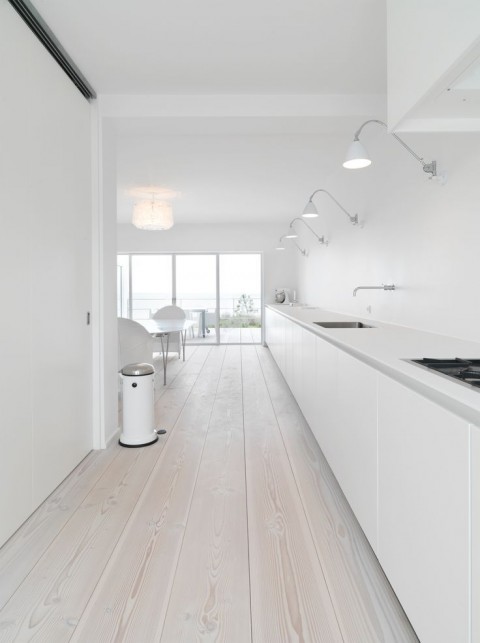 Image Source
The way these wall lights have been placed is an ingenious idea to add that extra bit of style to a very minimalist white kitchen, whilst at the same time adding another depth to the room, and the all important extra light.
I like this look as its unique and an unusual way to add wall lights into a kitchen.
---
Illuminated Shelving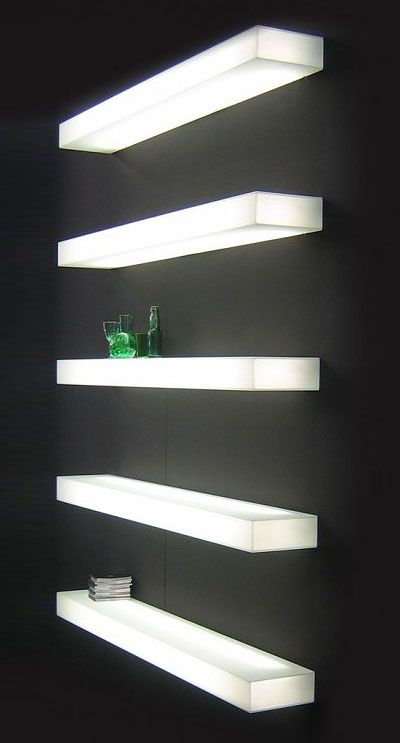 Image Source
Illuminated shelving is a design I have yet to witness in a kitchen, but one I believe would look amazing. There are many where the shelf is illuminated using LED strips placed around the shelf, or LED lights stuck under the shelf, as with the kitchen cabinet lighting, but the shelves above are designed with the light inside.
These illuminated shelves could make a real statement piece in any kitchen, as well as help with lighting and ambience.
---
Integrated Floor Lighting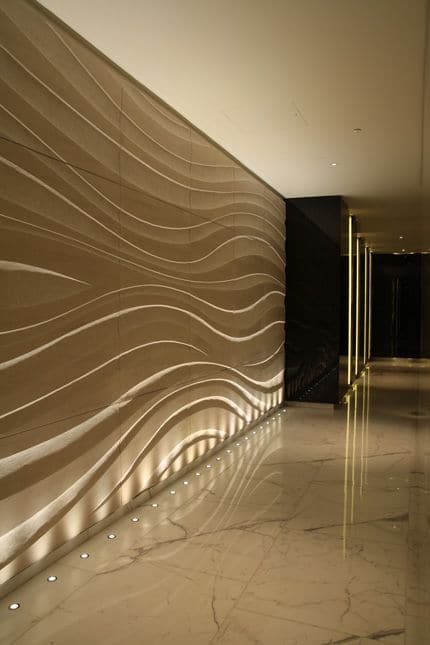 Image Source
Again a design I have only seen in bathrooms, hotels and offices, but not yet in kitchens, but would look stunning in a modern minimalistic apartment. Especially if the lights were arranged around the floor edges instead of plinth lighting.
There are integrates state-of-the-art LED tiles, but you could also have the lights recessed into wooden flooring.
If you are inspired by the article and want to make some changes yourself, consider this interior lighting design online course to develop your expertise and make sure you are really happy with the outcome.
---
Main Image Source