A portable island, also known as a butcher's block, can considerably change the look and feel of your kitchen.
Read this article to find excellent design ideas for any budget!
A portable kitchen island is stylish and functional at the same time. Compared to its static counterpart, it's more versatile and probably also more affordable. Attention: a kitchen island that is portable is usually called a "butcher's block.."
Traditional kitchen islands are not supposed to be moved around: you find a good place for them and you put them there permanently. In this article, we'll focus on the moveable piece of furniture. You'll get to know how to fit it nicely in your kitchen and make the most of it.
Buying a Butcher's Block Even If Your Kitchen Is Compact
Some people might hesitate to purchase a butcher's block for two reasons. First, they suspect that their kitchens are too small. Second, they think that a good portable island needs to be big. In fact, islands are indispensable for smaller kitchens. They provide extra storage and an additional workspace. If your space is limited, you might want to buy a narrow and tall island instead of a wide and low one.
Add Wheels to the Island
You'll be able to freely move the island around the kitchen. Depending on your current needs, you can use this piece to get an extra surface area for cooking or to store items. When needed, you can move the island out of your way to create more floor space. That should be an optimal solution for compact kitchens and families with kids who might want the extra floor space once in a while.
Consider Purchasing a Semi-Portable Unit
If you don't appreciate the idea of adding the wheels to your island, you might prefer a semi-portable one. This term means that the unit lacks wheels but you can move it nevertheless.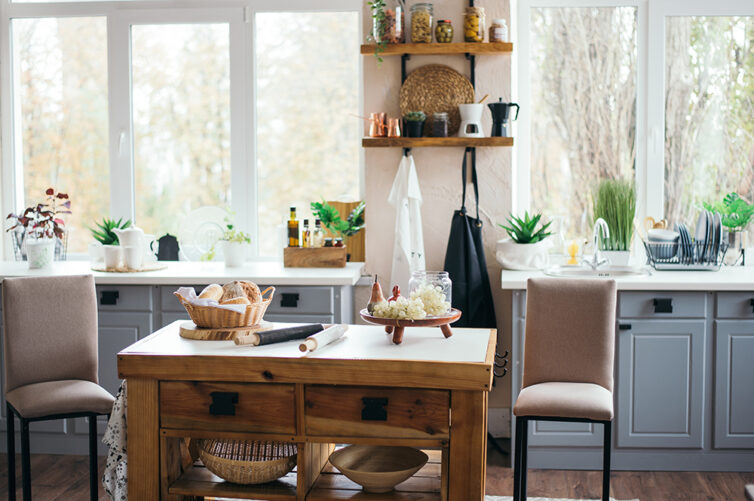 Compared to their fully mobile counterparts, semi-portable islands tend to be larger and sturdier. You might want to move such a piece of furniture only on special occasions (for instance, when you have guests). It would be wise to accompany the island with adjustable lighting. 
Use Levels for Extra Storage
Many portable kitchen islands have shelves, cupboards, wine bottle racks and other types of storage. You can put drinks, food, crockery and kitchen appliances there. Cookbooks should look particularly stunning on open shelves. Depending on the overall aesthetics of your kitchen, you might want to store the books in piles, like how you would on a coffee table. Or, you can line them up in a row and colour-coordinate them.
Build Open Shelving into Your Butcher's Block
If your island lacks shelves by default, you can create them with your own hands. For both pragmatic and aesthetic reasons, it would be wise to make the shelving visible from just one side of the kitchen. Typically, that would be the working side. For your convenience, you might want to place baskets on the shelves and store smaller items there.
Incorporate a Breakfast Bar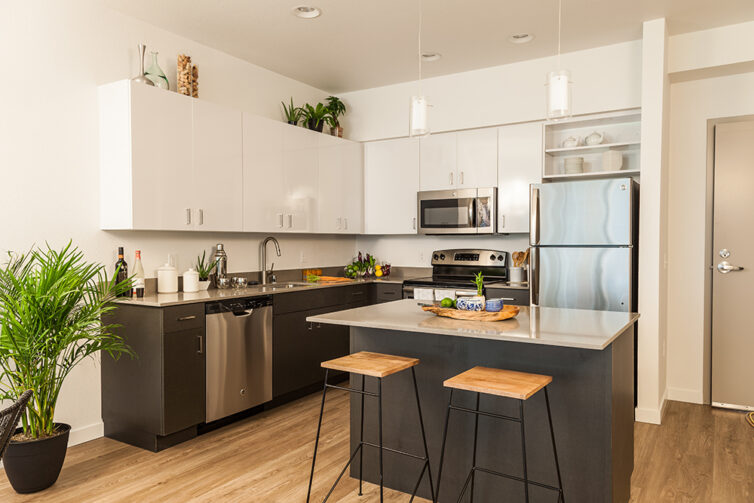 Such an approach should enable you to create more seating areas in the kitchen. You might consider buying an island with lipped edges for this purpose. You can neatly tuck bar stools or other types of seating underneath these lips.
Let Your Kitchen Island Double as Bar Storage
Many portable islands already feature hooks to hang glasses, wine racks and cupboards for spirits. When guests arrive, you can relocate the unit to your dining room or terrace to serve drinks in style. Drinks' trolleys have been one of the hottest design trends over the past few years.
Turn Your Butcher's Block into a Peninsula
To create a peninsula, you can simply push your kitchen island against a wall. Feel free to place vases, bowls or other decorative pieces there. These objects are fragile and it might be risky to put them on a freestanding kitchen island that you frequently move around the room. Unlike static tables, moveable islands don't feature plumbing, electricity or gas. That's why you won't need to think twice before moving the peninsula to a new location.
Make the Island the Main Focal Point of Your Interior
Typically, an island should match your kitchen cabinets in size, colour and material. But what if you do the exact opposite? You can buy an industrial island for a classic kitchen or an antique one for a modern interior.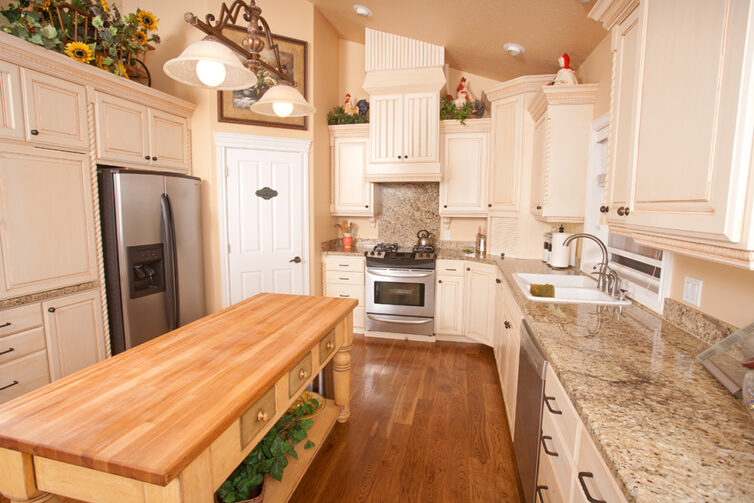 You might opt for a bold colour or unconventional decor. You might consider hanging low-level pendant lights above the island… Just make sure your creative experiments don't affect the functionality of the unit.
Think of Buying a Farmhouse Island
If you're not sure about the style, you might want to focus on a farmhouse unit. Some might think that such islands are too chunky but that's not always true. Farmhouse furniture will make your kitchen look warmer and cosier. It might have wheels, shelves or any other elements you consider necessary. Eco-conscious consumers love farmhouse furniture because many items are made of reclaimed wood.
Opt for an Industrial Finish
An industrial kitchen island will probably become the most opportune alternative to the farmhouse one. It looks contemporary and is very durable. Some islands feature metal shelves, baskets or legs. Others might have built-in sinks. A combination of metal and wooden elements should look particularly stunning: for instance, there might be a wooden top with metal legs and body underneath.
Final Thoughts
Hopefully, you found this article informative and now you better understand what you can do with your portable kitchen island, also known as a butcher's block. You might want to add wheels or open shelving to it, use levels for extra storage or incorporate a breakfast bar.
Think of letting this furniture item double as bar storage or turning it into a peninsula. If you wish, you can opt for a semi-portable island, a farmhouse table or one with an industrial finish. You might consider making the butcher's block the main focal point of your interior. Contrary to stereotypes, owners of compact kitchens shouldn't avoid portable islands — instead, they should buy them to get extra storage and an additional working area.