Here at CSW we love decorating our homes for Christmas

With this in mind Christmas crockery is the next feature in our series of articles helping you decorate your home for the festive season.
Whether you want one show-stopping plate to serve up your Christmas pud or a full matching set for guests coming to enjoy a meal on the big day, we have something for everybody below.  Perfect if you're fed up of dishing out food on boring, tired plates.
1.  Modern Season's Greetings
Add a dash of modern, colourful cheer to your Christmas table with these fabulous plates by Mr. Boddington's Studio.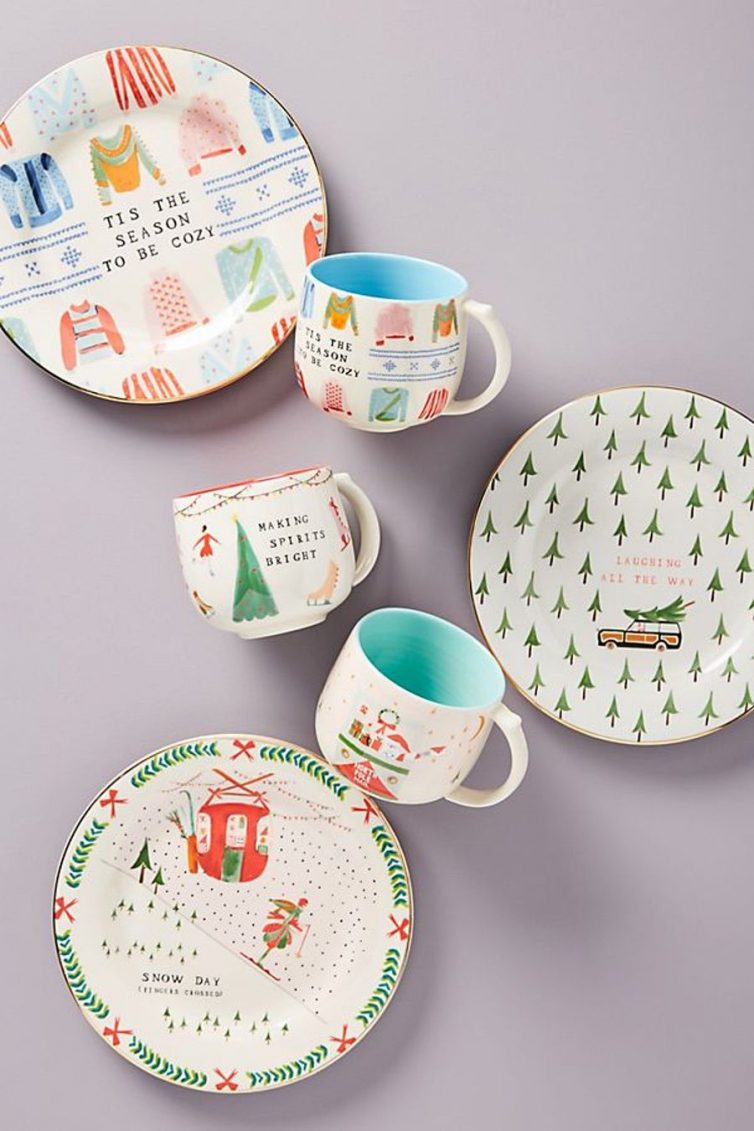 The three modern designs include festive sweaters and the slogan "tis the season to be cozy", a vintage car taking home a fir tree and a lovely ski scene.  The three different designs are exclusive to Anthropologie, £12 ea.
2.  Christmas Joy
Emma Bridgewater's Christmas Joy plates have a lovely, traditional feel.  The red and green festive motifs invoke nostalgic feelings of Christmases past.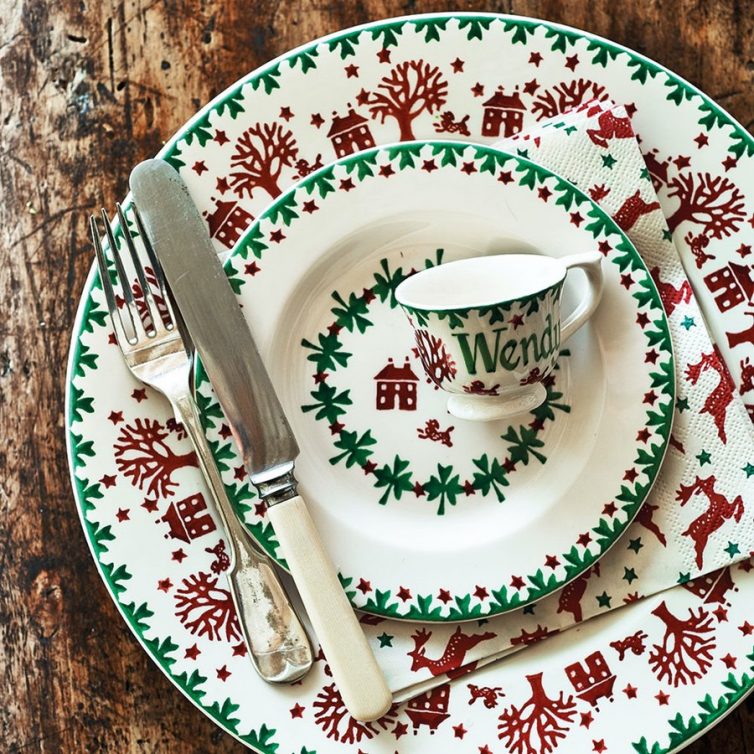 They're perfect for anybody who favours a classic style of decorating.   Prices start at £17.95 on Emma Bridgewater's website.
3.  Holly & Berry
This crockery set features a traditional festive holly and berry motif drawn in Sophie Allport's modern, minimal style.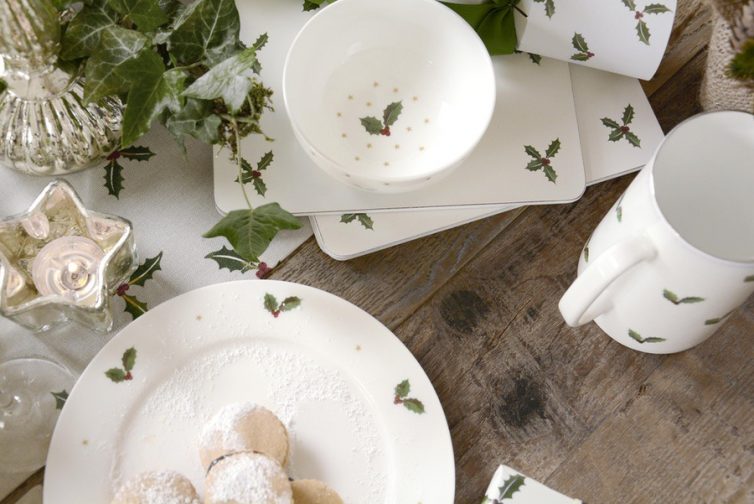 The effect is a classic-yet-modern design that will be enjoyed for years to come.   Purchase from SophieAllport.com, prices from £4.25 (napkins) to £28 (set of 4 placemats).
4.  P… P… Pick Up A Penguin Plate
This charming cake plate set from Sara Miller London features a family of penguins enjoying the winter snow.  The plates are finished with 22-carat gold for an added touch of luxe – exactly what's needed for a show-stopping Christmas table!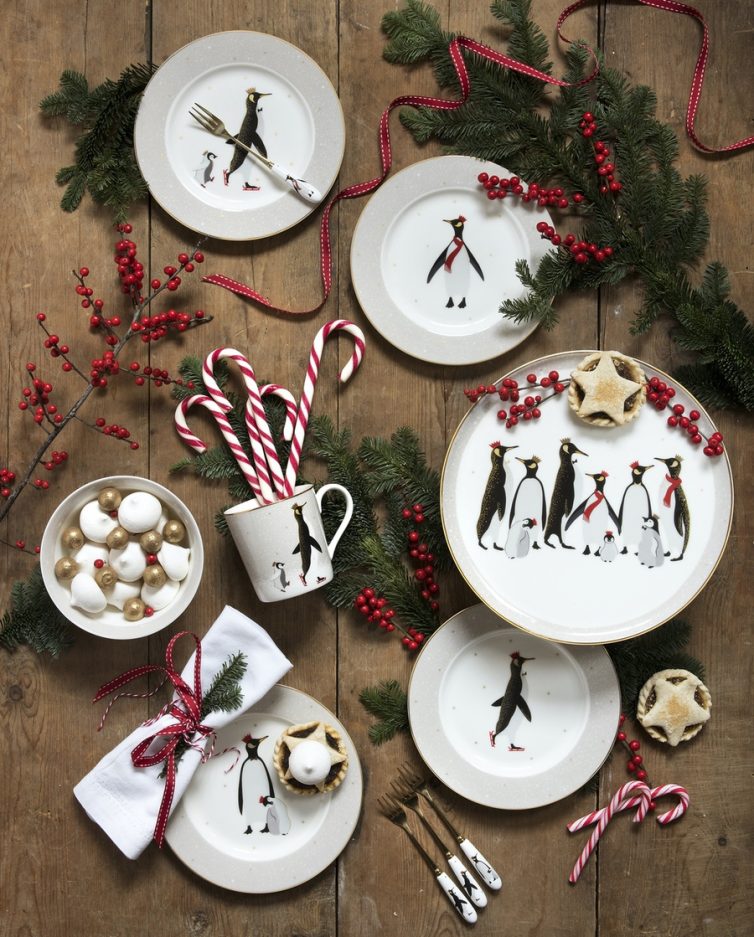 The plates also come in a luxurious foiled gift box, which could also make this the ideal gift for that hard-to-buy-for friend.  Purchase from SaraMiller.London for £41.50.
5.  Red Reindeer
This set of dinner plates is ideal for anybody who loves Nordic-style decor at Christmas.  The designer chose cranberry red reindeers to decorate the centre of the plate. The edge features festive foliage in the same colour.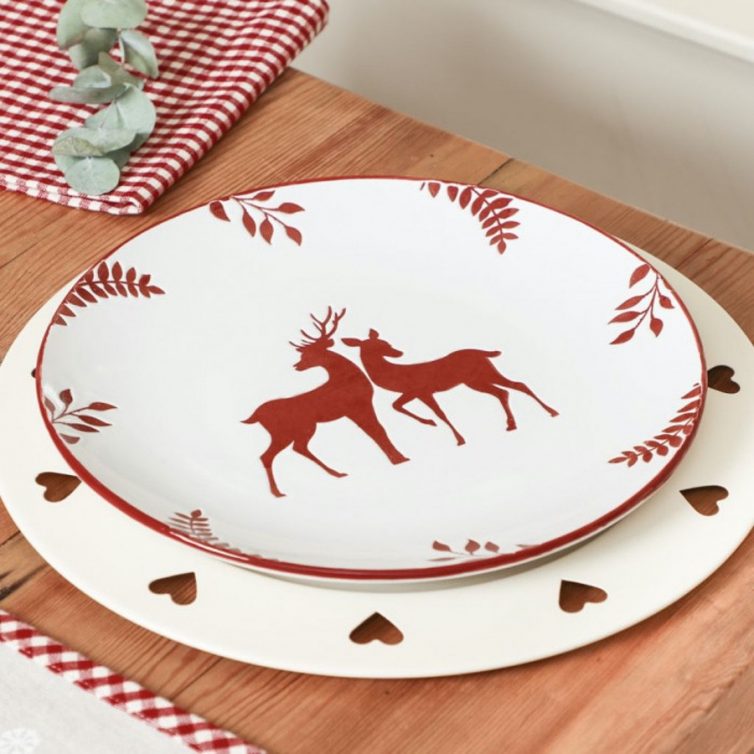 You can also purchase coordinating items from the same collection, including bowls, mugs and a table runner.  Set of six Dibor plates, available from Not On The High Street for £34.95.
6.  Novelty But Nice!
Bright and modern, these patterned side plates feature fun, festive slogans.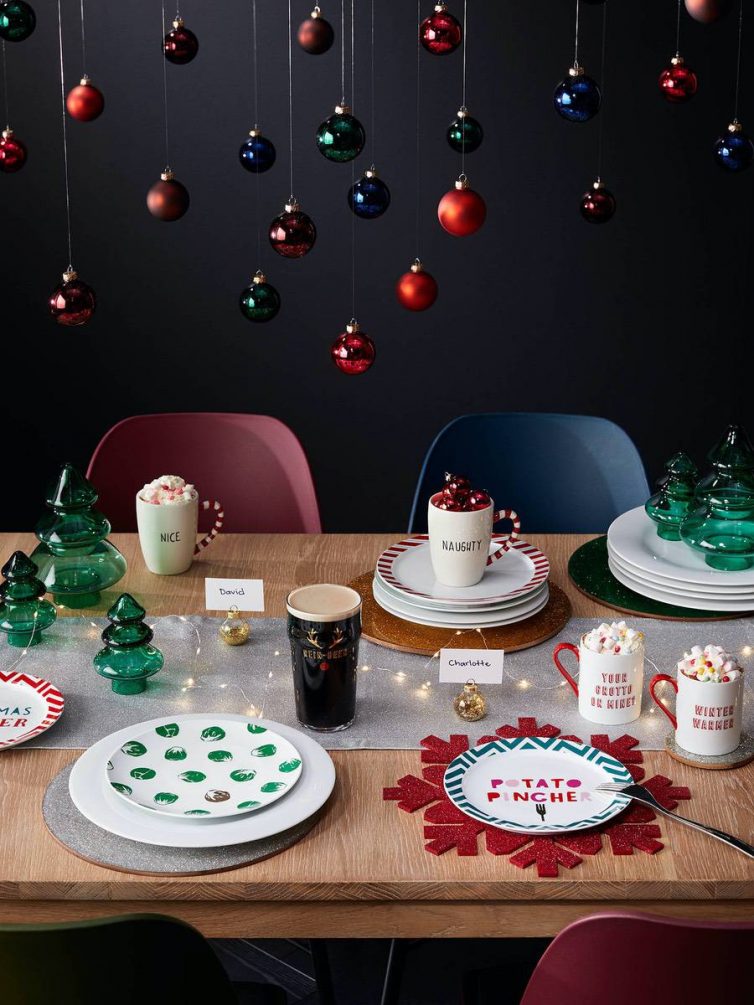 Assigning them to your guests will be fun! Who out of your family will be the "Christmas Cracker", the "Potato Pincher", the "Gravy Hogger" and the "Sprout Dodger"?  Get the set of four porcelain plates from John Lewis, £18.
7.  Sensational Seasonal Sentiments
You'll want to reuse this set of Royal Doulton porcelain plates year after year.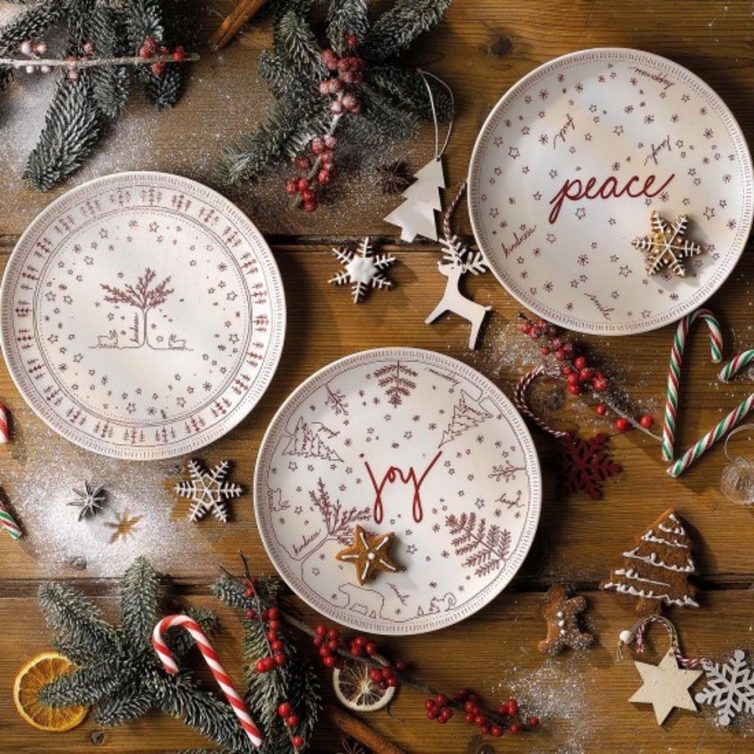 Each page features a different design, including festive trees, snowflakes, stars and seasonal sentiments: joy, peace, love, faith, kindness and happiness.  Buy the four-piece set from John Lewis, £40.
8.  Nostalgic Notions
This plate features a delightful toy print designed to evoke memories of magical childhood Christmases!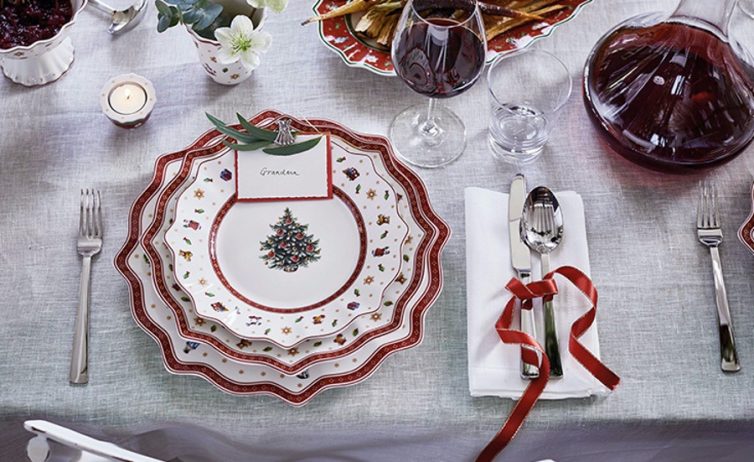 Spot rocking horses, stockings, teddy bears and trains amongst the print around the plate's border.  A traditional tree sits in the middle of the plate. Purchase it from Villeroy & Boch at Harrods.com, from £19.90  (coordinating items are also available).