It's November and Christmas is just around the corner, which means it's time to think about all things jolly and joyous. This year, we want to go BIG. We want Christmas magic to BURST from every inch of our homes. We're excited to decorate with fun and festive accessories that celebrate the season and bring cheer to our family's faces—and we invite you to join us! Take a look at what's making us smile below:

1) Matalan Christmas Gnome Bath Mat
Why not add a festive touch to your bathroom this year? Matalan's Christmas gnome bath mat features three Scandi-style gnomes enjoying the snow. We particularly like that the first gnome appears to be holding a toilet brush.
The 62cm x 78cm red and grey bath mat costs £10. It's machine washable so come January, you can put it back in the airing closet until next year.
---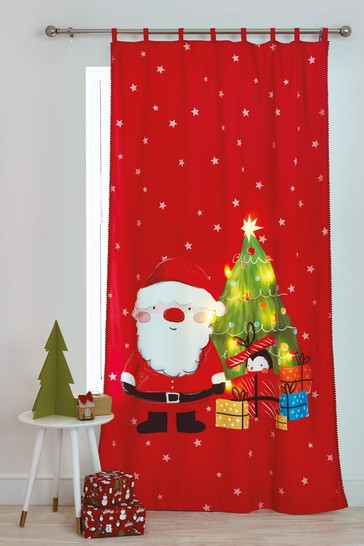 2. Next Light Up Christmas Curtain
Add seasonal cheer to any room with this bright red curtain. The single panel curtain features a cartoon Santa leaving presents next to a Christmas tree. If that wasn't fun and festive enough, there's a switch to illuminate the tree too!
---

3. Xmas LED Mailbox with Snow and Music
This show-stopping ornament could be the centrepiece of your festivities this year. Inside, it contains a traditional Christmas scene, complete with snow-topped fir trees, a Victorian townhouse and a little girl posting her letter to Santa. Look closely and you'll see Father Christmas himself guiding his sleigh across the night sky. Flick a switch and the Mailbox lights up, plays songs and has a spectacular snowing action.
Find it for £89.99 at The Range.
---

4. Cath Kidston 'Shine Bright' Duvet Set
Bring a little Christmas spirit to the bedroom with this beautiful duvet set. The "First Day of Christmas" song clearly inspired this Cath Kidston print. It features a nostalgic village scene. Look close enough and you'll find a few iconic motifs from the company, including their mascot, Stanley the dog. You'll treasure this lovely duvet cover for years to come.
Get it at jonesandtomlin.co.uk (four different sizes available, £65 for a double).
---

5. Dunelm Novelty Christmas Runners
Welcome guests to your home this Christmas with one of Dunelm's fantastically festive runners. They stock four fun designs! Choose from the traditional nutcracker pictured on this page, a pastel pink nutcracker, a sausage dog wearing winter jumpers and a Scandi-style gnome print.
Shop all four at Dunelm, £25 each.
---

6. Lights4Fun Acrylic Duck Family Christmas Figures
Invite this family of ducks to roost on your lawn this winter. These friendly fellows will bring a smile to any visitor's face. The mother duck and her ducklings are battery operated and have a timer meaning they'll illuminate automatically, for six hours, each evening.
Available for £60.99 at Lights4Fun.co.uk.
---

7. Lumineo Robin Glitter LED Teapot Lantern
Add a Christmassy glow to a windowsill, mantlepiece or table in your home with this amazing ornament. This festive teapot features two little robins cosying up on a branch as it snows around them. The teapot lantern is finished in an antique gold colour and will glow a warm white colour when powered on.
Get it for £19.99 at Charlies.co.uk.
---