There's nothing better than watching children open their presents at Christmas. Who doesn't love seeing the complete joy on their little faces as they tear off the paper to unveil the gifts left by Santa?
When you think back to your childhood, you'll fondly remember your mum or dad grabbing a bin bag from the kitchen to clear up the aftermath—a riot of ribbons, paper, bows, bags and tags left all over the floor. Nowadays, we're more eco-conscious. You'll probably shun the black refuse sack and recycle your wrapping paper instead, right?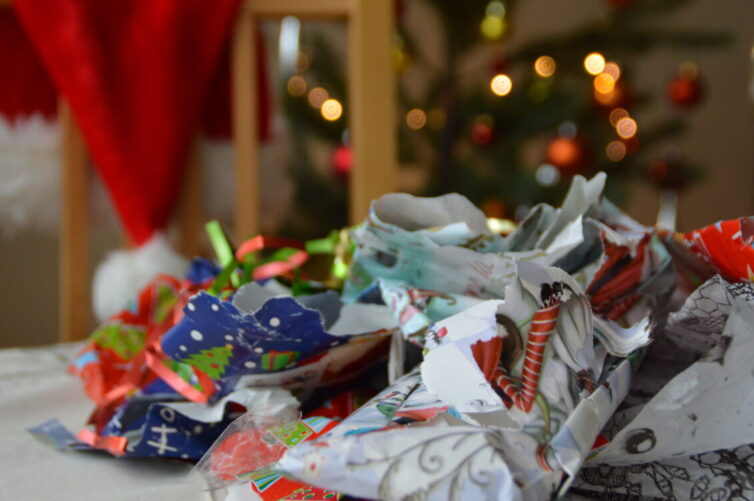 Wrong!
Unfortunately, you cannot recycle most wrapping paper. You see, wrapping paper isn't just paper. It's often laminated with plastic and decorated with extras like foil and glitter. It's also regularly left 'contaminated' with sellotape, which hinders the recycling process.
A few years ago, a poll reported in the Independent found that British people throw away the equivalent of 108 million rolls of wrapping paper each year. That's a lot of wrapping paper to end up in landfill.
In 2018, David Attenborough's Blue Planet II showed the harm humans cause to marine life through plastic pollution. Millions of Brits tuned in to the television show, it received some of the highest audience ratings in five years. It's now attributed with causing a (literal) sea of change in attitudes on plastics and recycling.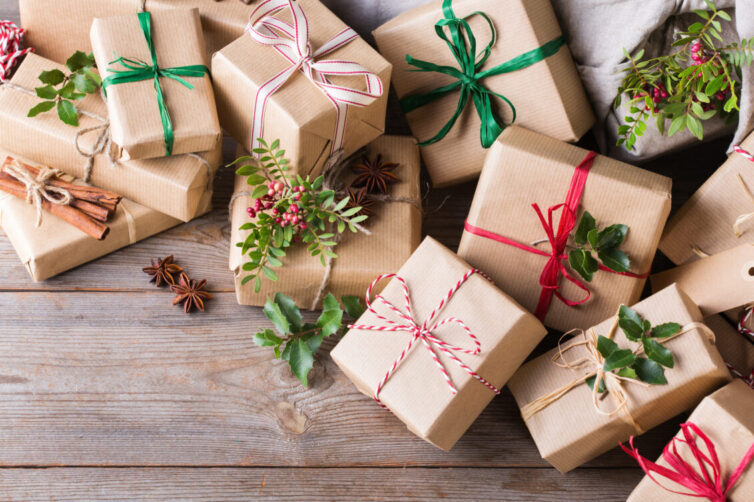 As such, there's been a rise in demand for eco-friendly Christmas wrapping solutions over the last two years. Thankfully, we're starting to see a range of wonderful solutions trickle through the power of social media, from innovative start-ups and from big brands. Below, we're sharing a handful of our favourites. There's something for everyone to try!
Fabric gift wraps / Furoshiki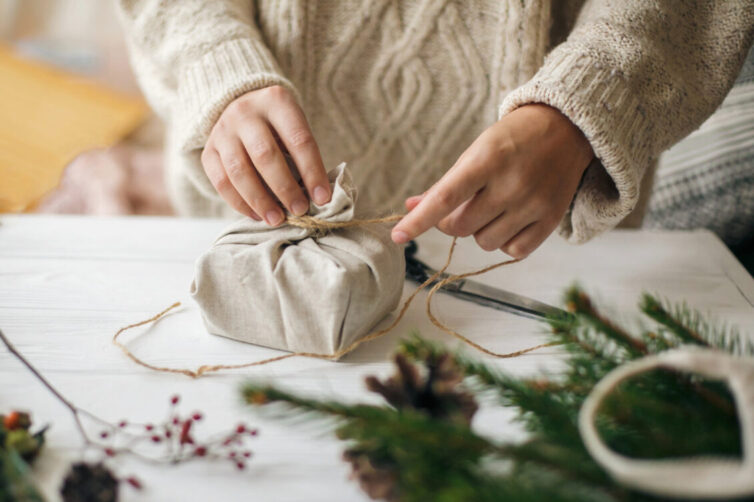 Furoshiki is the ancient art of gift-wrapping with fabric. It originated in Japan as a way to transport clothing, gifts, treasures and other important goods over 2,000 years ago. Some sources date the technique to around 710 BC!
Use the technique to wrap gifts and create mini works of art that'll bring a smile to the face of even the most difficult-to-please recipient. The fabric is reusable, making this a 100% no-waste alternative to wrapping paper.
All you need is a square of fabric. Recycle a scarf, bandana or handkerchief you already own or buy a pre-made piece of cloth designed for the technique. (The Christmas-themed fabric wraps above are from Wrapuccino.)
Here's an instructional video to get you started:
Fabric gift bags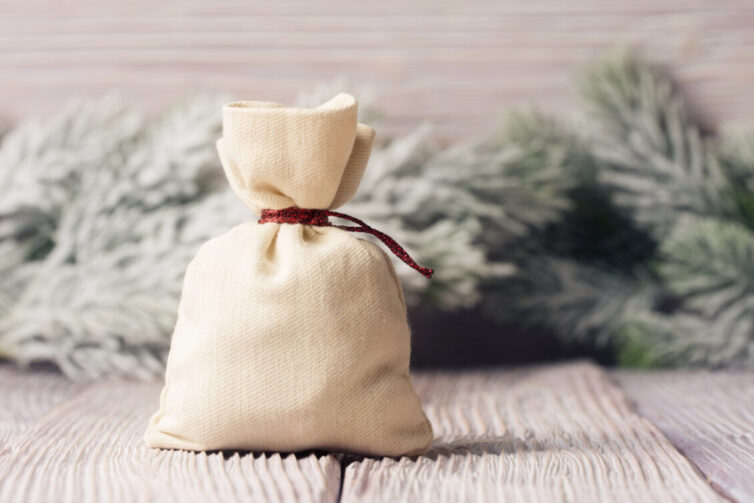 Like Furoshiki gift wrap squares, fabric bags are reusable making them a green alternative to wrapping paper.
Seamstresses and sewing enthusiasts can whip up a batch of their own bags using festive fabric. Not handy with a needle and thread? No problem, you can buy pre-made bags online.
Decorate a plain linen, burlap or cotton bag with festive ribbon. The giftee can then remove the ribbon and reuse the bag to store essentials for years to come!
Brown paper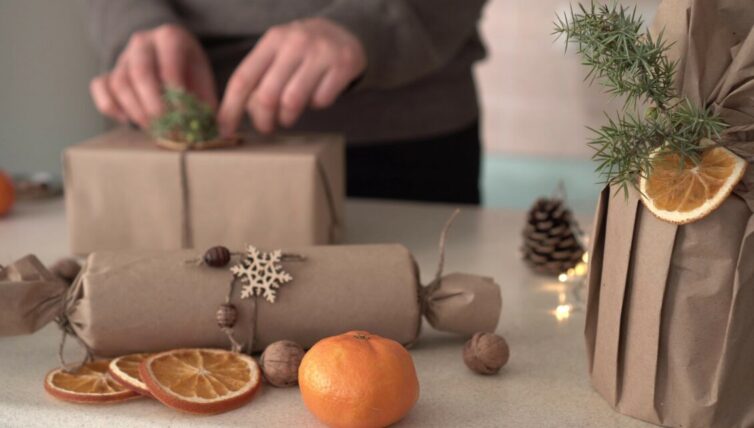 Brown paper, also known as Kraft paper, is very trendy at the moment. It is a brilliant solution for anybody aspiring for a plastic-free Christmas. Finish the rustic look with biodegradable elements like dried fruit, foliage and string.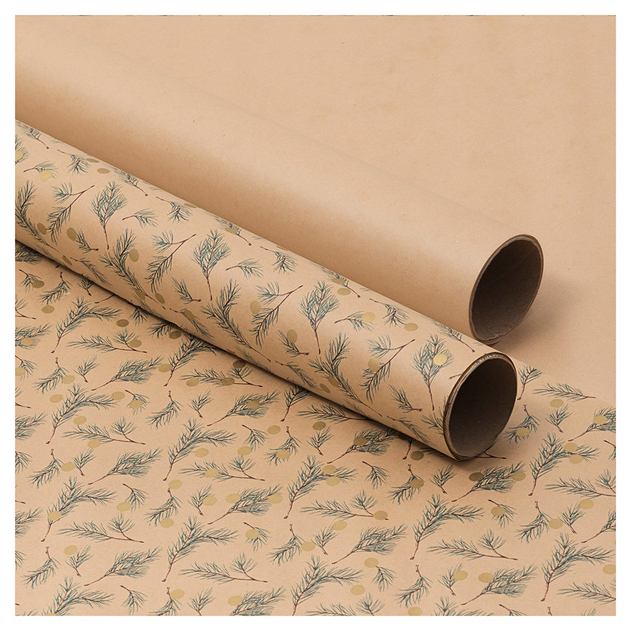 Many retailers have started to sell brown Kraft paper printed with festive designs, such as this one from WH Smith that is 100% recyclable!
Which brings us to….
Recyclable wrapping paper
Some brands have committed to removing the non-recyclable elements from their wrapping paper. We've found Dunelm has the best selection of reasonably-priced recyclable wrapping paper, bags and gift tags.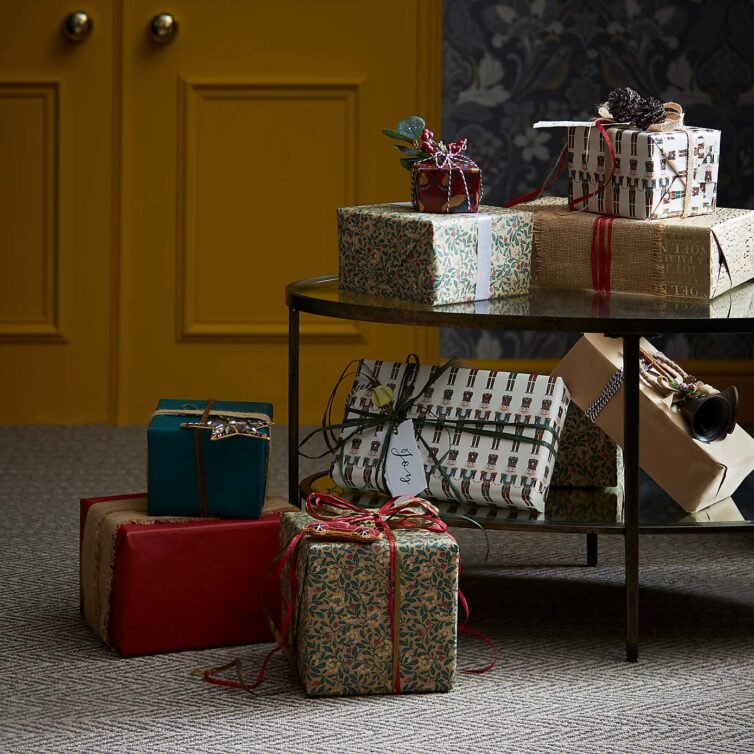 Just remember to use recyclable tape to wrap your gifts, or learn how to wrap without using tape at all: