Pink is a contentious choice for Christmas decorating. It's certainly controversial compared to its more traditional cousin, red. But this year, we're noticing it everywhere. We'd go as far as to say the lighthearted, joyful colour is going to be a big trend for 2020. Pink is the perfect choice for anybody looking for something a little different over the festive season.
Below, we've rounded up five different ways to use pink in your Christmas decorating.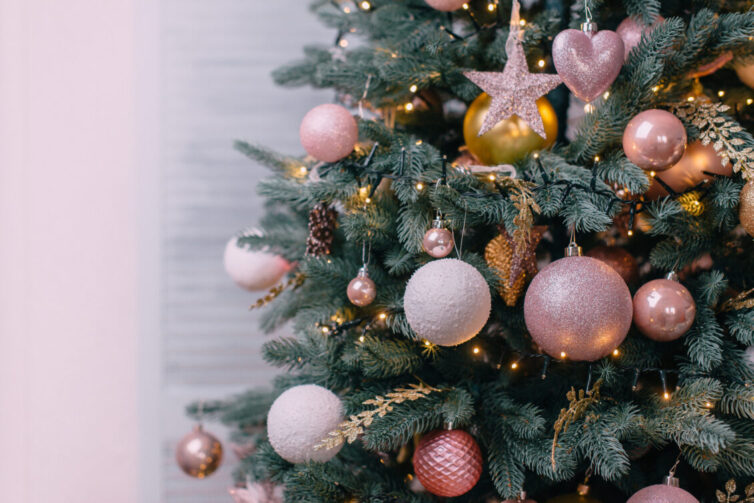 1) NEON BRIGHT
Use a shockingly bright shade of neon pink to inject a little fun into your home this December. Combine with contrasting dark hues, playful prints, kitsch ornaments and a smattering of sequins for the ultimate celebratory vibe!
Dress your tree with non-traditional baubles this year. The quirkier the better. We've noticed a trend for ornaments depicting legendary icons like Freda Kahlo (below from Art Wow) and Anna Wintour (above from Rockett St George). We love the wonderfully random Balloon Dog Bauble (shown below) from John Lewis too!
Other ornaments from Gisela Graham, The Contemporary Home, Poundland and Art Wow.
2 ) DREAMY BLUSH
Looking for a sophisticated way to decorate your home over the festive season? We love this dreamy blush colour scheme (shown below at Lights4Fun and Rockett St George).
Achieve the style in your home this winter by layering dreamy shades of blush pink with nudes and creams. Use champagne gold to add just the right amount of sparkle to this refined theme. The result is a delicate and grown-up take on Christmas.
Ornaments above from The Contemporary Home and Gisela Graham.
Use dusky pink linens and coordinating candles to carry the theme over to your dining table.
Above images both from the Chalk Pink Linen Company.
3) CANDY CANE
This theme embodies sugar, spice and all things nice. Pair shades of candy-coated pink with soft pastel hues and powdered sugar white. Seek out interesting ornaments that look good enough to eat. Think doughnuts, cupcakes and candy canes.
Who could resist these tempting treats? These pink and white glass ornaments are designed to look like traditional sweets (below, from Ella James). And how fun are these pastel-coloured macaroons (below, The Contemporary Home)?
Meanwhile, Gisela Graham has a collection of baubles that look as if they've been dipped in sprinkles (above). Finally, how delicious do these gingerbread house ornaments look (pictured above, from Cox & Cox)?
4) RENAISSANCE
This year, John Lewis curated a collection of ornaments in a palette of blush pink with warm neutrals, mint green and luxe metallic accents.
The decorations reference literature, music and religious iconography in a contemporary way. Plus, there are large artificial flower sprays that will add intrigue and interest to the tree or can be used with candles to build a stunning table centrepiece. The company have called the collection 'renaissance'.
Above: All from John Lewis
5) UTTERLY ENCHANTING
Our final theme uses shades of pink, silver and white to create a magical, fairytale display.
Shop for ornaments featuring princesses, swans, ballerinas, nutcrackers and other storybook characters this Christmas. Throw in lots of stars and sparkles to ensure your living room looks enchanting!
Above: The Contemporary Home, Ella James and Gisela Graham.