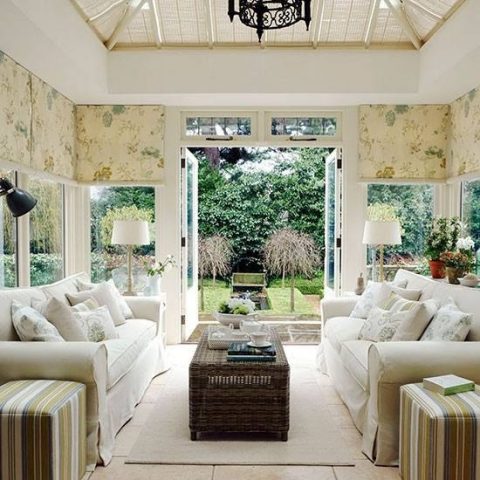 As we sit comfortable in our two bed semi, we look forward to this year's project. The conservatory.
Lifting our social standing and providing a place for drinks, and snacks, during the summer months.
So we call our local builder, receive our quote, place the order and wait patiently for the snow to clear so work can begin.
Soon enough our pride and joy is complete.
A cool tiled floor and ceiling fan, both installed to combat the heat that is naturally a part of conservatory life.
In this article, we will look at a few different styles of blinds that can be installed in your conservatory.
Blinds can vary in price from under twenty pounds each to over one hundred pounds. If you seek quality, as in any other product, it will be expensive.
Roller Blinds
These are the cheapest blinds by far and can easily be fitted by the enthusiastic amateur.
They come in a vast range of colours and can usually be cut to size. Not expensive to replace when they begin to look tired.
Wooden Shutters
Wooden shutters are less common in our conservatories at the present time.
However, designers are constantly bringing out new ranges.
Pleated Blinds
Pleated blinds look very classy. Small pleats look best. They are drawstring operated unless you opt for the motorised versions which will mean dipping a little deeper into your pockets.
Motorised pleated blinds are also a fantastic solution for your conservatory roof. Blocking sunlight and adding to your privacy from above.
Venetian Blinds
Love them or hate them, everyone has an opinion on venetian blinds. From the metallic, rattling kind, to the modern plastic equivalent, you will be sure to find the size and colour to suit your needs at a reasonable price.
Vertical Blinds
Vertical blinds are arguably the most popular product for the conservatory.
I really can't think of another room in the home that suits them more.
Easy to fit and operate, they also come in a vast array of shades such as can be found in The Blinds Superstore, and other high class retailers.
The advantage of vertical blinds is that they can be angled, closed, draped, or drawn aside depending on your needs.
Solar Blinds
If you need to keep out as much heat as possible, solar blinds are for you. Used on the ceiling and windows, they have an excellent ability to absorb the sun's rays.
Probably the most expensive blinds out there but a very good investment if you want to use your conservatory on the hottest days without air conditioning.
Roman Blinds
Roman blinds can be a cheap and cheerful option for your conservatory. With some dowel and a sewing machine, there is no reason why you cannot make your own.
Although they do come in amazing designs, you have the ability to buy your own material to match your furnishings. It may fade quickly though if you use the wrong material.
You have plenty to think about when choosing your blinds. They are a big part of your conservatory interior design and, get it wrong; it can spoil the feel of your pride and joy.
However, get it right, and you can be the envy of your friends and neighbours.