We've all seen these lamps in the darkly lit offices of private investigators like Colombo, in Bobby Ewing's study on the Southfork Ranch in Dallas, in university and national libraries across the world – even on Barack Obama's desk in the Oval Office.
With a brass stand, green glass shade and a pull-chain switch, what are these lamps – are they a thing? Yes, they're called Banker's Lamps, or Emeralite Lamps, and these iconic electric table lamp designs have dominated interior spaces since the early 1900s.
This giant of early modern manufacturing and product design is popular to this day; it's a true design classic – and can be purchased at Universal Lighting, to add that retro classic look to your office.
Early beginnings
The first Emeralite Lamp was invented in 1909 by the American Harrison D. McFaddin, when his patent application for 'a new, original and ornamental design for lampshades,' was approved. For the next 50 years, the manufacture of these lamps continued apace.
Produced and sold as Emeralites– a combination of the words 'emerald' and 'light' – they were manufactured in a single factory by J. Schreiber & Neffen. Surprisingly, the factory was located on the other side of the world, in Rapotín in Moravia – now part of the Czech Republic.
H.G. McFaddin & Company had an agreement with J. Schreiber & Neffen that the green glass lampshades were to be produced exclusively for them, and never sold to anyone else.
So, from just one single source, these famous green glass shades spread across the world en route to becoming an interior décor phenomenon.
Within the world of retro and vintage lovers, some items stand out from the crowd as a quintessential symbol of elegance and style, and Emeralite Lamps are justifiably one of these.
Why the green glass shade?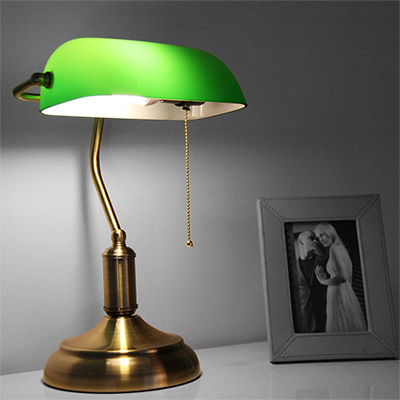 This is where McFaddin showed his genius – psychologically, a dark green lampshade is thought to be soothing, cool, and calming. Because the light given off by an Banker's Lamp is subdued and radiates, or pools, in a relatively small area around the base of the lamp, it was seen as a tool to help and encourage concentration and focus.
Business owners in the early days ordered Emeralite Lamps by the hundreds, seeing the lamps as the perfect opportunity to boost the efficiency and productivity of their employees.
In addition, in an effort to calm and settle the nerves of actors in New York Broadway and other US theatres, 'green rooms' were introduced – further evidence of the belief in the soothing and tranquil properties of the colour green.
Simple design features
Emeralite Lamps were extraordinarily simple in their construction and consisted of a brass base and a green-over-white cased glass shade.
These shades were flattened slightly on the back and on the sides, and sloped gently towards the front. In this way, they faced the person sitting at a desk.
The shades also had no square or sharp corners – another unique feature – and all the angles were beautifully smooth and rounded. In keeping with the cased glass process, the shades were made out of white opal glass fitted on the inside, together with a layer of the distinctive green glass fitted on the outside.
Many uses of Emeralite lamps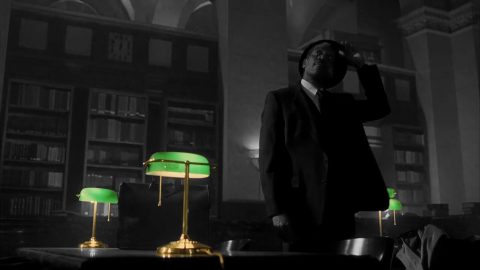 While most of us typically associate Banker's Lamps with banking halls and libraries, they were quickly adapted and manufactured to provide a host of other types of lighting.
Models were designed for use in the home and in offices – some of these included standing lamps for lounges, hallways, bedrooms and studies; lamps for bedside tables; typewriter and sewing table lamps; garage workbench lamps; draughtsmen's table lamps, and many others.
They also had a wide variety of additional features, such as pen holders, removable inkwells, calendars and clocks. The lamps with attached inkwells have become highly collectible and usually fetch commanding prices at auctions and high-end antique dealers.
Looking to buy?
If, you're after an original Emeralite Lamp, it may take you a while to track one down. When you do, expect to pay a good deal of money for it. Original Emeralite Lamps are rare and difficult to find. Some of the most likely places to pick one up are at specialised auctions, on the Internet- or at a reputable antiques dealer.
The cost of an original lamp will vary, depending on the date of manufacture, the size of the lamp, the place of origin, the material of the base of the lamp, and the type and state of the shade glass.
However, if you're looking to buy a modern style Banker's Lamp, the good news is that they're not hard to find. What's more, they come in various styles, sizes and colours and look exactly like the real thing.