In these uncertain times, a bit of private outdoor space is a real luxury. Having your own balcony can both increase your health and wellbeing.
According to the International Journal of Environmental Health Research, spending just 20 minutes outdoors (even if you don't exercise whilst you're there) is enough to improve your wellbeing.
On top of this, private outdoor space can substantially boost the value of any home in real financial terms.
Whether you're looking to create a little outdoor haven for yourself, or want to maximise the appeal of your property before putting in on the market, these are some of our favourite tips for making small balcony space both practical, and a pleasure to use.
From the ground up
It's fairly easy to not think about the floor of your balcony, but some occasional maintenance can make a huge difference to how appealing the space is.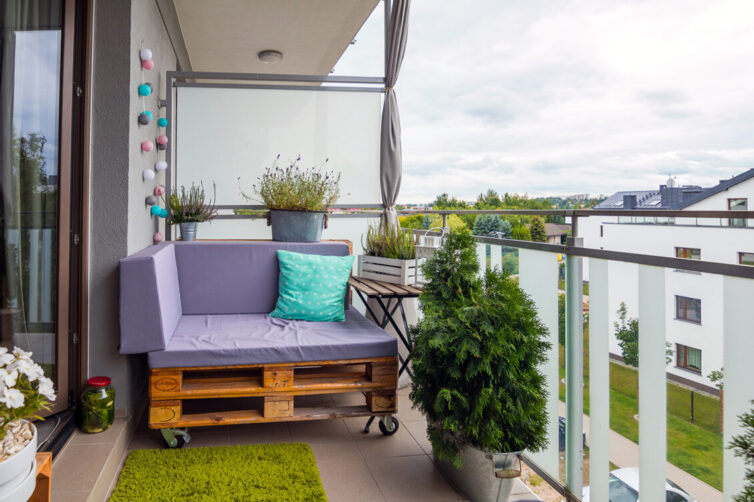 Particularly in the colder and wetter months balconies can get a bit dirty, so make sure to give the space a good sweep down, or a scrub with some water and liquid soap every once in a while.
If your balcony floor is in need of more of an upgrade than just a quick clean, there are a couple of easy ways of giving the space a lift without having to do anything intrusive.
Click-together decking tiles
These are available at many hardware stores or garden centres, and come in a variety of styles, including wood, mosaic, and more traditional stone. Because you don't need to remove the original flooring first, these are a quick and non-intrusive way to transform a balcony
Outdoor rugs
If you're looking for something a little easier, but equally stylish, try an outdoor rug. Like the click-together tiles, a rug will quickly hide any unattractive or plain flooring, and you can get them in a range of designs to suit your personal style. Just be sure to check it's actually designed for use outdoors before you leave it out in the rain!
Let the light in
Anyone who loves to scroll through interior design photos on instagram will have seen those dreamy pictures of terraces and balconies lit with outdoor lantern style fairy lights. And, not without good reason. These little lights are an easy (and often reasonably priced) way to make any sized outdoor space more inviting.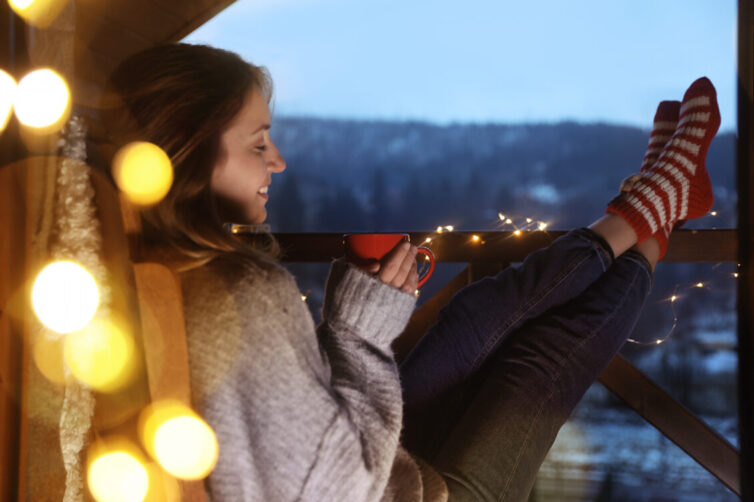 The other benefit of having some lighting, is that it makes the space a lot more practical to use even as the evenings get shorter.
For a classic and sophisticated feel, opt for softer toned yellow and white bulbs.
If your space is large enough, you might also want to consider some form of heater, or blankets for the cooler months. This extra warmth will make your outdoor space just as cosy as being curled up inside, whilst providing all the benefits of enjoying the fresh air – the perfect way to enjoy a mug of mulled wine, or hot chocolate, and a good book.
Make it your own
The best way to make the most of your small space is to put your own personal stamp on it.
If you can fit them, furniture or cushions can create a space you can use whilst offering an opportunity to be playful with styles. Fold-up bistro style chairs and tables come in lots of colours and materials.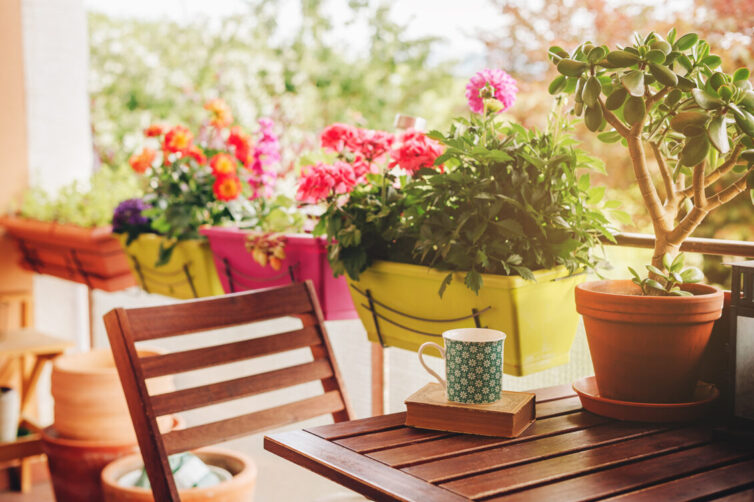 Perhaps you'd like to channel a mediterranean cafe vibe with a blue metal set, or maybe if you're looking for something a little more classic, opt for a dark wood.
Plants are another easy way to make a space your own. If you don't have space for plant beds, add a bit of nature with: potted plants, hanging baskets, or a window box.
If you're not very green-fingered opt you don't have to compromise on beauty. There are many hardy plants, herbs, and dramatic foliage that are both easy to maintain and attractive.