The days are getting shorter, the nights are drawing in and the weather is turning cooler. That means one thing: Autumn is just around the corner.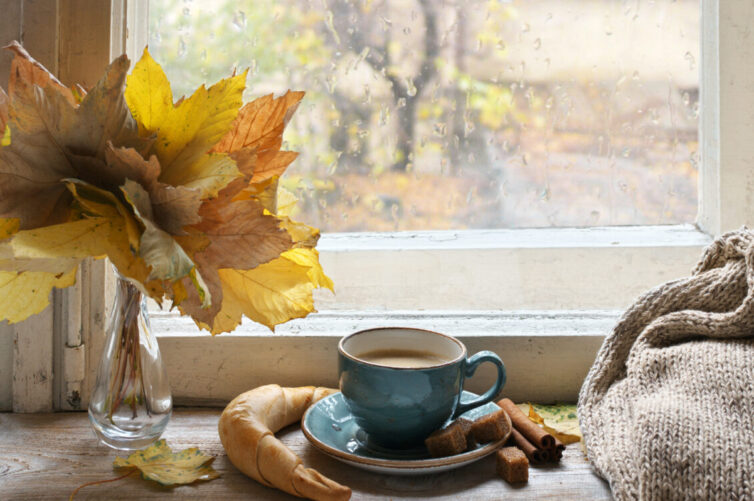 Add a few cosy touches to your living room this month as we transition into the new season, whether you're celebrating its arrival or trying to make the next few months as pleasant as possible until it passes.
Need a little inspiration? We've shared some of our favourite pieces below:
---

Autumn In Paris Art Print By Manjik Pictures, FY!
Do you have a gallery wall? If so, consider updating your artwork to suit the season. Switch your current prints for pieces with an autumnal undertone. We love this stunning photograph of moody trees dropping leaves in a Parisian park.
The print comes in a range of sizes and different framing options. It is available from FY! who use sustainable materials in their manufacturing process. Prices start from just £14.
---

Hello Autumn Cushion, Brankie Home
This cosy cushion is the perfect accessory to welcome the new season! It features the words "Hello Autumn" in brown and orange printed onto a plain white background. The retailer states that the luxurious buttery soft white fabric is eco-friendly, which is a bonus! Place it on your favourite armchair or accent chair.
You can choose to buy only the cover or add a hollow fibre insert (£14.95). Shop at brankiehome.co.uk.
---

Mocha Velvet Throw, Rose And Grey
Drape this sumptuous velvet throw over your sofa or armchair to add a touch of warmth, comfort and texture to your living room. We love the delicious colour of this stylish throw—it is the epitome of autumn.
Find the throw on roseandgrey.co.uk or £95.
---

White Linen Pumpkins, Hudson Home
Who says pumpkins are just for Halloween? Use these white linen pumpkins to decorate a table, sideboard or mantelpiece all season long. They will see you through the season. We imagine the little white winter squashes perched on a shelf surrounded by sparkling gold fairy lights. Simply swap them for more festive ornaments as Christmas approaches.
The pumpkins will be available from hudsonhome.co.uk on the 1st of October, Price TBC.
---

Felt Leaf Micro Fairy Lights, Lights4Fun
We are a little bit obsessed with these fairy lights! They feature 19 felt leaves illuminated by warm white LED lights. Use them to add an autumnal touch to any cosy corner in your living room. Hang them on a picture frame, cabinet or mirror for a cosy glow. The lights are controlled by a handy 6-hour timer, which means they will switch on and off automatically. How clever is that?
Buy now from lights4fun.co.uk for £14.99.
---

Autumn Maple Garland, Sophie Allport
This stunning garland is packed full of seasonal leaves, pinecones, acorns and berries (all artificial, of course, so it can be used year after year). The garland will look stunning placed on a fireplace mantel with faux candles flickering after dusk.
The garland will be stocked at sophieallport.com from the 13th of September, 2021. Price TBC.
---

Red Eucalyptus Nicholii Bouquet, Dowsing And Reynolds
Add a flourish of foliage to an otherwise empty shelf with this bouquet of red eucalyptus stems. Create a dramatic look by placing the deep red leaves in a dark and moody black vase. The eucalyptus stems are specially preserved and will biodegrade. This makes them an eco-friendly alternative to faux flowers. Handy for anybody looking for something more permanent than freshly cut flowers.
Purchase from dowsingandreynolds.com for £21.99.
---