Who else remembers that freshly-installed kitchen, totally free of mess and clutter?
How that quickly changes! Now there's so much on your countertop, you can hardly put a bag of shopping down. Fear not – we'll show you how to organise your kitchen and give you advice on what belongs on the kitchen worktop, as well as how to look after it. 
It started with the basics – a kettle, a toaster and perhaps a bread bin. Then you got a nice knife rack, but then all the cutting boards were stacked next to it to keep them handy when you need to quickly slice something. Then someone bought a new coffee machine. There's a cake stand that doesn't fit in the cupboards, and more stuff starts to appear: phone chargers, keys, stray pens, boxes of multivitamins, old letters… and bam! Chaos.
In short: your kitchen countertop is cluttered and you're annoyed. Especially if you consider yourself a minimalist. 
Space and tidiness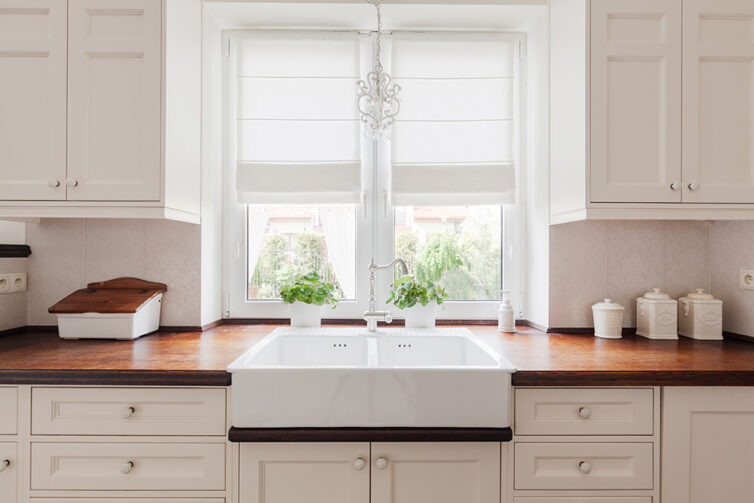 Kitchens are the hub of the home. They're where you cook, eat, chat, have heart-to-hearts, grab quick breakfasts and spend long evenings enjoying wine. It's important for your piece of mind to keep this space as free of clutter as possible – so the most basic (and most obvious) piece of advice we can give you is simply to keep it clean. Don't leave things to soak for weeks, and try to wipe away crumbs and small spillages when they happen.
First things first – take stock of everything you have out. Get rid of any stray bits and bobs, and list your priorities.  Every household's needs are different – if you can't live without your hot drinks, of course the kettle is a must – but if you don't like them, or rarely drink them, you can put it in the cupboard. Bottom line: you don't need to have anything on your kitchen counter except the very basics that you use everyday. Store everything else in cabinets or on shelves.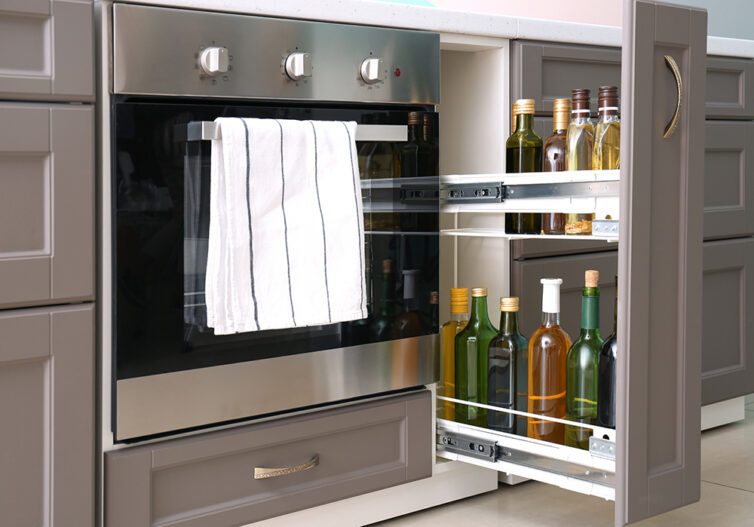 Consider buying some in-cupboard storage for cleaning supplies – this is a real space saver and can instantly tidy the space. Another good tip is to put your washing up liquid and countertop spray away every time you use them. Same applies to sponges & brushes – however if you need these things out, it's nice to get ones that aren't total eyesores, or, get a nice organisational caddy for the sink.

Use every bit of space – including the walls! You can have a knife stand, but if you're pushed for space a wall-mounted magnetic rack works well too.  If you like to keep your mobile phone handy, perhaps for recipes or video instructions, get a special stand with in-built cable storage. 
Caring for the countertop
In addition to a quick daily wipe down with a sponge, rag or paper towels, give your worktop some extra attention once in a while. Maintenance depends on the material. Laminate worktops, for example, are very durable and can be cleaned with normal detergent, but beware of aggressive cleaners that will leave stains.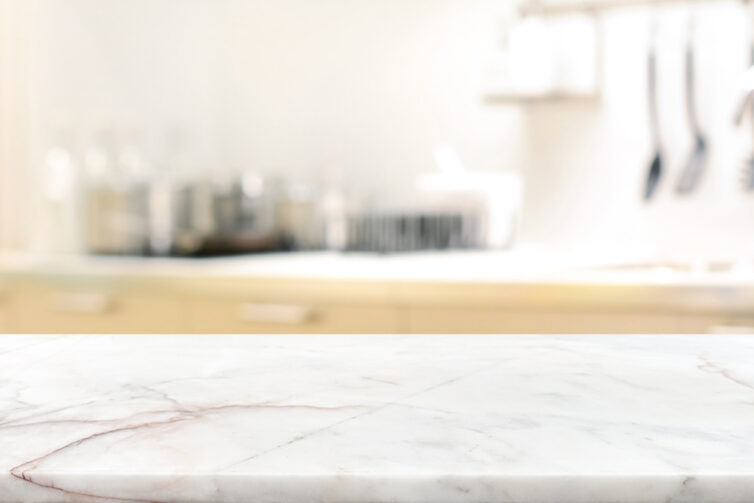 Natural stone countertops are very durable but absorbent. It needs to be treated about once a year. The same applies to wood. With a kitchen worktop made of artificial stone, you have to be careful with hot water so that the material doesn't get a temperature shock. Wipe the worktop regularly and try not to leave food on it.