Your home should express your personality – and it doesn't have to be harmonious, simple and straightforward.
What distinguishes boring from exciting decor is often the clever play of contrasts: straight and chaotic, round and angular, rough and smooth, modern and old, new and old, colourful and grey, black and white. As is often the case in life, a lot depends on quantity. Too few contrasts make the house look like a hotel room; too many contrasts make it difficult to focus on anything.
For this very reason, Achille and Pier Giacomo Castiglioni were looking for a more stylish alternative to the pendant lamp. The answer came with Flos Arco lamp. This has become a classic that inspires design enthusiasts as well as pragmatists, because the design focused on functionality. 
Breach of style as a stylistic device
Speaking of style, means of stylistic inconsistency are also part of the theme of contrasts. There are numerous design styles from "Asian Style" to "Urban Jungle", some of them are already celebrating style breakage, such as "Boho Scandi". This style combines the clear, orderly, strict Scandinavian design with the rebellious Boho approach, which deliberately breaks all the rules.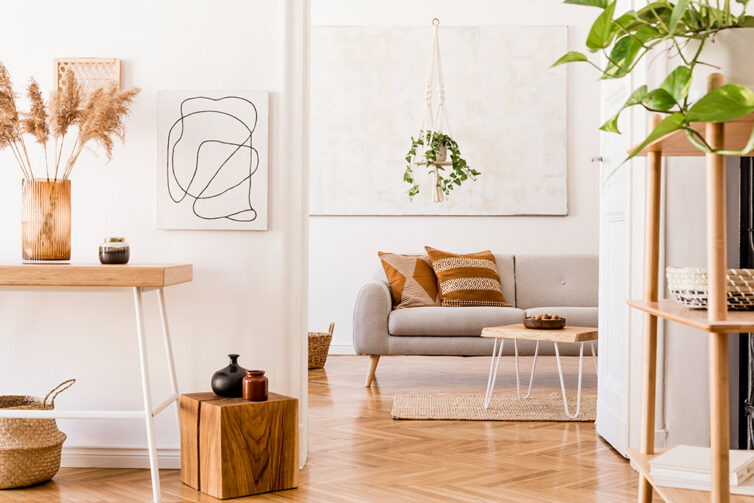 And this can work very well: Scandinavian style gives you the basis with its clear and subtle colours, clear and simple shapes, natural and open surfaces. On the other hand, Boho style gives a cheerful, creative and unrestrained note. Scandinavian alone is perhaps too simple. Boho alone is too messy. In contrast to each other, they develop a whole new energy.
What is the typical country house look?
The cozy country house style is characterised by a creative combination of local woods, traditional fabrics, patterns and distinctive details of traditional countryside house architecture. Solid wood furniture is the main protagonist, giving your apartment a classic or rustic look.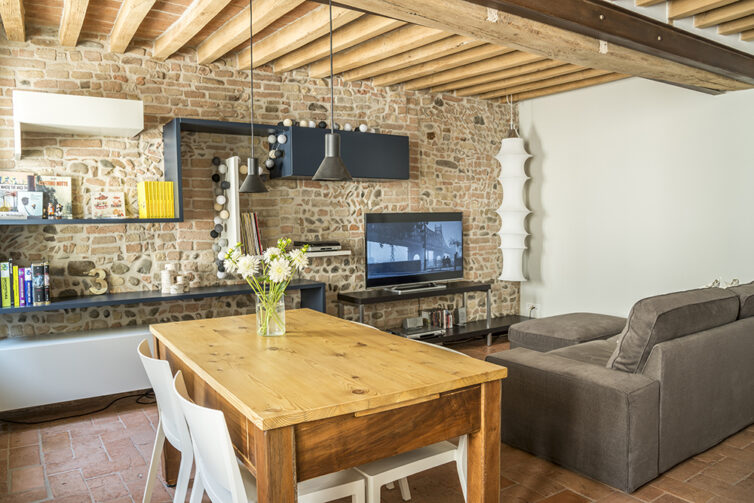 The heavy, unfinished wooden table is the focal point of a living room and can also be ideally combined with modern elements. With stools, chairs or coffee tables made of sturdy wood, you can create a harmonious overall picture. For the farmhouse style to really come through, use brown tones in combination with pastel colours and white. It conveys a rustic atmosphere that can also be transported to a city apartment.
More charm with vintage elements
Vintage style brings a touch of nostalgia to your apartment and creates a charming atmosphere, and these turn out to be a real treasure chest. Furniture and accessories with a history are characteristic of vintage style. In addition to drawers and cabinets, also benches have a nostalgic charm thanks to their small signs of wear, scratches or other imperfections.