As we become more aware of climate change and the impact it's having on the planet, millions of people are making more eco-conscious choices. From where you shop to how you style your home, there are numerous ways you can adjust your lifestyle to become more eco-friendly.
Fortunately, you don't have to sacrifice style in order to be more environmentally friendly. In fact, there are a variety of ways you can combine environmentalism with interior design to enhance your home and living environment. For inspiration, take a look at these seven ways to create a stylish, sustainable home:
1. Use Eco-Friendly Paint and Wallpaper
Standard paints and wallpaper often contain a variety of chemicals that are harmful to the environment. In addition to this, volatile organic compounds (VOCs) can be harmful to your health too. By switching to eco-friendly paints and wallpaper, you can opt to use VOC-free materials that will increase the sustainability and safety of your home.
Many major manufacturers are now producing eco-friendly, VOC-free ranges, so you won't be stuck for choice if you want to redecorate your home in a more sustainable way. Whether you're looking for vibrant colours to brighten up a bedroom, patterned wallpaper to stay on trend or calming neutrals to create a tranquil feel, there are endless colours and shades to choose from.
2. Bring Nature Inside
Houseplants are a fantastic way to enhance your surroundings and they can act as the finishing touches to your décor. It's well-known that indoor plants can make your home feel lighter and healthier, but you may not realise why.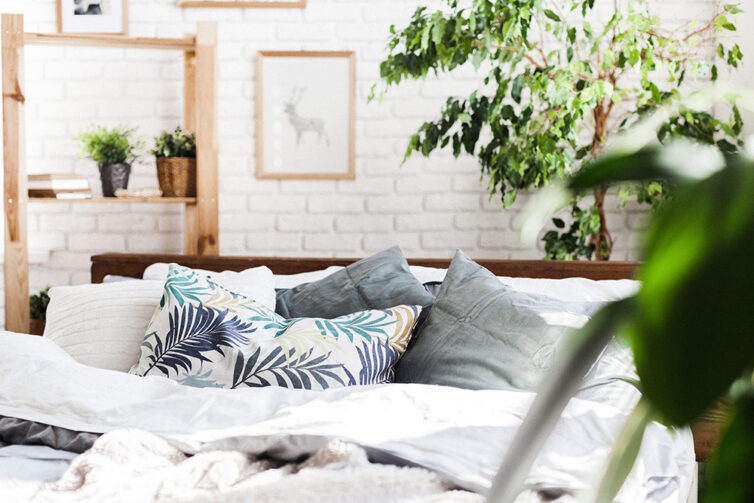 Plants release oxygen into the air, as well as absorbing carbon dioxide and toxins. These toxins are often responsible for a variety of health symptoms, including headaches and dizziness. By choosing to display indoor plants around your home, you can incorporate a natural air purification system into your environment.
3. Recycle and Upcycle Furniture
When you're redecorating or re-thinking your interior design, don't be too quick to discard your existing furniture. Often, simply moving a piece of furniture from one room to another can give it a whole new feel. Alternatively, 'upcycling' furniture is a great way to give it a new lease of life. When you take the time to upcycle your furniture, you can ensure it's in-keeping with your new interior design and you'll even have the benefit of creating a totally bespoke interior.
Of course, recycling and upcycling is also a fantastic way to be more environmentally friendly. The purchasing and manufacturing of goods results in high carbon emissions, which is why buying items unnecessarily is discouraged. By increasing the longevity of products via recycling and upcycling, you can avoid contributing to this problem, learn new skills and save some money at the same time!
4. Buy Vintage
If you do want to treat yourself to something 'new'. take a trip around vintage shops or thrift stores first. Similarly, scour online marketplaces to find budget-friendly pre-loved items. Buying vintage products is certainly a form of recycling, so you can be confident that you're making your home more sustainable when you use vintage pieces to enhance your décor.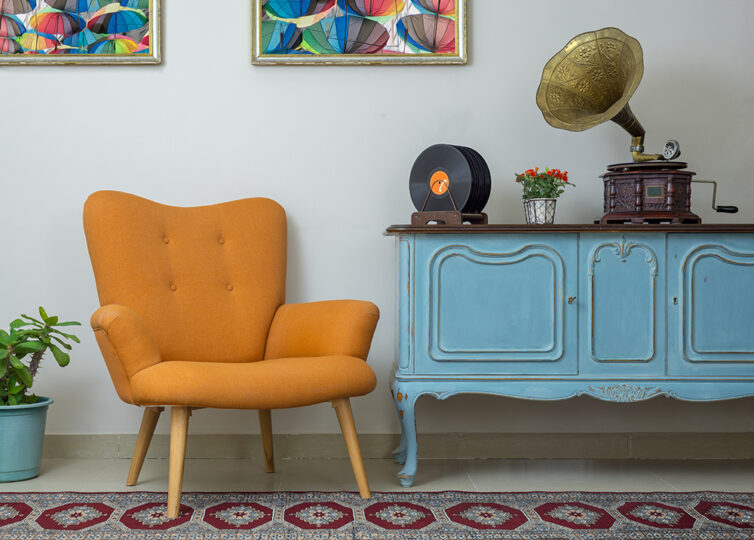 As well as finding exceptional pieces to decorate your home, buying vintage also means that you can create a custom interior design. When you steer clear of mass-produced goods, it's easy to unleash your creativity and create a truly unique interior for your home.
5. Upgrade Appliances
Outdated or inefficient appliances can use up a disproportionate amount of power and emit large amounts of carbon emissions. As a result, you'll find that these appliances account for a considerable percentage of your household's carbon emissions. Fortunately, manufacturers are now well aware of the impact their goods have on the environment and are responding to consumer demands for 'cleaner' products.
When you upgrade your boiler, for example, you can choose a more energy-efficient model than your current appliance. This will enable you to heat your home and hot water while reducing the damaging emissions that are produced. However, the benefits don't stop there. When you choose a replacement boiler from BoilerCentral, you can benefit from budget-friendly prices, fast installations and interest-free financing.
More efficient appliances typically require less power too, so you'll find that upgrading to more environmentally friendly models can have a positive impact on your bills. With lower running costs, replacing outdated appliances with newer models can be an effective way to save money and make your home more sustainable.
7. Install LED Bulbs for Layered Lighting
Lighting is an important component in any interior design, so you'll want to think strategically when you're deciding how to illuminate rooms. For many environments, layered lighting is the best option as it provides the most flexibility. When you incorporate ceiling lights, wall lights and lamps into your design, for example, you can adjust the lighting on demand to create different atmospheres.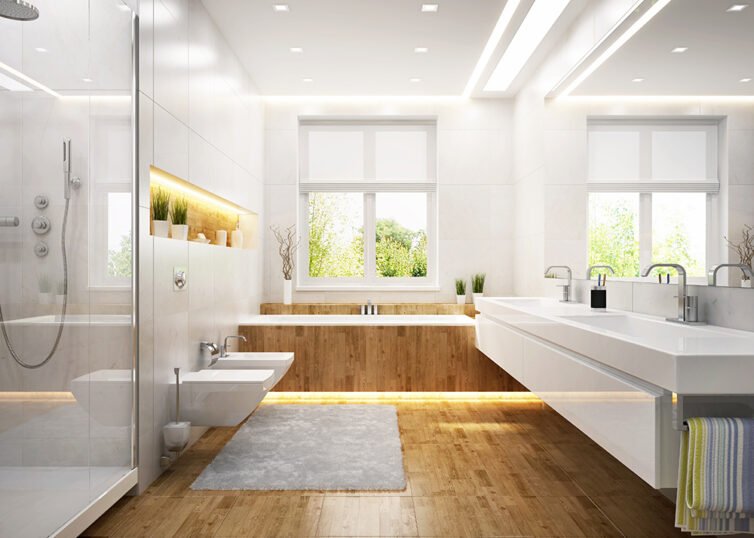 As we spend more time at home, the ability to modify your environment ensures you can create a multi-purpose space that serves the needs of your family while elevating your décor. To ensure you're thinking sustainably, be sure to choose LED bulbs for indoor lighting. These are much more efficient than traditional bulbs and last for much longer too.
If you're going to install lights outside to overhaul your exterior design, take a look at the weatherproof solar-powered lights that are widely available. By making the most of renewable energy, you can increase the curb appeal of your property while promoting sustainability.
Making Your Home More Eco-Friendly
People often assume that you need to make radical lifestyle changes to live more sustainably, but this isn't the case. In fact, you can make your home more energy-efficient simply by making a few, relatively minor modifications.
Similarly, any lifestyle changes you choose to make can actually increase convenience and make your life easier. With so many benefits associated with living sustainably, it's easy to see why millions of people are choosing to be more environmentally friendly and, with these top tips, you can join them!