The last few years have been huge for Scandinavian style and seen it truly take centre stage in the world of home interior design. At the core of that is the concept of hygge – the Scandinavian word for cosiness – with connotations for wellness and contentment.
Who doesn't want a home that promotes those things?
Whether cosiness is your goal, or if you just like the paired back chic of Scandi style – you've got to start somewhere. This guide is an actionable set of advice you can take into your humble abode right now!
Let's go back to basics
True Scandinavian style is based around a minimalistic approach, with plenty of natural light and open spaces. Clutter is the antithesis of Scandi style, so you should start by decluttering space – room by room.
The best way to make that happen is with great storage. All those pesky items that would usually find themselves scattered on tables, work surfaces (or even the floor) should have a place to live.
Whether it's a wire storage basket, white wooden shelving unit, or kilner jars, there are plenty of options available without breaking the bank.
Hygge Gallery
Flooring is key
With your blank canvas established and your floor space showing, you need to make the most of that space. What covers the floors is literally the foundation of every room and its interior design. Without the right flooring to underpin everything you do above it, you can undermine all your great efforts.
Choosing the right flooring will help you to create a cohesive look, drawing together all of the other elements, from soft furnishing to ornaments, furniture to decoration.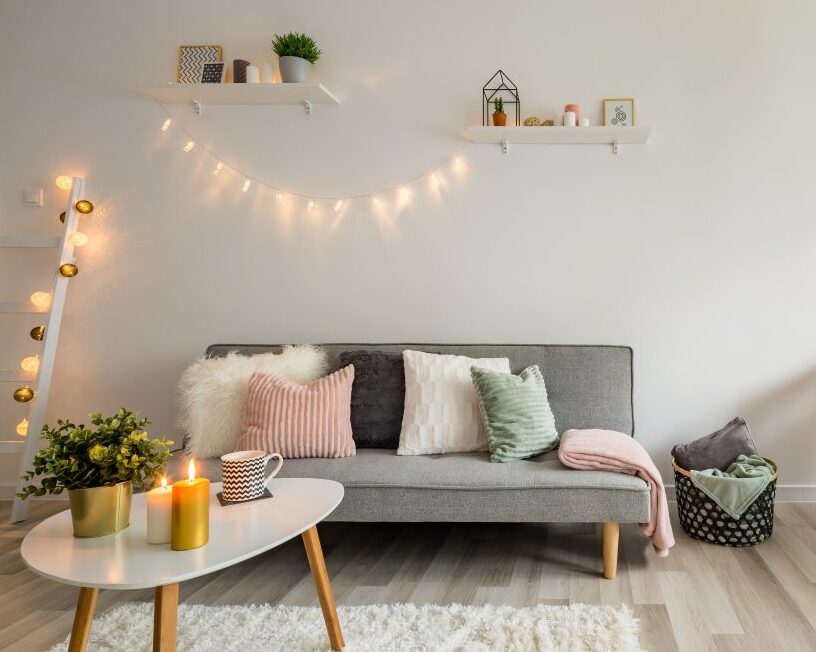 Bearing in mind that Scandinavian design is all about an understated, natural look, there really is only one option to get this right – wood flooring. Carpet is nowhere to be found in the Scandinavian home; so instead you need to be looking at your authentic wood flooring options. For many people, there is a perception that this needs to be expensive – but that's not true. Whilst 'solid' oak flooring can be pricey, engineered wood flooring is the perfect alternative.
Only true hardwood flooring can give you that authentic Scandinavian look that will always remain timeless and minimalist, and engineered flooring has the advantage of only paying a premium for the part that shows! The part underneath is made of a plywood core, which helps the board be more flexible, more durable and considerably more cost-effective.
However, there are several options to choose from. A board type needs to be selected first and whilst oak flooring is the clear choice for any Scandinavian-inspired house, other options do exist. For us though, you can't beat a proper oak board – it is one of the most versatile wood types and offers a range of colour and treatment options. Go for a traditional colour or try out a more cool-toned option.
Go subtle with colour palettes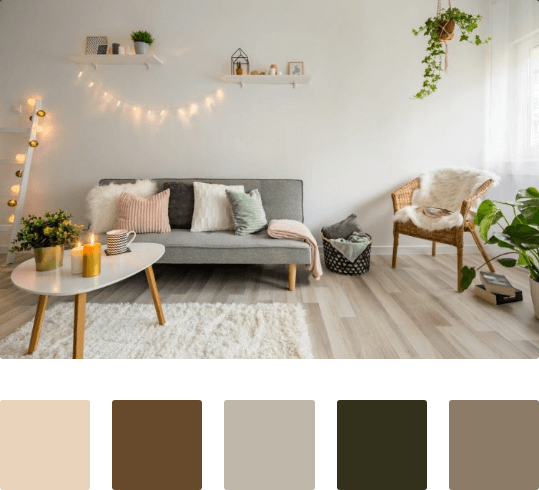 It is a core feature of Scandi style that muted colours form the backdrop to each room and stronger colours are limited to 'splashes' to pick out finer details – like homeware, cushions, rugs etc. When it comes to choosing paint colours, furniture and floor colours, muted or cool-toned options are comfortably the favourite choice for a hygge feel.
Consider going for a light feel in your home, perhaps particularly if space is at a premium. A lighter colour scheme will open the rooms up and make the place feel lighter and airier. Take this white washed lime effect flooring for example, a particularly popular choice among those looking for Scandinavian-style flooring.
Focus on natural accents
What do you think of when you think about Scandinavia? Is it high rise buildings, or endless forests and wide open spaces?
Fundamental to Scandinavian interiors is the presence of nature. Natural elements are a huge influence here – but not in the quaint farmhouse eclectic bohemian sense. Instead, the focus is on bringing the simplicity and balance of nature back into the home.
Introduce plenty of plants to your space – preferably a variety of leafy textures and drawing on the silvery green tones that work so well in this style. Bring some natural textures into your soft furnishings, such as a sheepskin rug by the far and / or some soft linen sofa cushions.
Mistakes can be made when it comes to flooring. A popular approach, for example, is to apply a lacquer to protect the floor, but Scandinavian style tends towards natural, rustic textures, meaning that you would be wise to avoid such a shiny finish. Instead, opt for an untreated wood floor, and when it's fitted, add a matt oil treatment such as Treatex Hardwax Oil. This achieves a much more 'chic', natural-looking finish and actually provides more durability and stain resistance. It also gives easier maintenance this way and, after all, Scandi style is also about function, not just fashion!
Promote that hygge warmth
Let's not forget in all this that your home is all about you.
Yes, there are plenty of rules to follow to get the absolutely authentic Scandi style, but you can't lose site of what hygge is really about – cosiness. That can vary from person to person, so make sure the space feels comfortable and lived in to your own requirements.
Sticking to the flooring theme, that could mean choosing a warmer-toned wood flooring, such as a natural 'golden' European oak floor or even an engineered American black walnut flooring, which boasts a rich, warm tone. This might be slightly less authentically Scandi, but sacrifices can and should be made sure it suits your style too. Even a darker floor like this can still create a wonderfully Scandinavian-style home when paired with white walls, plenty of plant life and light furnishings.
Whatever hygge means to you, just keep in mind the core principle of lagom-
"Not too little, not too much. Just right".
It's all about achieving balance.
—
So, there we have it! Just a few tips on how to create that Scandinavian look in your home. If you're dreaming of creating your own hygge haven, our advice is to start from the bottom.