Designers make it look so easy – picking out a few stunning items of furniture, adding some splashes of individuality, and creating a room that is inviting and cosy. Doing it yourself at home can seem quite intimidating, but it doesn't need to be.
Understanding a few simple principles makes it easy to pick out exciting furniture for your living room. These tips will help you make sure that the pieces complement the space, coming together to create a room that you can be proud of.
Choosing a style
While your different pieces of furniture don't need to be strictly matching, they should be tied together by one clear style.
Start by thinking about whether you want something contemporary or more traditional. Modern living room designs will often have a more minimalist feel, so the furniture you choose will be understated with just one or two key pieces to draw attention. They will also typically make use of fresh, bright colours: think lots of clean white surfaces with a few splashes of your favourite colour.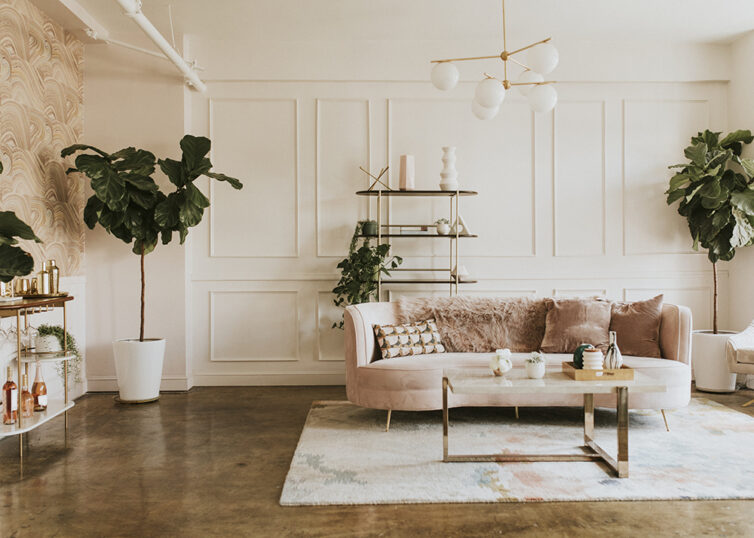 With traditional styles, there are a lot of different routes you can go down. Take inspiration from the opulence and luxury of a traditional Victorian drawing room, conjure up the homely atmosphere of a country cottage or lean into the nature-inspired Scandinavian theme, popular since the 30s. Whichever you choose, the important thing is to have it clear in your mind before you start. This will guide you to find furniture that works well together.  
Creating a focal point
Your living room should be built up around one key focal point, determined both by the layout of the room and your lifestyle. This is usually something that draws the eye, like a fireplace, window or television. Once you know what the focal point will be, choosing furniture is much easier as you can find pieces that complement the space.
For instance, if you want to create a room that's perfect for gazing into the warmth of the fire, a soft and inviting sofa will probably be one of your most important items. From there, you can think about how people are going to be using the area. Do you want a large coffee table for the family to sit around playing board games? Or is it more important to have a foot stool and some side tables so that people can unwind with a cup of tea? Your habits will determine what type of furniture you need. 
Making a statement
Choosing furniture for practical reasons is important, but you also want to think about the visual effect. Depending on the size, a living room looks best with just one or two statement pieces. If you have too many loud, showy items then the room can quickly start to look cluttered.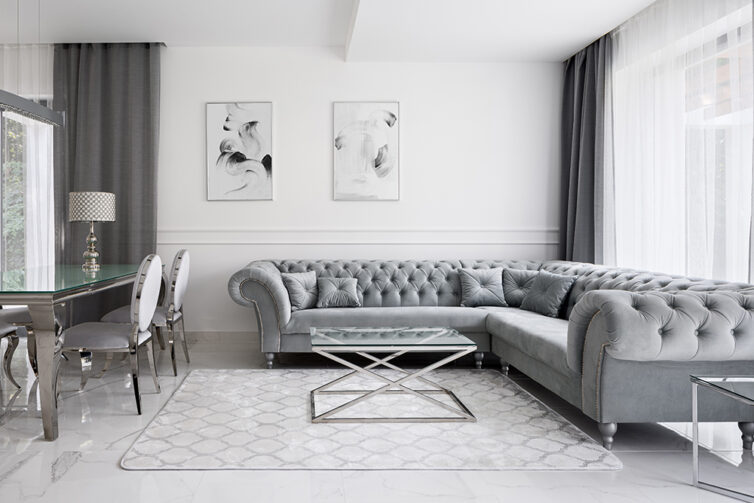 So what should your statement item be? For many, it's the sofa/armchairs. As one of the larger items in the room these are one of the first things you notice, so it makes sense to have them become an integral part of the design. The sofa you choose says a lot about how you want your living room to feel. An elegant Chesterfield, for instance, would add some glamour. On the other end of the spectrum, a comfortable corner sofa such as the ones available at Furco can help to create a welcoming atmosphere.    
Adding tables and storage
Aside from your sofa and chairs, there are a few key pieces of furniture that most living rooms will need: the coffee table/ side table, a TV cabinet or stand and some storage – perhaps a bookcase or cupboard. These are far from being afterthoughts, and the items that you choose should help build your overall style. Consider opting for the same colours and materials so you don't end up with a clash.
Tables and storage are primarily practical. Think about how family and guests will use them. There should be enough table space for everybody to have a drink within easy reach. Your storage should give you enough room to comfortably tidy away all of the clutter.
Practical doesn't have to mean boring, though. A coffee table or bookcase can easily become a statement piece in your room, creating a decorative area where you can put items on display and let some personality shine through.  
Overall, choosing the right furniture is about finding the pieces that make you feel good. Try to find a balance between comfort, practicality and style: items that look good and go well together, but also let you use the space in the way that you want to.