---
With the days quickly becoming shorter and the nights getting colder, what better way to feel snug and warm this autumn than cuddled up on the sofa.
There are many different styles of sofas and couches, from stylish Mid-Century Modern, to the regal looking Chesterfield, but for me it's not only the style but the colour and comfort aspect that attracts me.
I like the sofa to be the focal point of the room, an item that adds character and invites people to feel comfortable and at home. Don't get me wrong there is definitely a place for grey sofas, and yes they can be made in a way that is very stylish and very comfortable, but a grey sofa is more an item that fits into a space, one that allows a room to shine without taking any of the credit.
---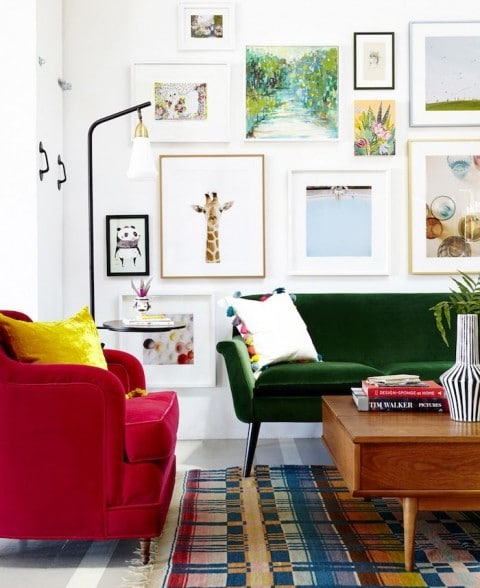 Image Source
In the picture above the red armchair and green Mid-Century Modern sofa really pop! They also add a sense of depth and warmth that a bright white room can sometimes lack.
---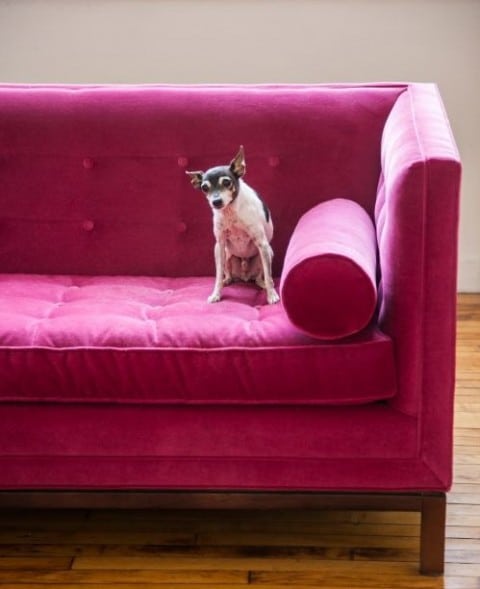 Image Source
The Tuxedo sofa design, the pink colour, the modern design metal legs and the cute dog, what isn't to like about this sofa!
---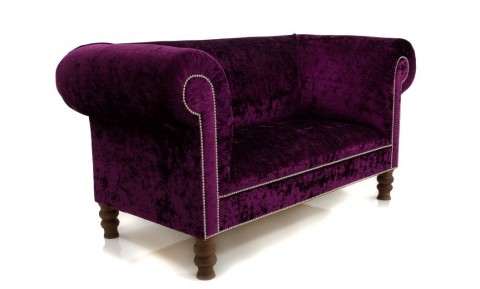 Image Source
The colour and style of this sofa screams out opulence and comfort. It's a real statement piece, with its high rolled arms, rolled back, and rich plum coloured upholstery.
It is a bold choice of colour for some, but I commend the client who ordered this particular sofa called the Walpole Chesterfield, from The Original Sofa co, as it's a magnificent piece of furniture, that would tick all the boxes.
---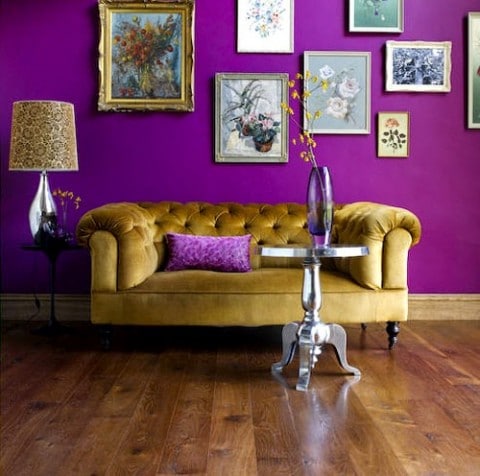 Image Source
A gold velvet Chesterfield sofa – what a magnificent piece of furniture!
I love the contrast between the purple walls and the gold of the sofa, but if I could change one thing in this picture it would be the silver side table. Although the Chesterfield sofa is far from a shy retiring sofa, I feel the silver side table is just a bit too much.
---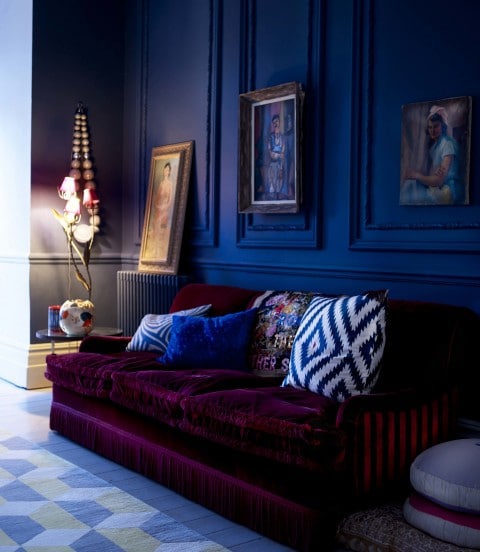 Image Source
This Bridgewater style sofa looks so comfortable I feel I could easily fall asleep on it.
This particular design may put people off, as yes this sofa does look very much like my grandma's sofa, with all the tufts on the skirt and cushions, but wasn't your grandma's the best place to relax in front of the fire and drink hot chocolate as a child?
This retro looking sofa has been brought back to life within this room, it doesn't look dated, instead it looks quite grand against the blue glossy walls, a look that has really shone in the interior design would this year,
---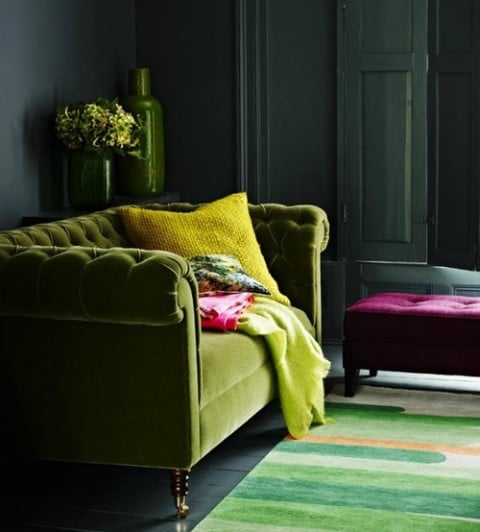 Image Source
Shades of green and shades of pink go so well together if you want colours that compliment and pop at the same time.
They say green is a very relaxing and welcoming colour, this stunning chesterfield sofa with its classically beautiful turned legs placed upon brass castors, calls out for you to take a welcome rest.
---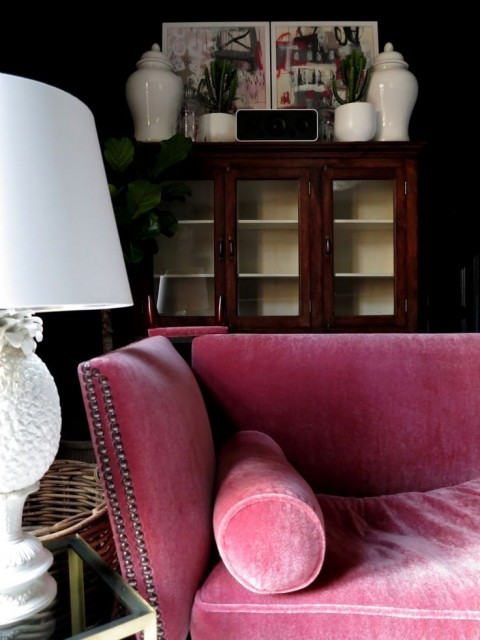 Image Source
With the walls being painted in such a dark colour the designer of this room has picked furniture, that along with the white ornaments adds another level of depth to the room.
I personally have a soft spot for not only pink sofas, but Knole sofas, as I love the way the side arms are tied together with the back of the sofa – adds great character to the sofa.
---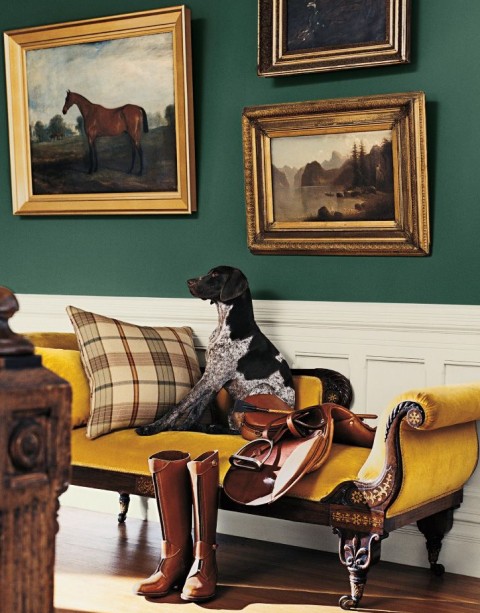 Rich velvety golden yellow, upon a detailed wooden frame, makes this Chaise Lounge look every bit a regal piece.
Although it looks like the sofa could be placed within a country manor, I feel this look would work even in a small apartment. It's just about having the confidence to experiment.
---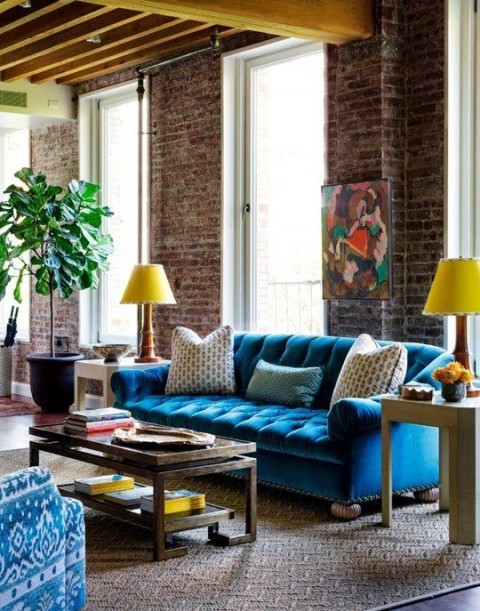 Image Source
People often worry that blue can look too cold a colour to upholster furniture here in the UK, but within such a well lit and warmly decorated room, this blue velvet Chesterfield sofa looks bright and rich in colour, not cold.
---
When I started writing this post I didn't consciously set out to choose mostly velvet upholstery. Though I feel what draws me to this material is like the title stated – warmth! Velvet material gives sofas a rich warm look and feel, which when your looking for that perfect room to relax in, a warm welcoming sofa is a must have.
Main Image Source