Some of my happiest memories as a child were set in the garden.
Be it glorious sunshine or pouring rain, me and my brothers didn't care, we would be outside riding our trikes, playing games, and flying through the air on our swings.
With the increasing worry that children spend too much time indoors and not enough time playing outside, we need more than ever to do all we can to get our children interested and excited by the experience.
I've come up with 10 toys I feel children will love and that will encourage them to play outside. Some can even be enjoyed by adults!
---
Giant Connect 4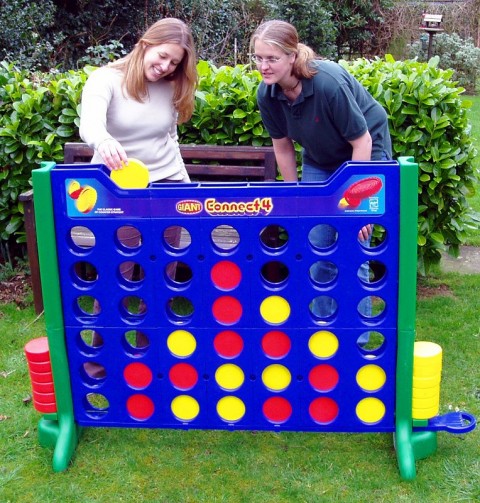 Image Source
What a great way of getting children playing together, and why play a normal game of connect 4 inside when you can play a giant one outside.
---
Climbing Frame Play Area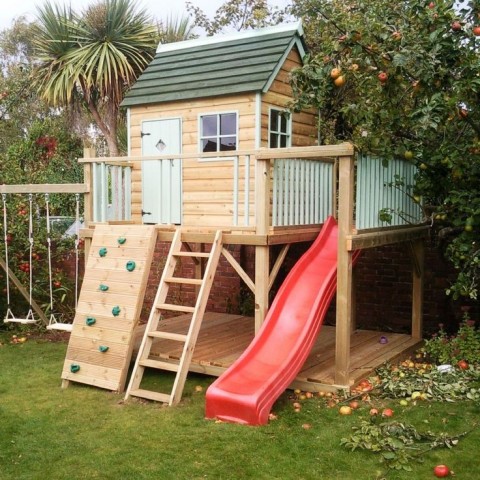 Image Source
This play area is amazing, it includes not only a Wendy house, but a slide, climbing wall, and swings. Your children and their friends would happily play in this for hours.
I'm sure there are many people with the carpentry skills to make one of these, but for those whose talents lay elsewhere you can purchase one similar to the one in this picture at CNM Online.
---
Giant Chess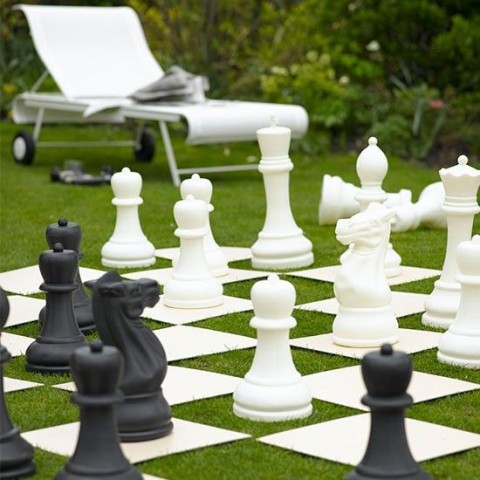 Image Source
Chess is a game that can be enjoyed by the whole family, and it's not only fun but great for exercising those brain cells.
Once you've purchased the Chess pieces there are many options regarding the chess board itself. You can purchase a chess matt, place temporary squares as in the picture above, or you could even lay permanent slabs that are made in different colours.
---
Giant Draughts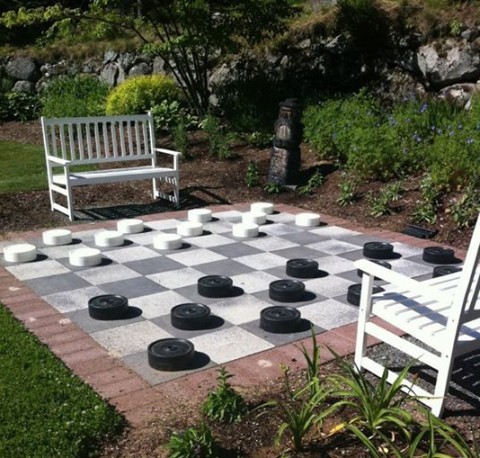 Image Source
This set up is more permanent compared to the Chess set in the previous picture, and works perfectly in this garden. As with the Chess set, draughts can be enjoyed by children and adults alike, and for some children it is a bit easier to play.
---
Rockopotamus Rocking Horse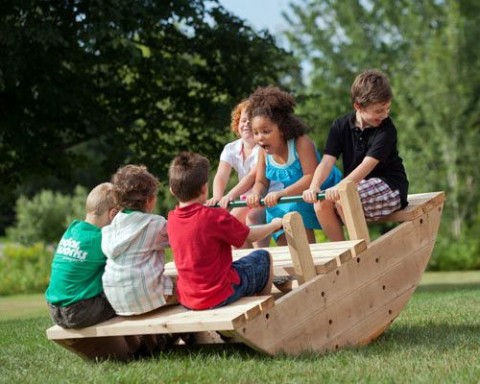 Image Source
So much fun to be had with this take on a rocking horse, this one is called a Rockopotamus! Although one child can still rock the Rockopotamus, it really does come into it's own when a number of children play in this together.
It is a great toy for children to have fun and bond in, but I'm not sure if adults would fit in, although I'm sure a number of you would give it ago!
---
Giant home-made Ker-Plunk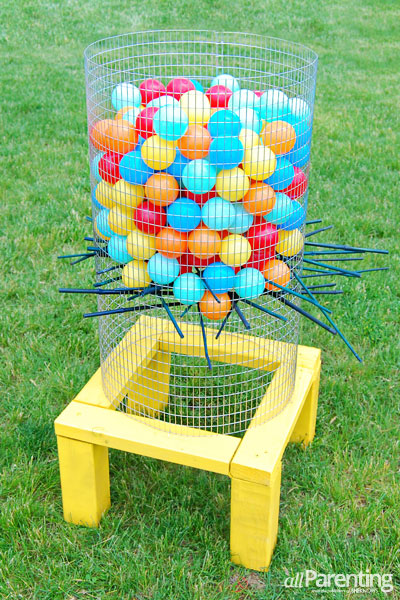 What a great idea! Ker-Plunk is such a fun game for the smaller kids all the way up to the adults. I've not actually found a large version like this one for sale, but there are easy instructions on how to make the one above just here.
---
Lawn Croquet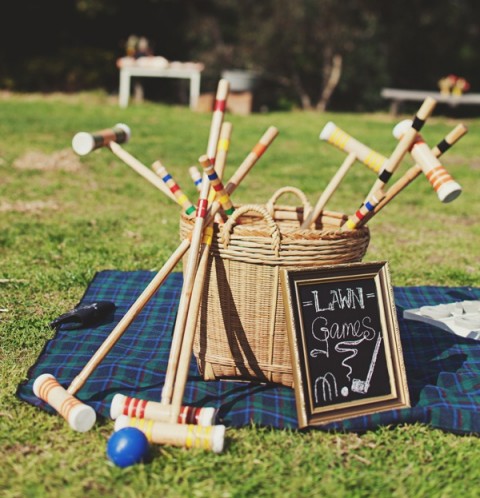 Image Source
If you have a lawn, then this is a really easy game to set up and put away without too much trouble or space needed – just watch those windows!
---
Giant home-made Snakes and Ladders
Image Source
Whoever made this has put so much effort into creating an amazing experience. I bet this was a fun party! Don't worry as you can choose to make one like this yourself or you can purchase one, as there are many available online.
---
See-saw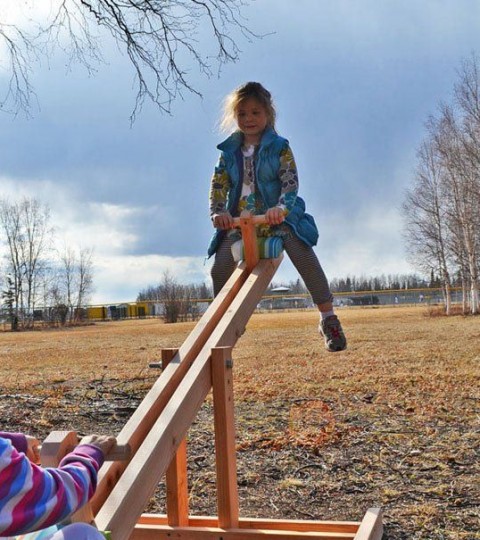 Image Source
See-saws are so simple yet so much fun. The anticipation of loosing your stomach and possibly flying up in the air was such great fun when I was a child. And the generation of children proceeding me do not seem to be tired of the toy.
Again this is something that those with the skills could make themselves, but they can easily be purchased online if you prefer. It really depends on your time, materials available & your finances, and if you're like me you may even wish to get a handmade adult sized one – how much fun would that be!
---
Hula Hoop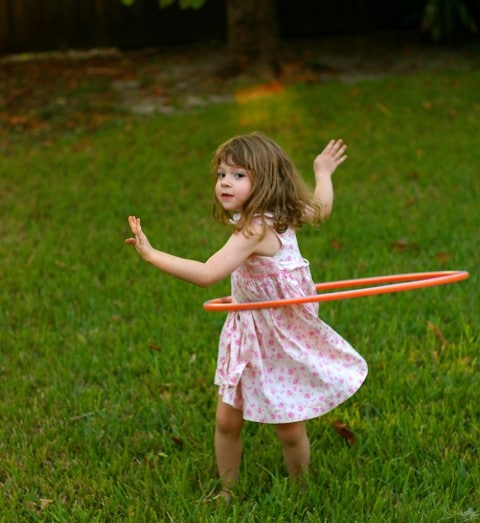 Image Source
Last but not least – the Hula hoop! The Hula hoop is a great way to encourage children and even the adults to become more active and fit, they can cost very little and bring a lot of laughter to garden parties.
---
If you've made your own garden toys for your children, or you've even purchased a toy you would never of believed came in a giant size, we would love to  hear from you.
---