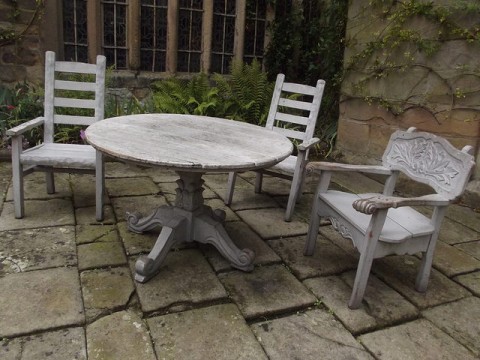 Do you have an old patio set that is in need of some attention?
Does your partner want to throw it in the bin and get something new? If you answered "yes" to those questions, you should read this post first. Today, we're going to show you how to give old wooden furniture a new lease of life and make it usable once again.
Believe it or not, the process is very cheap and simple. You just need to get creative and try some unique ideas. We would be able to make the outdoor furniture shown in the photograph above look amazing in approximately one day. So, it's not even like you need a lot of time on your hands.
Buy an electric sander
You could, of course, sand your wooden furniture by hand. However, that is going to take a long time, and it will tire you out. Do yourself a favour by getting an electric device. You'll notice much better results with a fraction of the effort.
Just make sure you buy enough sanding pads to use on the job. Electric sanders tend to get through them very quickly. Once you have the device, carefully use it on all sections of your wooden furniture. You'll know when you're done because all the wood will be soft and free from paint, etc.
Add unusual accessories
To make your wooden furniture unique, we think it's wise to add some unusual accessories at this stage. We would choose to acquire an old shopping trolley and remove some of the metal bars. We would then bend them around the back of our chairs to create a cage.
There is no limit to the ideas you could conduct. That is especially the case if you're dealing with a dining room table rather than a set of chairs. Just think outside of the box and try to make something you've never seen on sale in a shop. That is the best way to ensure all guests are impressed when they come around to visit.
Coat the entire piece in suitable paint
Some people like to varnish their wooden furniture, but we think that creates an old and worn-out aesthetic. With that in mind, we would choose to use an organic form of milk paint that is available at our local store. It's designed to last longer, and it doesn't contain any toxic or hazardous chemicals.
After letting it dry for a couple of hours, the furniture would look amazing. We would choose bright colours to make our pieces stand out against our decking. However, there are plenty of standard shades available.
As you can see, renovating your old wooden furniture is a brilliant way of saving money and recycling. Far too many people throw good-quality items away because they look a little dated.
We think that is silly, and that you should always make the most of what you have. You don't have to replicate our ideas exactly, but we hope they have helped to point you in the right direction. When all's said and done, it's your home, and you can do whatever you like.
Main Image Source