Thinking about redesigning your living room? We wouldn't blame you because it is perhaps one of the most important rooms in the house.
It's where you'll invite your guests to for an evening buffet or where you'll watch TV with your family. You want it to feel and look homely while also having a stylish aesthetic. We've got some concepts on how to achieve this.
The fact is that when most people think about improving their living room they often think about tech. They start with the TV the surround sound, the comfy chairs. But really, you should begin from scratch.
Repaint
We want you to imagine the room as a blank canvas and that you can paint whatever you wish to cover it. Start with the walls and decide whether they are the colour that you want. If not, then think about what type of look you are trying to achieve.
If you want your living room to look modern, you may want to keep the walls cream or a contrast of black and white. If you want the room to be cosy, you should opt for a darker colour. But remember, the shade you choose will determine how you are going to style the rest of the area.
Improve The Floor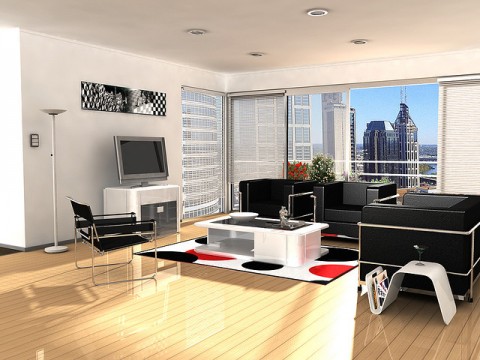 If you are thinking about your living room, you should at least consider the possibility of getting rid of the carpets. Instead, you should opt for hardwood floors. There are lots of practical reasons why you might want hardwood floors. For instance, if you have a baby they are certainly a lot easier to clean up spillages off.
But we think the main reason you should lay down some luxury wood flooring is how it looks. Hardwood flooring will look absolutely marvelous in your living area. Particularly once you choose the right furniture.
Install A Fireplace
Your living room might already have a fireplace, in which case it will have a traditional elegance. But if it doesn't you could always think about installing one. There are some incredible modern designs with glass windows, that fit into the middle of the wall.
The wood is fake but the fire inside is real and it looks incredible, as well as heating the room. You could make this the centrepiece of your newly designed living area.
Curtains And Furniture
Remember, when choosing the curtains and furniture they need to match the general aesthetic that you have already chosen. The curtains should not clash with the colour of the walls or the flooring.
Instead, they should complement the overall tone and you should think about your furniture in the same way. For instance, black sofa's go beautifully with cream, white walls and wooden flooring.
Dressing Up The Room
Your room should be starting to come together, but there are a few final touches you can make. Your walls might be looking a little bare so you should think about buying some paintings and portraits.
If you have gone with a modern design, be sure that you choose modern artistic prints. You can also get a few smaller pieces of furniture that will accentuate the room brilliantly like a stylish glass coffee table.
Once you are finished, your living room should be a wonderful place that you want to spend more time in.