Bathroom designs shouldn't just deliver on style and leisure features, they must also meet the standards of a modern home.
The right design is functional while offering a striking look. Many modern bathroom ideas are based on a minimalist aesthetic while retaining a luxurious feel. It's a space where one can relax and unwind after a long day at work. There are plenty of great ideas to create your dream bathroom, but if you want to take things to the next level, these modern, must-have features shouldn't be missing from your renovation scheme.
Floor heating
Underfloor heating transforms a bathroom from purely functional to truly tranquil, especially during winter. It's a great way to save space as a main heat source. There are generally two systems available: wire or wet. Because installation is more complex and bears higher upfront costs, it's best to consult with an expert on the steps involved.
Towel heaters
Besides floor heating, towel heaters are a great addition to a modern bathroom project.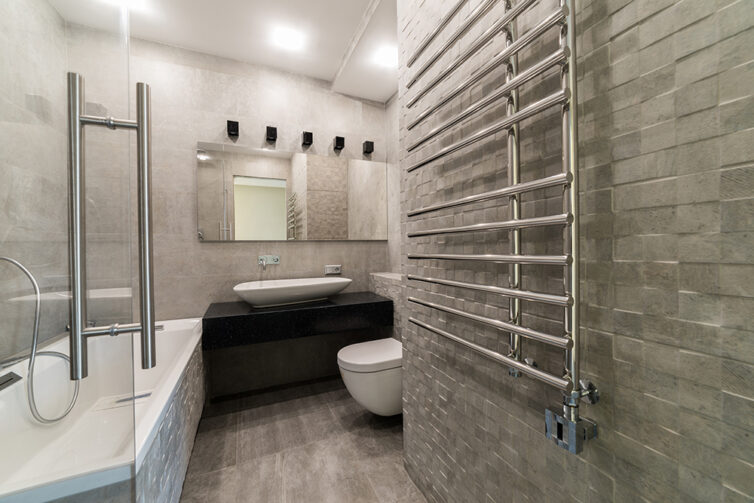 As the name suggests, towel heaters are predominantly designed to warm up your towels, but they often replace traditional radiators in bathrooms. These stylish silver rods add that extra bit of comfort while fitting into smaller bathrooms.
Shower thermostats
Maintaining the perfect temperature for each and every shower has never been easier. Shower thermostats like these from GROHE have been designed to offer better control over your showering experience. They are also a good addition for the environmentally conscious home as they're both water-saving and energy-saving. The thermostat is adjusted to ensure that the desired water temperature remains the same. Thermostats work by consistently monitoring the temperature of the water supply and adjust the balance accordingly.
Dual-flush toilet
Thermostats aren't the only way to save water. Dual-flush toilets allow you to choose between a half or a full flush. Toilets are among the appliances with the highest water consumption. By installing a dual-flush toilet, you can potentially lower your environmental impact and save money on your water bill at the same time.
Statement sink
A statement bathroom sink differs from a modern sink. While a modern sink will usually fit the rest of the bathroom design, a statement sink draws the visitor's eye and attention toward it.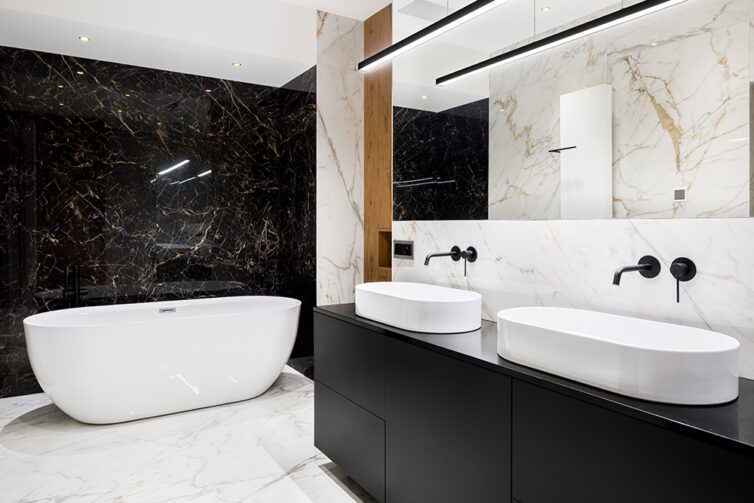 When your budget is on the lower end or you're after a less intensive refresh of your bathroom, a unique sink could be the solution. Plenty of inspiration can be found online such as these four statement-making bathroom sinks.
Finishing touches
Remodelling your bathroom by adding a series of modern features can lead to truly stunning results, but don't forget the finishing touches. Simple furniture items like laundry baskets can lend a homely flair. Tall plants or decorative pots across the window add a pop of colour and life.