After a long day at work or at the weekend when you want to spoil yourself, nothing quite beats lying back in a hot bath in beautiful surroundings.
The importance of keeping everything watertight can feel quite restrictive when you're designing a bathroom but with an increasingly wide range of suitable materials on the market, all you really need is a bit of imagination. Plan it out carefully beforehand, resist the temptation to cut corners, and you'll have a room that looks stunning and is perfectly suited to your needs.
Bathroom basics
With any interior design job, the first thing to consider is who's going to use the finished space. If that includes children, you'll need to think about safety and the potential for mess. if it includes elderly or disabled people (including people with minor disabilities that are likely to get worse over time), you'll need to think about how they will move around the space and what they can hold onto for support. The height of the toilet is an important consideration to make sure it's accessible for everybody.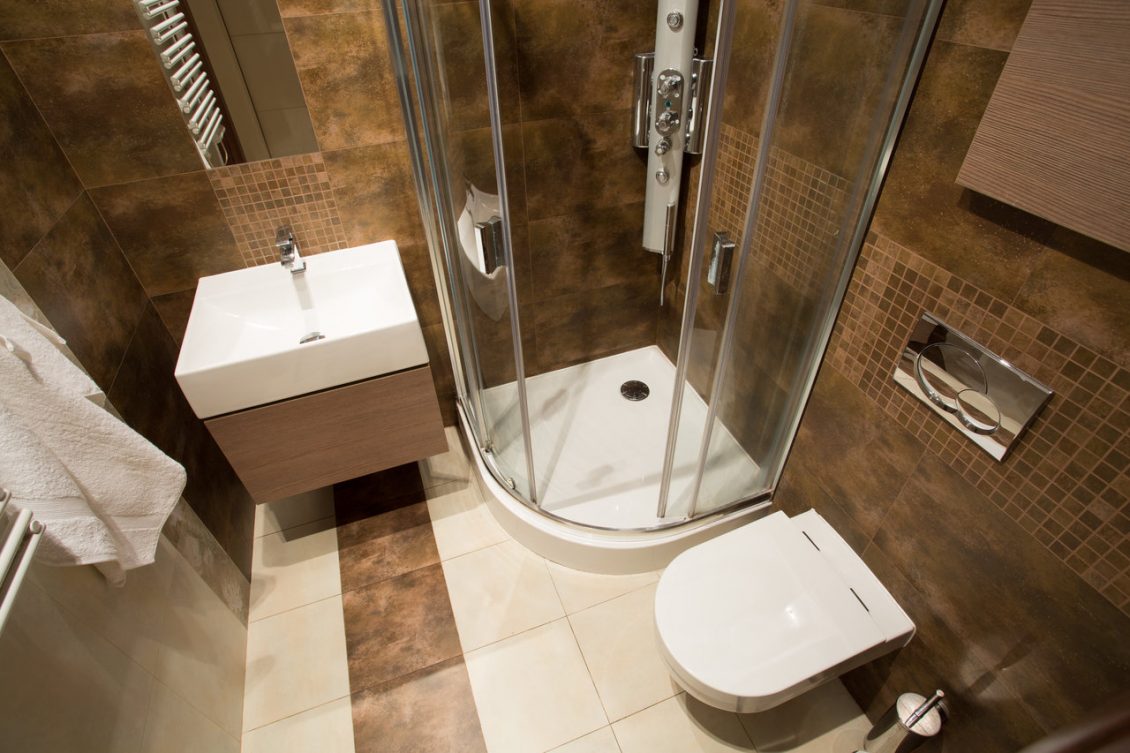 Often people with small bathrooms feel that they have no room for a bath, but bear in mind that you can build up as well as along. Deep tubs can be a great space-saving option and corner baths are often helpful in oddly shaped rooms. If you go for a shower – whether free-standing or over the bath – think about how you will screen it. You might not fit the screen or curtain until after everything else is done but it will have a big impact on the appearance of the room.
Flooring
With a bathroom floor, waterproofing has to be your first consideration, because the last thing you need is rot developing underneath. Wooden floors are still an option but they'll need to be professionally sealed and very carefully maintained. Carpet should only be used if it's designed to withstand damp and has a waterproof underlay.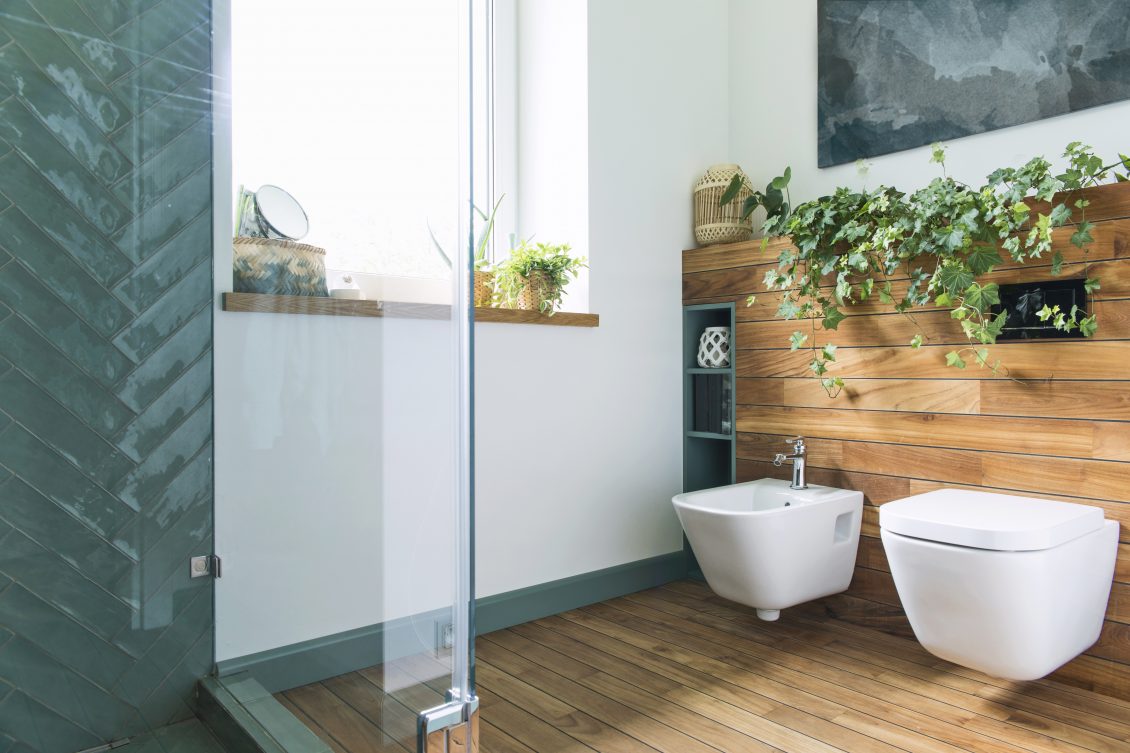 The safest options are linoleum, tiles or stone flags. You can fit these yourself but will need to be careful not to leave any unsealed gaps and, if you choose lino, to leave it in place to settle for a day before securing it. These simple materials give you lots of colour options and if you want a fancier look, you could consider a mosaic.
Walls and ceiling
Fully tiled bathrooms can look very elegant, sleek and stylish, but they're also quite costly and take a lot of work to put together. You may choose to tile the whole room or just the areas that are likely to get splashed. The new generation of water-resistant paints are ideal for other areas. Don't let yourself feel limited to traditional white with blue or green – your bathroom can be any colour you like.
If you want to bring in just a touch of colour without it being overwhelming, consider using plain tiles up to dado height and then painting up above, or running a frieze of colourful tiles around the room. You might also choose patterned tiles or a pictorial theme.
Windows
Having natural light flooding into your bathroom is ideal for enhancing its beauty. Fitting window shutters is a great way to control the light while providing good insulation at night. If you choose curtains or Roman blinds, make sure they're made from water-resistant fabric.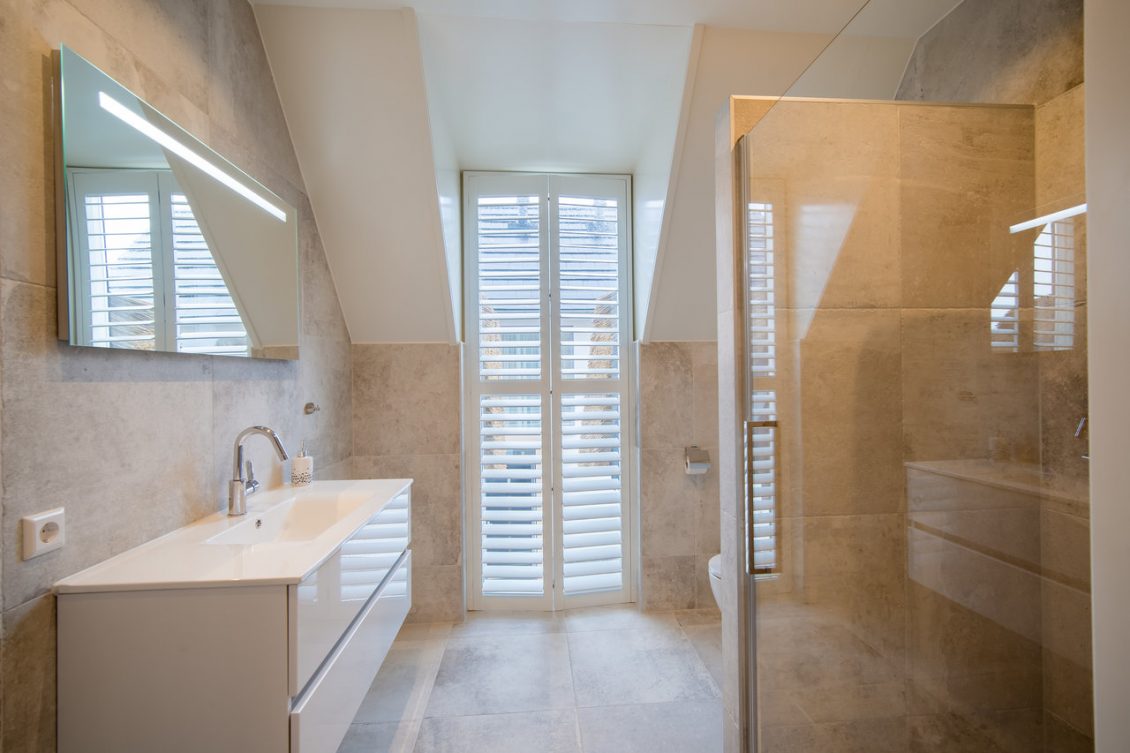 Windows also give you the option of keeping plants in your bathroom, which makes it look and feel fresher. Choose species that do well in very damp environments.
Bathroom storage
One thing that almost all bathrooms need more of is storage space. The simplest way to create this is to build it into your design from the outset, taking advantage of any odd little nooks and crannies, fitting shelves between pieces of bathroom furniture or making room for cupboards. Think about what you will need to store and where you're likely to be when you realise you need it.
Lighting
The right choice of lighting puts the final touch to your bathroom design. If you're significantly changing what's already there, you'll need to get an electrician involved to make sure it's safe, but there are a lot more options than there used to be, with everything from recessed lights to safely sealed bathroom chandeliers. You can also build in useful shelves or niches for candles or oil lamps if you want to be able to give the room a romantic quality.
Making a practical plan that takes all these factors into account will give you room to get creative without running into trouble as a result. You'll be able to design a room that's practical, comfortable and just the way you want it.