It's no secret that 2022 is the year of the pearl. 
Pinterest predicted as much in their "not-yet-trending report" launched towards the end of 2021.  And when Pinterest predicts, we listen—the company have access to an audience of all ages who use the platform to plan everything from parties to home redesigns.  They call their findings a "window in the future""(and they're not wrong, their last prediction report had an 80% success rate).
Fast-forward six months, and yes, the naturally formed gemstone is EVERYWHERE—from fashion to home to beauty—with thanks to celebrities, royalty and influencers alike.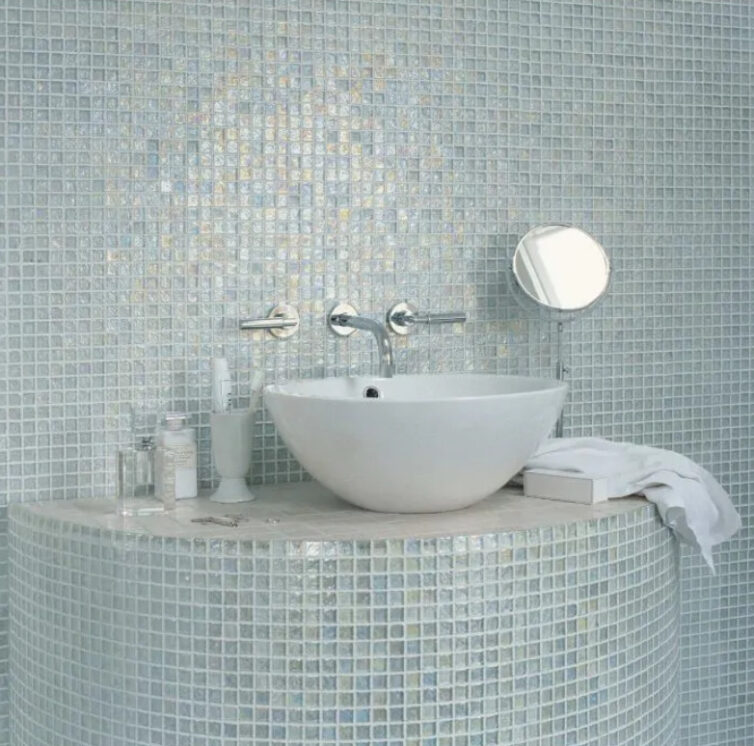 Need a little more convincing?  Global forecasts show the pearl jewellery market is set to boom among the fashion-conscious over the next three years.  The iridescent orbs are soaring in popularity with nail artists on Instagram (the hashtag #pearlnails has over 90,000 posts).  Head to TikTok and you'll find scores of users upcycling accessories containing pearls in their DIY videos.  Plus, Rolls-Royce have just unveiled a one-off convertible with a mother-of-pearl timepiece on the dashboard and a pearlescent paint job on the exterior—the company reported it's one of the most complex custom finishes they've ever completed! Everybody is going crazy for the humble pearl. 
So, How Does This Translate Into the Home?
In 2022, we're seeing pearls being used throughout the home—from the subtle (accessories encrusted with pearl stones) to the not-so-subtle (bathrooms presumably designed for and by mermaids, adorned with shimmering pearl tiles, lustrous accessories and shell-shaped sinks!) Homeowners and interior designers alike love the glossy colour and unique shimmering texture of the pearl. 
The trend, known as Pearlcore in some quarters, takes inspiration from the timeless allure and radiance of the gemstone—drawing from its luminosity, richness and elegance. 
Plus, homeowners have become inspired by the pearl's shape, opting for glowing orb lighting and spherical elements in their decorating.
Why Embrace Pearls in Your Home?
A pearl-inspired colour palette is perfect for those who want to create an elevated space with a subtle, dreamy edge.
Iridescent accents add a touch of luxe to any space.
Pearlcore is timeless yet contemporary.
Colours That Work With the Pearlcore Aesthetic:
The pearl's soft, rich and creamy colour and its iridescent nature ensures it works with almost any shade.  Can't choose?  Take inspiration from the gem's lustrous sheen—you'll notice how it shimmers with tones of apricot, blue, green and pink.
Pair pearl accents with warm neutrals and a shot of apricot to design a mellow-yet-inviting room.
Create a calm, soothing space by using creamy pearl with hazy blue. Layer with chunky textures for warmth.
Seafoam green lends itself to bathroom decorating — pair with cream and mother-of-pearl accents for a modern take on seaside-inspired chic.
For the kitchen, consider pairing pearly tones with warm greys, coffee brown, clay or antique rose for a rustic finish.
How to Incorporate the Pearlcore Trend in Your Home:
Here are five practical ideas to help you incorporate Pearlcore in your home:
Create an eye-catching kitchen splashback: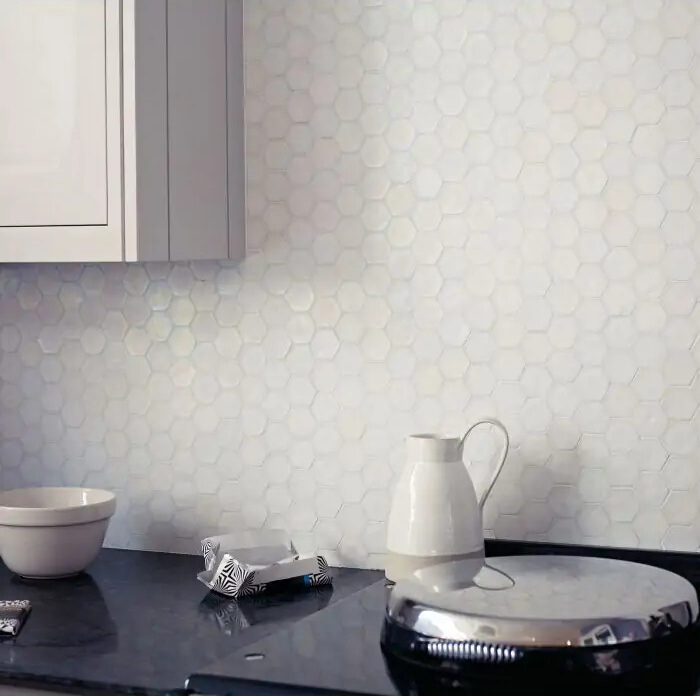 Consider a white hexagon mosaic crafted from the stunning handmade Iridescent Glass Tiles.  Want to see how they'll look in your kitchen? Pair with: creamy walls, stoneware accessories and light-coloured cabinets for a fresh and airy look.
Design a bathroom feature wall that makes a statement:
Install Iridescent Glass Frost Kaleidoscope Tiles to create a statement wall in your bathroom.  This stunning tile features a mixture of star and hexagon shapes with creamy and golden iridescent accents.
Create the mermaid bathroom of your dreams: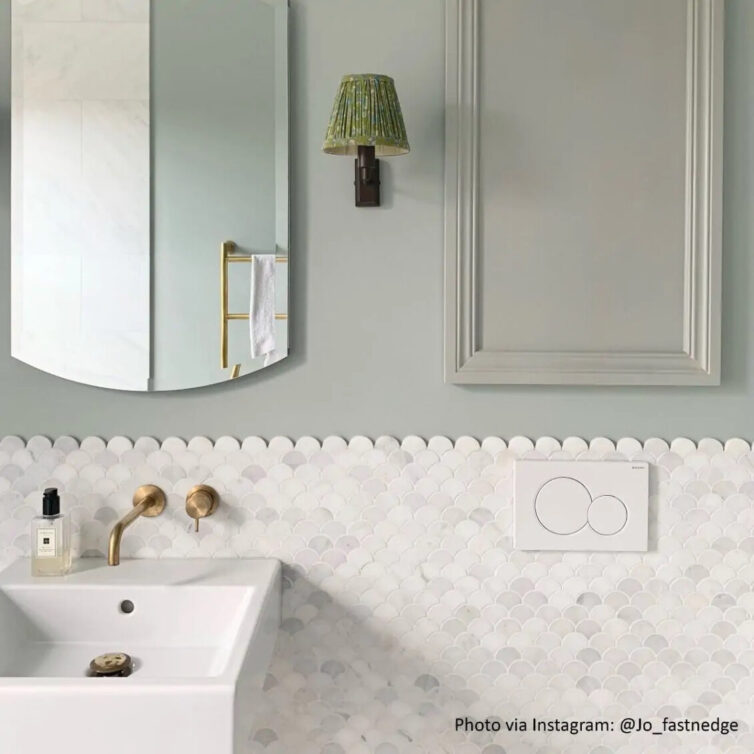 Cover the bottom half of your walls with our elegant East Hampton Scallop Mosaic Tiles.  The unique pattern resembles fish scales.  Paint the remaining wall in any colour of your choosing for a striking look. 
Create a haven of relaxation: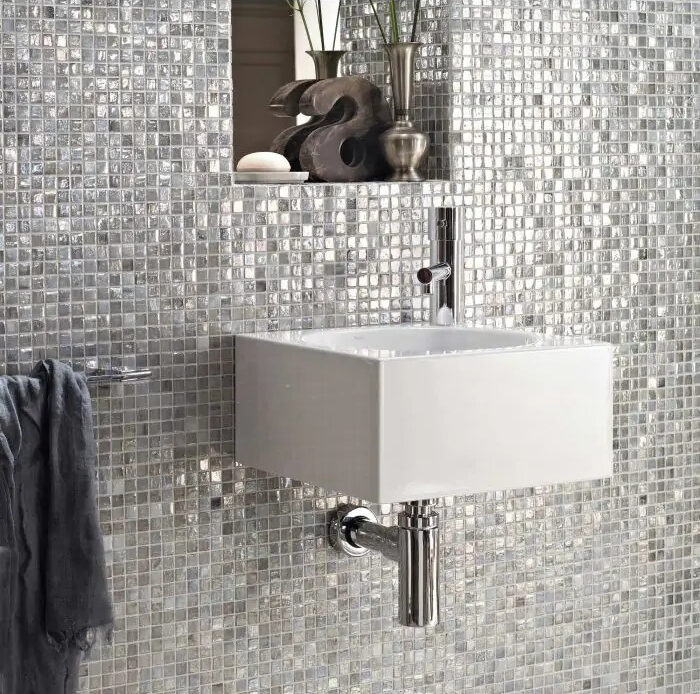 Imagine soaking in the tub as the sun goes down, the afternoon light shining through the window and shimmering around your bathroom. Turn that into reality by installing our stunning Malacassa Glacier Tiles on your walls and floor. 
Create a bar nook that oozes glamour: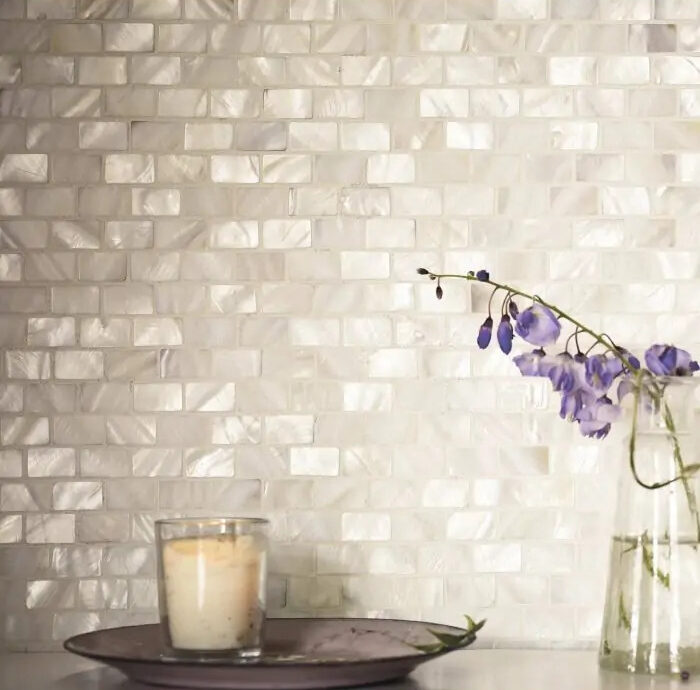 Transform a quiet corner into a home bar by installing pearl-effect tiles behind a well-stocked cart, set of shelves or drinks cabinet. We think our rectangular Mother of Pearl Tiles will be a glamorous addition to any home. 
​​