A large bathroom is the ideal opportunity to include plenty of luxurious elements in your design.
A small bathroom can of course be luxurious too, but with more space to work with you can let your imagination take reign and create the ultimate pampering retreat.
If you are lucky enough to have a large bathroom to decorate, there are some fundamental design choices you must make to fully utilise your large space.
To create a standout bathroom in a roomy space, you can decide early on if you want to include:
A freestanding bath
A walk-in shower area with seating
A bathroom with dressing area
This post considers these above three design elements that you can choose when creating a functional yet also lavish bathroom to make the best of your larger space.
A freestanding bath
There's no denying it, there is something glamorous and decadent about a freestanding tub! Perhaps it conjures up the image of Hollywood in the 50s where stars were photographed with champagne, decked out in diamonds and reclining in a tub!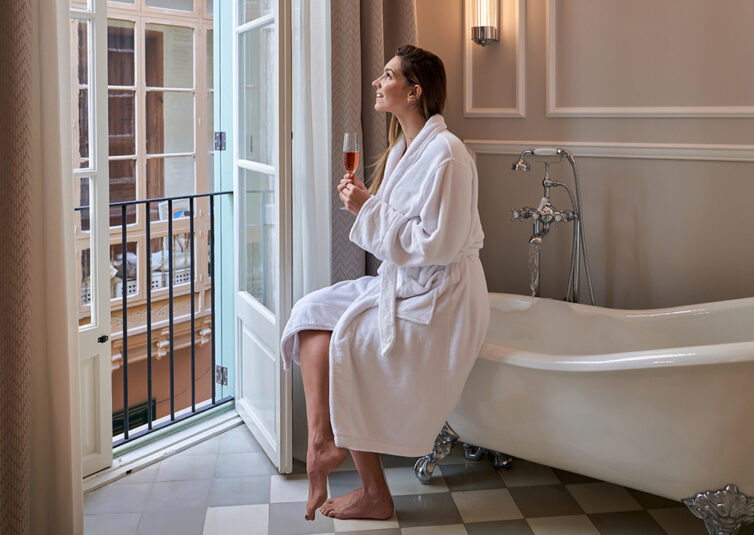 Today, there are so many options – roll top, claw feet, double-ended ! We particularly love a freestanding tub in a traditional or period property as they accentuate any original features. If you are looking for a more contemporary look, most suppliers can provide your favourite tub in a variety of painted finishes. Why not choose a bright colour to become the focal point of your spacious bathroom?
This sumptuous bathroom with freestanding bathtub was designed by award-nominated London bathroom design company Kallums Bathrooms.
Making use of the double windows, the freestanding tub stands in pleasing symmetry. The warm, yellow hue of the tub perfectly complements the stylish hexagonal floor tiles, providing a terracotta effect.
Walk in Shower area with seating
What is more relaxing than enjoying an evenly falling rain showerhead whilst relaxing comfortably on a built in or portable shower seat? A spacious walk-in shower is both accessible friendly and luxurious feeling.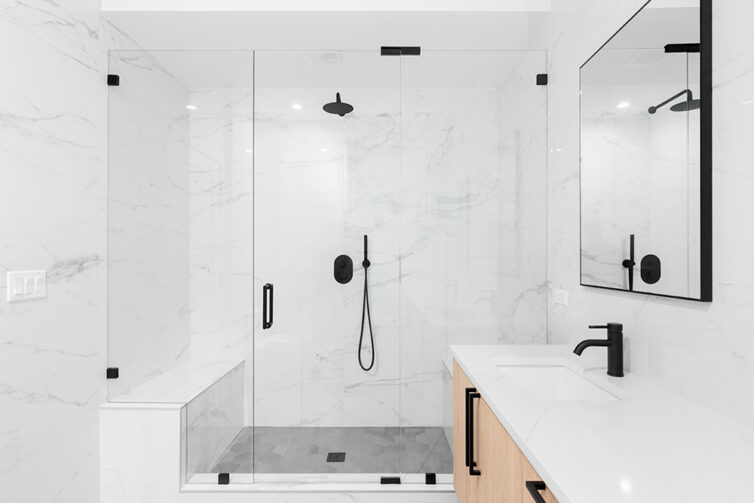 Adding a seating area into your shower layout also provides handy and clean-looking storage options. Whether you require a more functional family bathroom or a spa-like retreat, a large walk-in shower gives you the opportunity to take time out, unwind and bask beneath the steam.
A bathroom with dressing area
One way to really make the most of a large bathroom space is having the ultimate open plan bathroom – with bathing and dressing as a single concept.
Opting for open plan in this way means you can position bathing facilities and the WC cleverly to have privacy while also having room for a glam dressing area, complete with vanity!
With designated areas for bathing, dressing, and pampering you really will want to spend hours getting ready for the day!
Conclusion
There are many ways to design a large luxurious bathroom. By using ideas like those mentioned above, you can turn your large bathroom space into the ultimate sanctuary. We hope these three tips on luxurious bathroom designs for larger bathrooms have inspired you!