The holidays are all about creativity and making things, and your table decor should be no different.

On the other hand, having to even just think about the decor might just be the last straw that gives you a stress headache as you deal with coordinating the cooking, the airport arrivals and pickups, and wrangling the rest of the family into their spaces.
To make it easier on yourself, we suggest purchasing the main centerpiece from a place like FTD, ProFlowers, or 1800Flowers, and then enhancing the look with the tips below: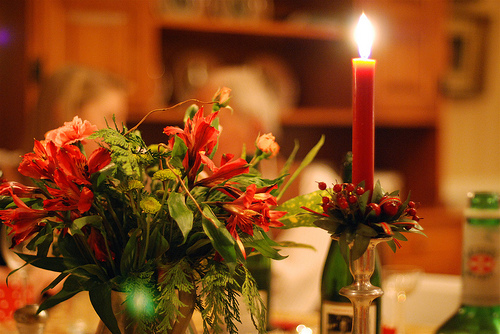 – Add a table runner or a long piece of cloth to the table. Think about the color and pattern you want to use that will complement the centerpiece. If you do not have a table runner on hand, you can try thinking outside of the box and check your closet for what you can use. Try folding up an old tablecloth with a great color, or pulling out a pretty sheet for the occasion.
– Enhance the natural look of your centerpiece with little bits found from your backyard. Scrounge up twigs, heavy, rounded rocks, and moss, and surround the main centerpiece with them. Accentuate the table's look with small votive candles.
– Mix in some fruit with your flowers. If you decide to go with a floral centerpiece, add some slices of citrus fruit in the vase to add some color and a pleasant aroma to the house. Go for ¼ inch per slice, and use two vases inside of the other. One vase holds the bouquet, and the outside vase holds the citrus slices. The scents will then last for two or three days.
– Use your holiday ornaments to decorate your table. Who says that the ornaments need to stay on the Christmas tree anyway? To keep this type of centerpiece from looking too messy, choose two or three colors, and tie them together with ribbon. Place the ornaments on decorative trays, or next to votive candles.
– Decorate the centerpiece with candy and fruit. If you have received candy gifts in pretty packaging, why not show them off at the table? Sturdy fruit that does not have to be refrigerated, such as pears and oranges, make for great table decor. They also give off a pleasant aroma. You can also tie different candy canes around a vase to add a festive air to your centerpiece bouquet.
– If you have unused china hiding in the cupboards, why not pull them out to decorate the table? Unused soup tureens or pitchers make great vases for autumn bouquets, and show off your china in a vibrant way. Think creatively – you can also use containers like cake tins, jelly molds, and ice buckets to show off your flowers.
– Do you have unused pumpkins lying around? Upcycle them by scooping out the seeds (roast them with some butter, salt, and pepper for a delicious snack), and placing a jar of water filled with flowers inside.
By Allison Preston. Allison is an avid shopper and an experienced writer with a passion for deals and coupons and for saving her readers money. She currently writes for leading coupon and online promo code site bluepromocode.com based in Santa Monica, California.