Who says wreaths are just for Christmas? You can deck your door with a wreath all year round, whatever the season.
In addition to adding a splash of colour to your door, a beautiful wreath will take your home's curb appeal from zero to hero in seconds. It'll impress your neighbours and generate lots of compliments from your friends and family. Once you've got your wreath, grab a Command hook or a door wreath hanger and you're good to go!
Want to add a wreath to your front door this year? We've scoured the internet so you don't have to! View the best of the bunch below:
1) Meadow Flowers Wreath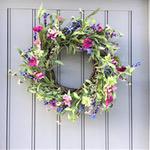 Welcome guests to your home with this bright and cheery wreath designed by UK company Bloomsberry Ltd. With a diameter of 45cm, this sizeable wreath will look striking on your front door. It features vibrant blue and pink meadow flowers entwined with lush green foliage.
Buy from £29.25 on Amazon.co.uk; it's currently the #1 best seller in the 'wreaths' category.
---
2) Queen Anne Lace Wreath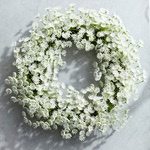 Understated is the word we'd use to describe this wreath, crafted from super realistic-looking Queen Anne's Lace flowers. Although simple in design, it packs a visual punch.
Queen Anne's Lace is the frothy white flower that blooms above wild carrot plants. Although traditionally used as a filler in bouquet arrangements, it really stands its own ground when used alone in this wreath.
Available from TheWhiteCompany.com for £45
---
3) Half-Decorated Pink Willow Front Door Wreath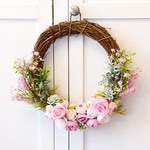 Your front door will look fantastic decorated with this pretty-in-pink wreath from Dream Accessories UK. The wreath features pink lavender, peony and rose flowers mixed with contrasting green succulent plants and rosemary leaves. Half of the willow wreath is left exposed, providing a rustic look.
Each wreath is handmade. If this one isn't to your taste, look in the designer's shop. She stocks dozens of colourful designs.
Purchase this wreath from Etsy.com for £30.
---
4) Wild At Heart Dried Flower Wreath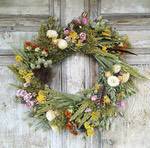 Up until now, we've only shared wreaths made using faux foliage and artificial flowers. Herefordshire-based company Cottage In The Hills handmake these beautiful wreaths using dried blooms.
Cottage In The Hills specialises in organic homewares and work hard to ensure their company is as eco-friendly as possible.
Note: dried flower wreaths can be used outdoors but they're best suited to sheltered areas, such as porches.
Purchase this wreath from NotOnTheHighStreet.com for £45
---
5) Filippa Spring Wreath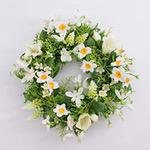 This wreath epitomises spring with its white-yellow colour palette. It features a mixture of seasonal flowers, including daffodils, grape hyacinths, snowdrops, bellflowers and gypsophila. The synthetic flowers sit atop of fresh green foliage.
Looking for something brighter? The Filippa wreath also comes in a white-yellow-blue colourway.
Buy from ArtPlants.de or via Amazon.
---
6) Heart-Shaped Lavender Wreath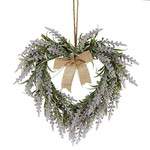 This heart-shaped wreath features artificial lavender and green foliage. It's finished with a hessian bow. Whether you live in a two-up-two-down terraced house or a cottage in this country, this wreath will add charm to any home.
At only £12, this wreath is a complete bargain! Buy it from Dunelm.com.