For most of us, having a small garden is normal, especially if you live in the city. Whether it's a tiny patio or just a balcony, if there's enough space at least for one chair, then you have somewhere you can relax and unwind.
The temptation with small spaces is to either overfill them with plants and things or, worse, totally neglect them and they become cluttered and overgrown. Which is a waste as surveys show that having a garden or green space adds value to your property.
But, no matter what size your garden is, you can still give it the wow factor. By using a few tricks, you can easily transform your modest balcony or patio into a welcoming haven.
And, there are plenty of advantages to having a compact garden. For starters, it's way more affordable. Let's say you want to create a zen garden with water features; it will cost far less to install in a small space compared to a large one.
Also, as modern life gets busier, people don't have as much time to get involved in gardening. By having a smaller space, it will take far less effort and time to maintain and manage.And, don't worry, you don't need to be a DIY whizz or green figured to transform your garden into an oasis of calm.
Here are 6 tips to help make your small garden look amazing.
Keep it simple
Always stick to the 'rule of three'. This design trick is perfect for small compact gardens and helps you avoid cluttering or making the space too busy. After all, more stuff doesn't mean more space. You can apply the rule of three to everything from what materials you use, plant pots, and colour palette.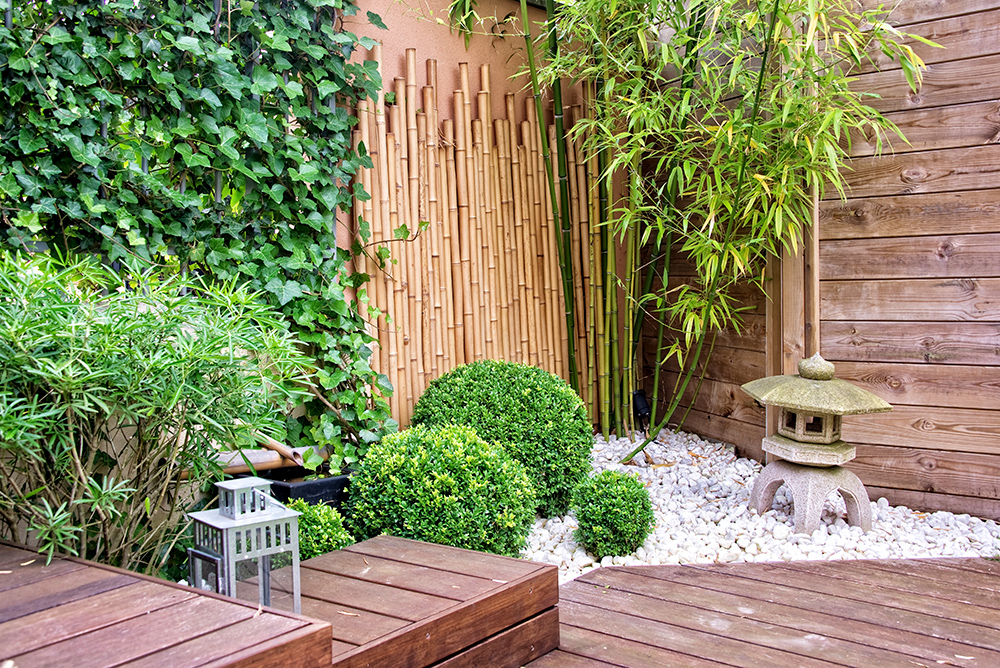 For instance, stick to three types of flooring, such as gravel, stone, and grass. Or, if you want to make an artistic statement, have three identical plant pots lined up against a wall. Always go for classic neutral shades like terra-cotta.
Design from the inside out
Before you start mapping out your ideas, take a moment to look out the window. If you live in a temperamental climate zone, chances are you probably spend more time indoors looking out at your garden than actually in it.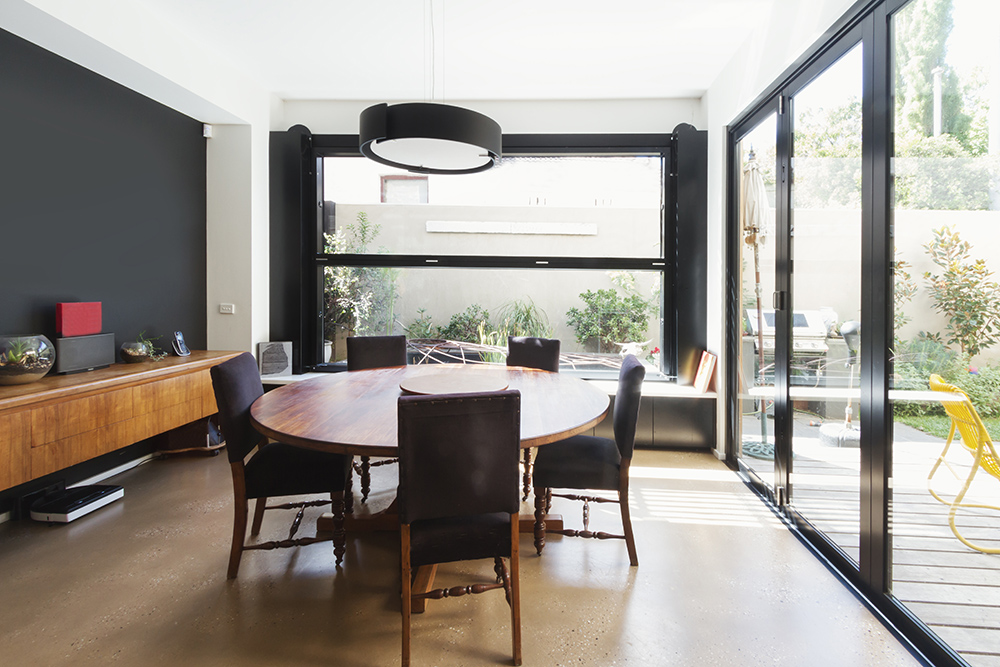 So, take time to think about what you'd like to see from the indoors. As this will help you determine where to put garden furniture, install plant pots, and hang lighting. For example, there's no point planting large plants by the window as this will simply block light indoors during the winter months.
Vertical Planting
Vertical gardens, don't just look good but are environmentally friendly and easy to look after. And it means you can grow way more in a much smaller space – if that's what you want to do.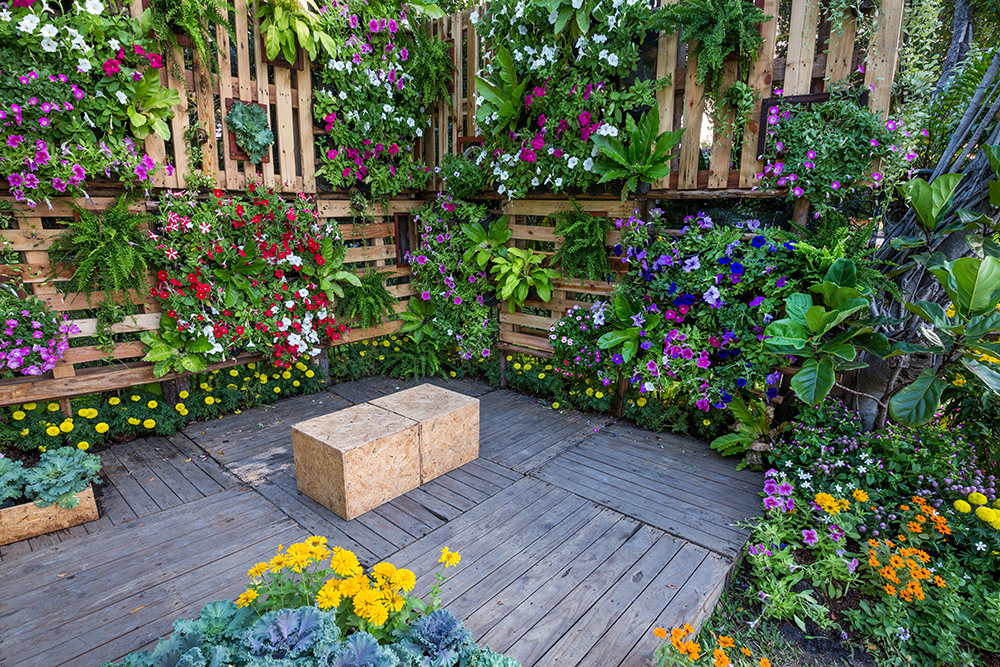 So, whether you choose decorative plants or edible flowers and herbs, a vertical garden will provide you with a stunning visual experience. You can add planters to walls and fences, or simply use stools and upside-down plant pots to create height and narrative.
Think about the Lighting
In some ways, lighting up a smaller garden is far easier to organise than a for larger one. And, it can literally magically transform the space – making it feel more spacious and elegant. For a flexible option that you can move around, go for solar stake lights. While fairy lights and other hanging lights look perfect draped around plants or use to decorate outside walls.
Add mirrors
Contrary to popular belief, mirrors are not just for bathrooms and corridors.They make a wonderdful addition to any garden. And, they've even more effective when you have limited space as they immediately make everything feel more spacious and light. Add mirrors amongst plants or in darker corners, so every inch of your garden is utilised in a positive way.
Create zones
This is a great trick to help you get more out of your garden. Put down a patterned rug set up seating area (even if it's only a chair and table) – setting up different zones creates an illusion of space and creats more useful areas. A great way to use one of these zones is to create a home cinema in your garden. This can be done on a very small budget and doesn't require a great deal of room.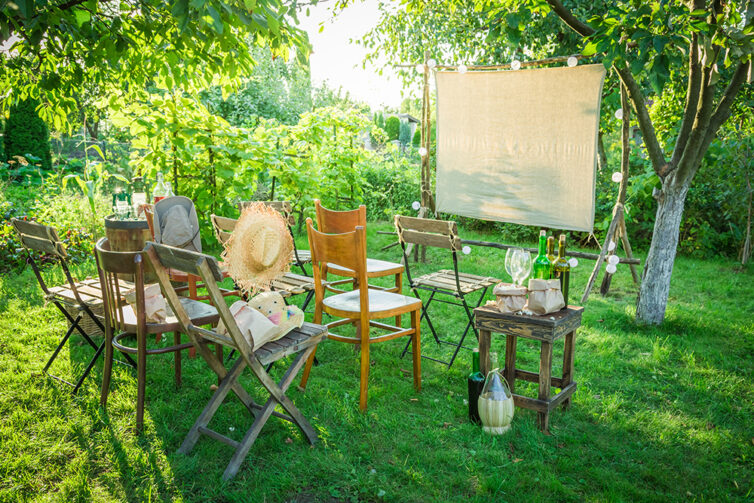 The only thing you need is a cheap projector and a method of streaming movies. Solid colour walls that are smoother work best for casting the movies onto, garage walls are a perfect option. As long as your internet is fast enough to stream movies you'll have no problems setting up your own cinema. If you need to switch broadband to get faster internet, then you can use this helpful guide on switching broadband providers. Toss down some blankets and pillows to get a real bohemian vibe.
Conclusion
We reached out to property expert, Jonathan Rolande, who is Director of House Buy Fast, who agrees – a small but attractive, easy to maintain garden will both add value to your home, and help you sell it faster.