Everyone is talking about the rustic meets glamour look.
This trend is having a major influence on several areas. Among them are weddings, restaurants, bars and, of course, domestic interiors.
Today we will celebrate this mismatch made in heaven with a number of different suggestions for how you can create the rustic glam look in your home. Let's take a look:
1 – With timber touches
If you live in a modern property, wooden furniture and accessories really help to create a rustic edge to your otherwise very contemporary interiors. Oak tends to be less effective for this style, purely because this material is used so often in modern furniture.
However, besides that, really you can work with any type of wood. We think distressed timber creates the most romantic rustic look, especially when combined with silver or gold accessories.
Wooden dining tables, chairs, coffee tables and headboards are all great options. And so are smaller items like timber candlesticks, light fittings and statement bowls. These items will all help to inject rustic accents to your interiors.
2 – With your choice of lighting
If you have quite a rustic space, you may wish to consider adding some glamour through your lighting choice. You may be able to find a classic style chandelier from an online antique site like LoveAntiques.com.
These items look absolutely stunning as they drip from the ceiling into a rustically decorated room. Another style that many people are going for in a rustic meets glamorous room are wooden chandeliers which almost look like a collection of antlers.
These are fantastic purchases that already fit the rustic glam bill. However, if you were keen to glam them up even more, fairy lights intertwining the antlers is a beautiful touch.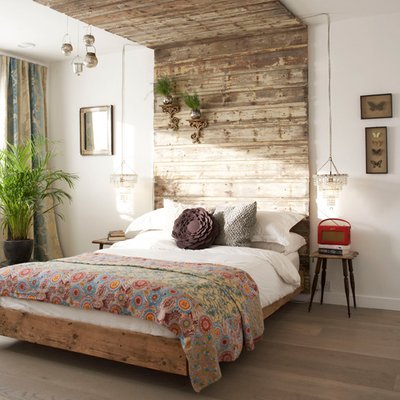 3 – By combining rustic and glamorous colours
When it comes to the palette for your rooms, luckily this trend is not very restrictive. You are aiming for an attractive mix of rich, opulent colours like gold, silver, ruby red and emerald green with natural tones such as sand, stone, sage green and brown.
The most effective way to pull this is off is to use your natural colours as your canvas and to added splashes of luxury on to this canvas with your opulent accents. However, don't be afraid to add pops of bright and bold colours as these are also resonant of natural, rustic landscapes.
4 – By mixing different materials
We have already talked about wood, but there are many other materials you can use that are considered "rustic". These include stone, shell, wicker and tiles. And these can be positioned next to more luxurious materials like chrome, glass, mirror, velvet and satin. For example, a stone or brick wall is instantly made exquisite with the addition of a gold framed mirror.
When it comes to the rustic glam interior design look, the key is not to be afraid. These two styles, although they might seem at opposite ends of the spectrum, actually look perfect together without much effort required.