The humble garden shed has seen somewhat of a reinvention over the past few years and is now much more than just a box for storing your garden accessories.
So much so that garden sheds are now more likely to have Wi-Fi access than a strimmer as people repurpose the space to meet their needs.
Many people choose to repurpose their garden shed for an office due to increase in flexible working hours or for hobbies such as sewing or woodworking, while some choose to create an entertainment area in which to chill out and relax.
Garden specialists Oeco Garden Rooms has compiled these handy tips on how to turn your tired shed into a space for that the whole family can enjoy.
Repair issues to the exterior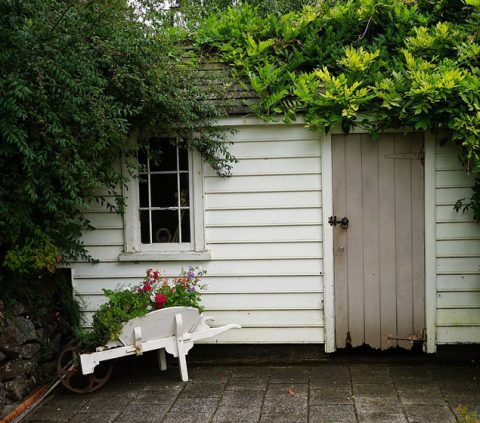 The British weather takes its toll on garden structures, especially wooden sheds, so repairing any of these issues is the first thing to do.
Ensuring a water tight structure is key to creating a space that is not only comfortable but will also last for many years.
Some of the repair that you might have to do include fixing the roof, getting rid of wood rot, fixing broken hinges or levelling floor boards.
Many of these repairs can be done yourself, but you can hire a professional to complete the work as these repairs are relatively cheap and easy to correct.
Thermal Insulation
If the shed is to be used year round then installing thermal insulation is a great idea, as thermal insulation helps to keep the shed warm in the winter and cool in the summer.
Thermal Insulation also makes the whole structure more energy efficient; this is perfect for saving you money on heating the building during the colder months.
Oeco Garden Rooms has some great information on their website about thermal insulation and how it works.
Fit PVC Doors and Windows
Fitting PVC windows and doors to the shed also adds to the energy efficiency and helps to keep the building cool in the summer and warm in the winter.
PVC windows and doors are also more secure than standard windows and doors, meaning that your possessions are safe and protected.
Patio doors in particular allows plenty of natural light to enter the building, while improving access to and from the garden.
Install Electricity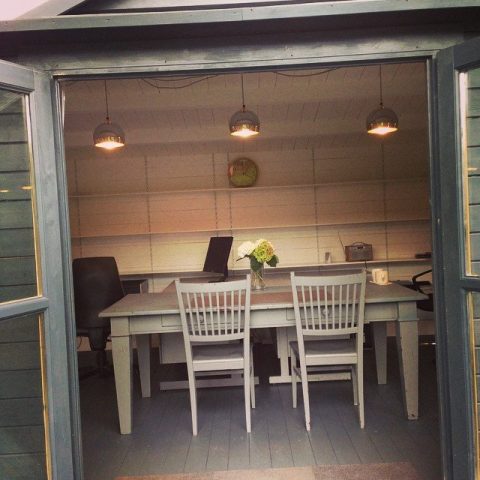 If your shed doesn't have electricity installing it adds an extra level of practicality and comfort to the space. Whether you want a place to store a tumble dryer, work with power tools or create an entertainment space, adding electricity is key.
Running electricity to a shed is definitely a job for a professional electrician, do not attempt this yourself.
Painting the shed
Painting the shed will give the structure an updated look, as well as protect it for the years to come. Using a bright colour will make the shed stand out and create an eye-catching focal point in the garden, whereas painting it a dark colour will help the foliage take centre stage.
Treat the inside of the shed as an extension of your living space; this will ensure that you will use it more regularly. Muted and pastel colours are perfect for creating a relaxed space, while bright and bold colours can help concentration levels if being used as a home office.
Storage and Countertops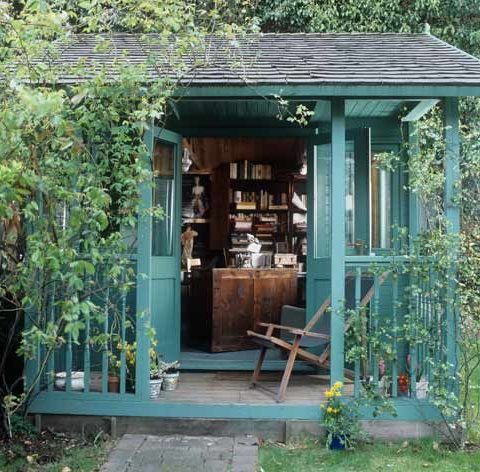 Fitting cabinets and countertops allows the space to be used for an array of purposes. Storage units and desks can be purchased fully assembled, making installation simple, or if you're good with your hands you could own storage that exactly fits your needs.
Finishing touches such as adding a fluffy rug or hanging some family portraits can also help make the space more comfortable.
With a little bit of planning, time and money, you too can have the ultimate garden shed and best of all the majority of the work can be done by you. So what will you turn your old shed into?
Main Image Source