Traditional office spaces often look dull and bland. The idea is to create calm spaces that allow employees to focus and be productive.
This isn't the case with modern office spaces. Employers and employees now appreciate the need for a little decoration.
Wall murals and wallpapers are excellent decorations that transform office spaces. They provide an affordable means of changing up spaces and can be removed when leaving the office. Also, if you're bored, you can call the interior design company to help you change things up. We look at how to use murals to decorate an office space.
Benefits of Wall Murals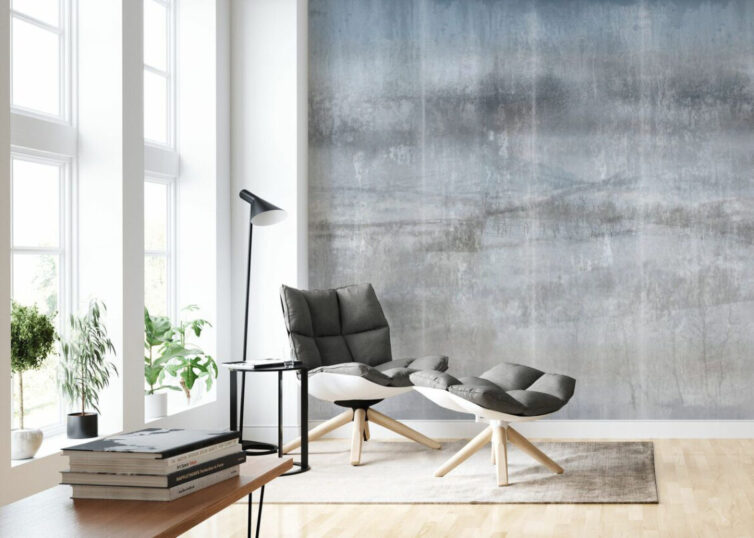 Before looking at how to set them up, it's important to understand their benefits.
Customisable: Printed murals hardly restrict users to a few basic styles and patterns. On the contrary, you can choose from thousands of images and designs, making it easy to choose one that complements the company's tone and brand
Fast: Repainting takes days of work, while setting up printed murals takes a few minutes, saving you and your employees hours of downtime
Flexible: Once you paint a wall, it's nearly impossible to change it. Conversely, it's easy to change murals, setting them up on different surfaces, including windows, walls, and cubicles
Removable: If renting an office, you're probably hesitant to make long-term changes. However, since wall murals are removable, you can enjoy a fresh look without damaging walls
Unique: Most offices use a few similar colours ranging from calming blues to standard beige. Wall murals, on the other hand, are available in different designs allowing you to find a unique design to fit the tone of your business
Ways to Use Wall Murals in Office Spaces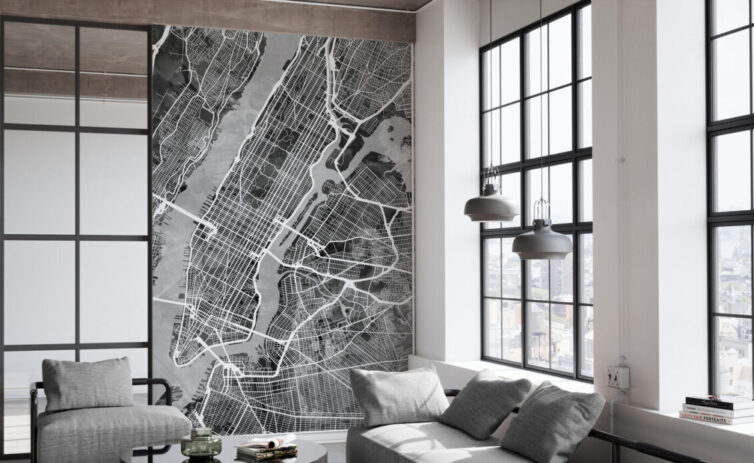 Despite the convenience wall murals and wallpapers provide, finding a suitable space to put them up is important. The location affects the overall impact it has on an office space. Here are a few ideas:
Divide an Open Space
Open office design are a popular phenomenon in many companies because they create a sense of community and approachability.
However, the openness of the spaces can feel empty and lack liveliness. Colourful wall murals can be used to divide the vast spaces while creating different areas within the workspace. For example, the mural can be used to distinguish between the lounge area and the main working area.
Light up a Space
Apart from dividing workspaces, murals can be used to light up spaces. Decorative murals can double up as sources of lighting. What's more, they create the illusion of a huge window with an impressive view.
Create Contrast
If the workspace has large open areas like lobbies, installing a mural makes the space visually appealing. This idea is especially effective in workspaces with large empty walls. In fact the mural can transform a wall into an attractive focal point.
Also, if simplicity and function are the epitome of your workspace, adding a mural can introduce just the right amount of character. The mural may incorporate the company's themes and colour to reinforce its brand while transforming the space.
Enhance Focus
Unlike the popular belief that decorations are disruptive, murals may have the opposite effect. For example, murals with blue-based colours near workstations enhance productivity and accuracy.
Direct Foot Traffic
Logo-based murals can be used to direct foot traffic when visiting your office. You can also use them to guide employees to high-traffic spaces like boardrooms. The premise is to make the room stand out and help guests locate crucial office areas easily.
Which are the Best Colours for Wall Murals in Workspaces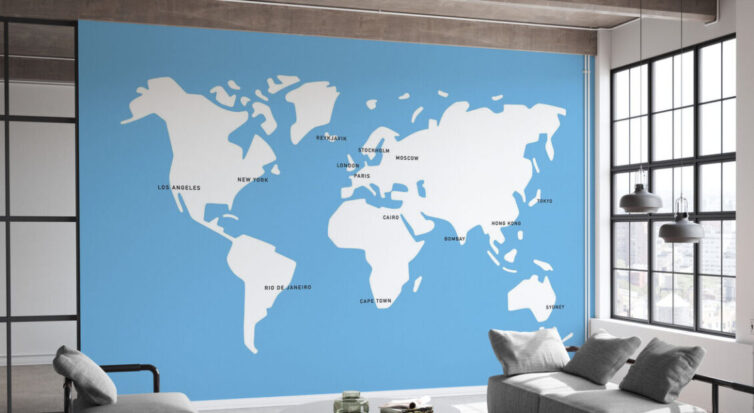 Colours transform spaces and influence one's reaction to a setting. For workspaces, warm tones (yellow, pink, red, orange) are good at grabbing one's attention and make large spaces appear smaller. They also create a feeling of comfort, but it's best to use them in moderation to avoid overwhelming the space.
Murals with cool tones often have green, purple, and blue colours. They create a relaxed atmosphere making them an excellent option for workspaces that emphasise on individual work.
Alternatively, you may opt for murals with neutral tones (white, black, gray, beige). The colours give off a calming and authoritative allure, but they should be used in moderation.
These ideas should help you transform your office space into a welcoming one. Well-designed wall murals not only upgrade an office space and enhance productivity but also create unforgettable experiences for your guests and employees. With the right colour, placement, and style, a mural can enhance the ambiance of a workspace.