Planning a spruce-up and looking for a little inspiration? Let us introduce you to our newest colour crush, Blissful Blue. We've fallen head over heels for this fresh and contemporary pastel. This cool ocean shade represents nature and invokes a sense of peace and tranquillity.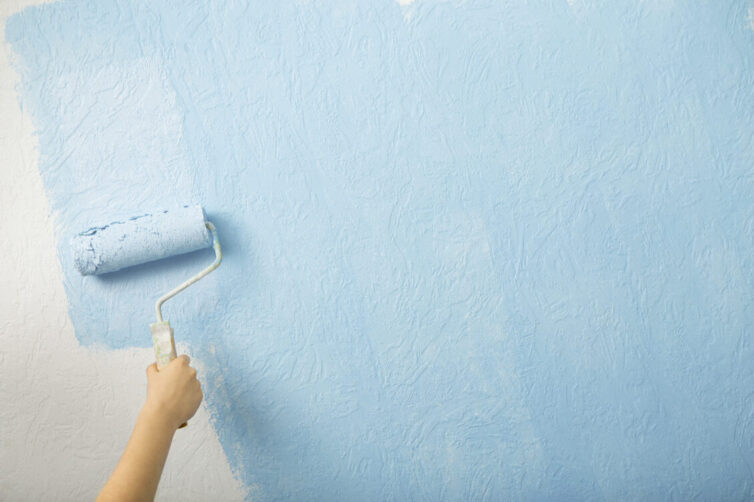 How to use Blissful Blue in your home:
This versatile colour will capture the essence of summer in any room of your home. We recommend using it with tonal blues and neutrals to create a peaceful living room, a serene bedroom or a calming kitchen. Use a pop of mustard yellow to add a little sunshine.
Have a little fun with the colour in your bathroom by pairing it with nautical motifs, sea shell ornaments and rustic, beach-weathered textures.
Plan to use the colour in your sunroom, summer house or conservatory? Pair it with light and whitewashed tones for a trendy Hamptons vibe.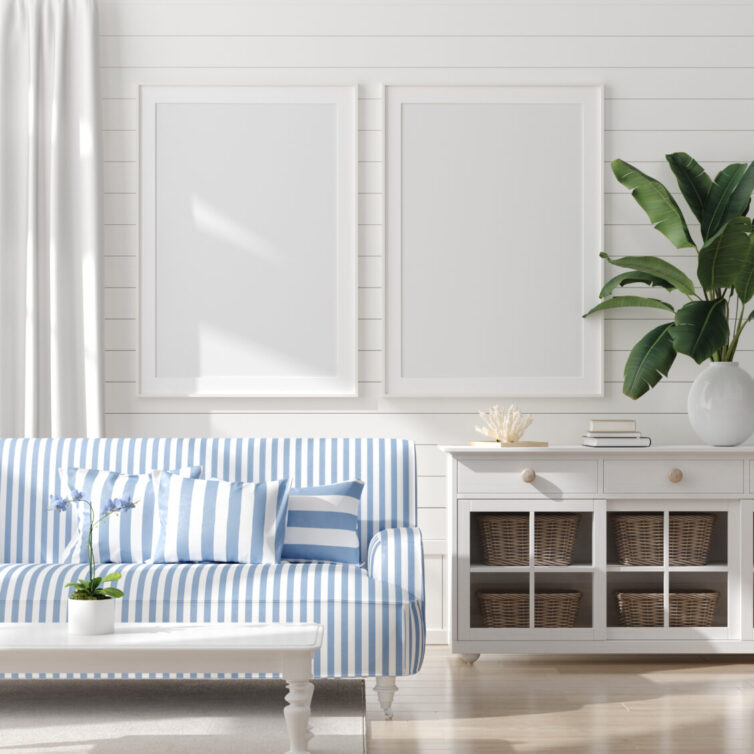 Get the look:
If you're loving Blissful Blue too, check out our curated edit below. We've shared some of our favourite pieces: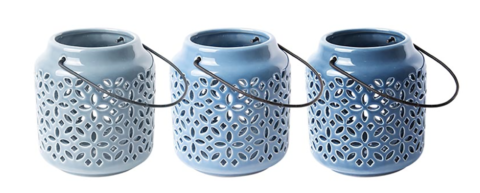 Blue Ceramic Windlights from Dobbies, £6.99
This set of windlights will look charming grouped together on a sideboard, arranged as a centrepiece or placed on a fire mantel. Take them outside in the summer and use LED candles for a weatherproof glow all evening long.
Dobbies.com
---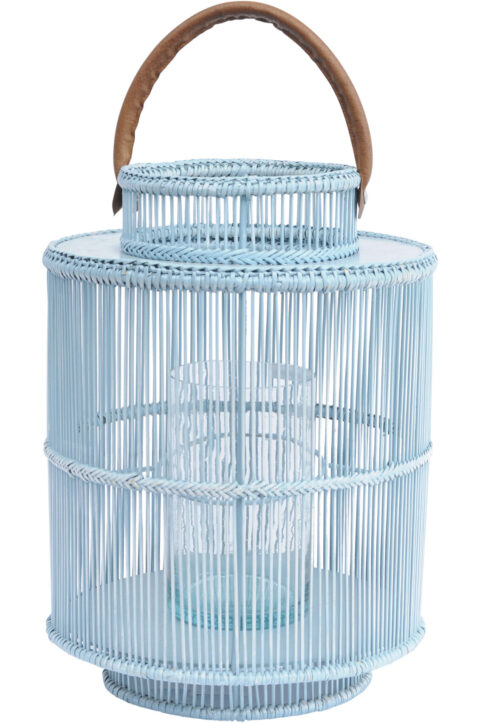 Savanna Blue Lantern from Sweetpea & Willow, £135
Sweetpea and Willow's Savanna Lanterns are a staple in their catalogue.  This season, the company have released them in a shade of Blissful Blue.   You can mix and match with the white version, also in the collection.  Light them up and place them in your bathroom for a relaxing evening soaking in the tub. 
sweetpeaandwillow.com
---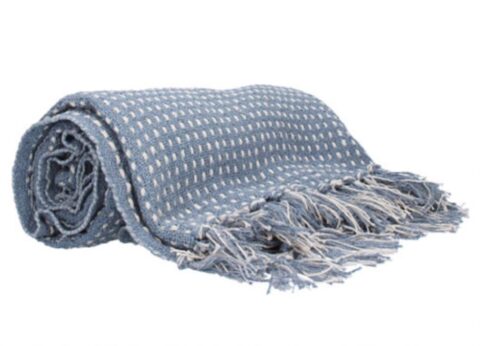 Cotton Throw in Blue/Stab Stitch from Gisela Graham, £17.99
This blue throw by Gisela Graham features a cream stab stitch detail running throughout—perfect if you're accenting Blissful Blue with neutral or natural tones.  The comfy cotton blanket is lightweight, which makes it perfect for cool summer evenings.  Drape it on the back of a chair, over your sofa or on the end of your bed.  
Visit giselagraham.co.uk for stockists
---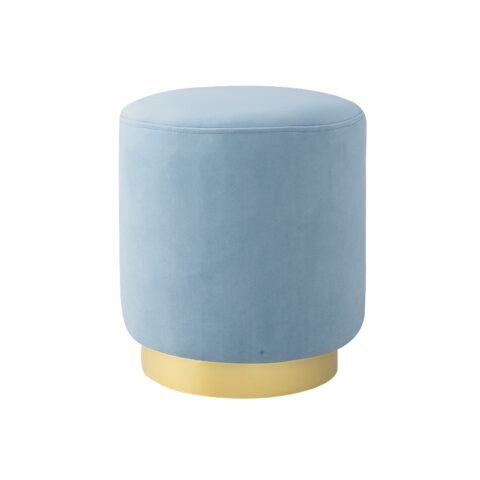 Lola Powder Blue Velvet Ottoman from Julian Joseph, £89
This pretty blue pouffe will add panache to your living room this summer.  It features a striking gold base and a soft blue velvet cushion.  Isn't it lovely?
julian-joseph.com
---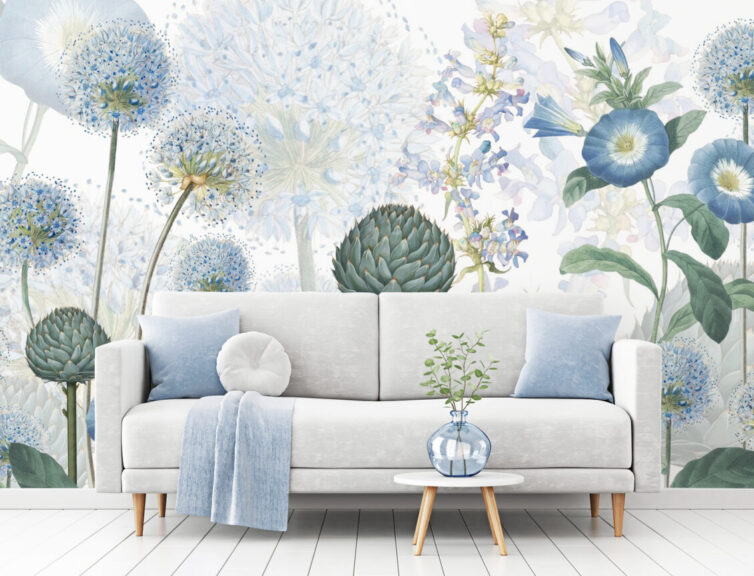 Blue Wild Meadow Mural by Sir Edward from Wallsauce.com, from £35
Fill your walls with blue meadow flowers with this stunning mural. Wall Sauce show the mural in a livingroom–imagine sitting down on your sofa, surrounded by beautiful blooms? A real breath of fresh air! Or picture the mural in a bedroom, placed behind a sumptuously dressed bed, adorned with creamy white linens and fluffy pillows… dreamy!
wallsauce.com
---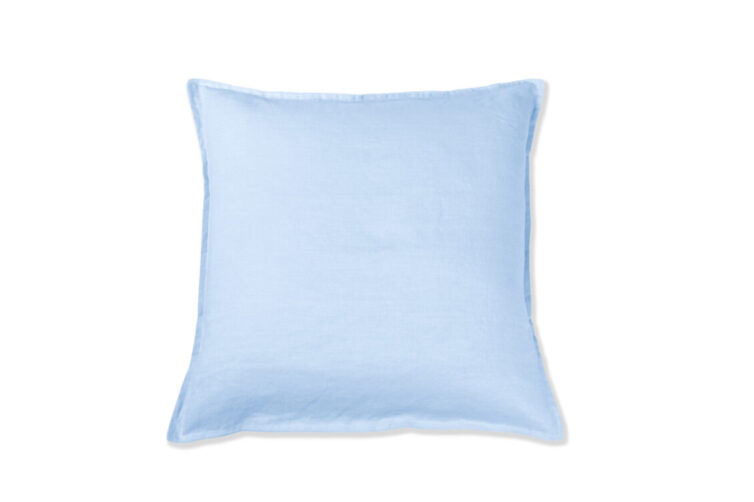 Whisper Blue Linen Cushion Cover from the Chalk Pink Linen Company, £23
This cushion cover is the perfect blue accessory for a sofa, bed or chair.  It's made from 100% stonewashed linen, which gives it impeccable softness.  It'll become softer with every wash and it doesn't need ironing once dried! Just place the cover on a cushion pad, throw it in place and you're done!  Nice and easy.
chalkpinklinencompany.co.uk
---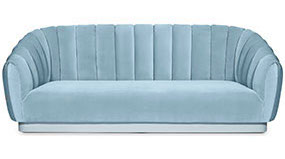 OREAS Sofa in blue velvet from Brabbu Design Forces, £TBC
This channel-tufted sofa is fully upholstered with cotton velvet, creating a sumptuous place to sit.  It's available in a myriad of colours, but we love this soft blue shade.  (The fabric code is BB Moss | – colour 47 if you want to request this exact style.)
brabbu.com
---