More and more people nowadays are working from home. Some do so by choice, while others may be like the majority of people who were forced to make that sudden change because of the pandemic.
Now that working from home has become quite the norm, households are scrambling on to recreate renovations to convert a spare room into a home office.
Working from home doesn't have to make you feel less productive or any less of the good employee you used to be. But, it also comes along with a lot of challenges. Because you're right at the comforts of home, it's important to make that barrier from any possible distractions.
Hence, a good working space is essential. If you're up for this project below are some good home office ideas you can adopt so you can turn a spare room into a productive office for every working member in the household.
1. Have Your Desk Face Outward
If there's a window in the room, then it'd be best to make your desk face outward towards the window.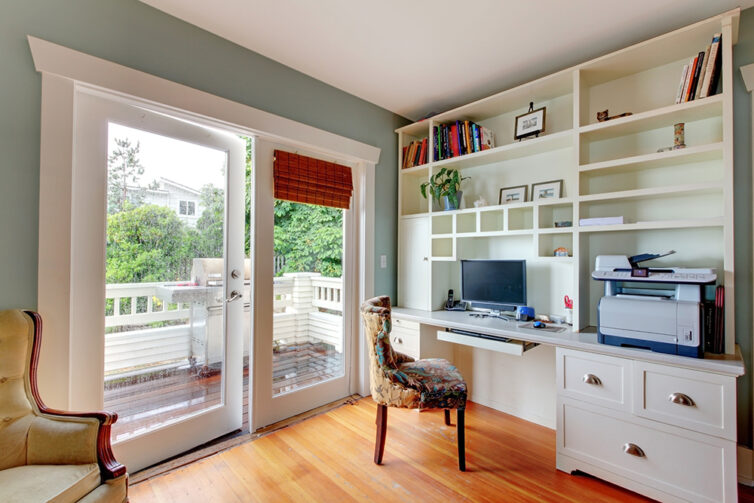 It's already a big enough transition going from an office filled with other co-workers you can socialise with, to now being confined (mostly alone) within the four walls of a room. Thus, you'll need to take a breather, too, from time-to-time. And, this, you can have by looking out through the window.
Plus, wouldn't it be nice to face the daylight and to have some natural light coming into the room? Not only does this boost productivity, but it also keeps you awake and helps you fight the sleepiness you might feel because you're in your comfort zone.
2. Paint It A New Colour
Assume that the room you're converting into a home office used to be the kids' nursery or playroom. But, they're now older kids who don't need that bright-coloured room anymore. Rather, they can use an office as they do their schoolwork.
To meet everyone's needs, you can start by painting the room with a new colour. You'll want to paint your home office in a colour that'll motivate you and inspire you, like calm blues. Essentially, this is a matter of personal preference. Also, this is a very important decision to settle early on as the colour of your walls will shape all the other decisions surrounding the furniture and whatnot.
3. Get The Right Chair
Among all the pieces of furniture that you can put in your home office, one of the most important is your office chair. You can't just go for any old chair there is. Rather, it's important to choose a chair that you know you'll be comfortable sitting on the entire day.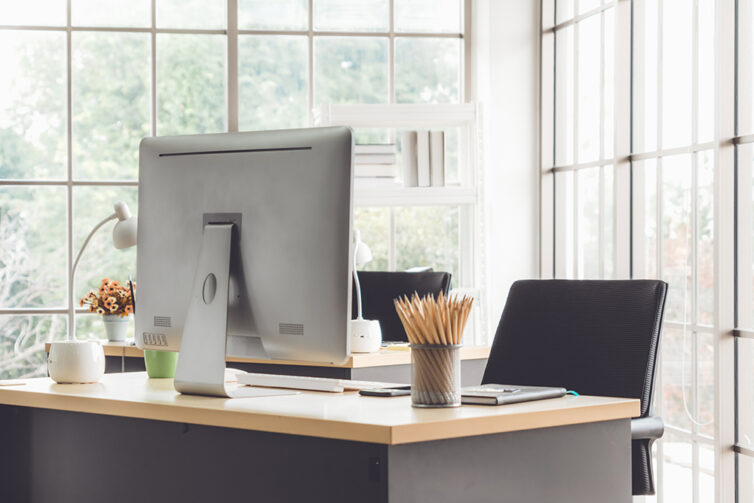 If you take the time to really look around, you'll come across a chair with a good ergonomic ability. This means that it's tailored for your height and the weight of your back when you're sitting on the chair.
Here are pretty good reasons to convince you that an ergonomic chair is a good investment now that you'll start working from home:
It provides adequate posture support
It reduces neck and shoulder pain
It improves blood circulation
It boosts productivity because you're comfortable in it
4. Add Personal Touches
An advantage of working from your home office is that you've got more leeway when it comes to adding personal touches. You don't have to limit your options just to the family photographs you normally have on your office table.
In your home office, you can add all the personal touches you wish. These can keep you motivated and inspired to work and help you get into the right mood for for the day. A nice working environment will also take away the apathy that can affect your enthusiasm when working from home.
5. Have The Right Technology
Having the right technology needed for each job will depend on your work tasks. But, for the basics, apart from your laptop, you'll probably need a strong Internet connection, and a good printer.
If your job calls for other equipment and gadgets, then make sure you have these ready as well. For instance, those who work from home as vloggers or who run a podcast will also need good lighting equipment and a good recording microphone. Graphic designers, on the other hand, will need all the tools to make digital prints, while online tutors or virtual assistants will need good noise-cancelling headphones.
Speaking of technology, make sure, too, that the current outlets in the room you're converting to an office can withstand the load. Otherwise, you may also need to call an expert electrician to have these all re-done, too.
6. Eliminate Possible Distractions
If a television isn't called for in your job, then you may want to get rid of it. You can transfer it to the family area instead. If food is your biggest distraction, then don't keep a pantry in your office. You can always have a meal when you take your work breaks. Instead of a pantry, keep a pitcher of water beside you. In doing so, you can eliminate trips to the kitchen just to have a glass of water.
One of the challenges with working from home is that there are many distractions. Apart from other gadgets, if you've got children when they are home you can be torn between them and your work commitments and be distracted by any noise they may make.
Whatever the situation in your household is, make it a point to eliminate distractions so you can still focus on your work responsibilities.
Conclusion
Redesigning or renovating a room to turn it into a home office doesn't have to be a costly project. It's not about having expensive furniture or a luxurious space. Rather, it's about creating one that you know can boost your productivity and help you work well. When designed well, a home office should help you work just as efficiently as if you're working in a 'real' office.