The kitchen is the most important room in your home. It's a place where the kids do their homework as you cook dinner.
It's a space for sitting with friends and putting the world to rights over a pot of tea. It's where you bake tasty treats over the weekend and whip up nutritious meals during the week.
Yet, when it comes to refurbishing the kitchen, this can be a problem. People place too much focus on creating a wonderful hub for their family and friends, overlooking the important functional design aspects.  Focus often goes to lighting, appliances and aesthetics.  Practical aspects like kitchen worktops get overlooked.  For instance, how many homes have you visited with the same laminate countertop from a DIY chain store?  People often make do with one of the cheaper options – yet, these kinds of worktops are a false economy. Instead, spend a little time assessing all of the options.  A high-quality worktop can add longevity and functionality to your kitchen. It can also add value to your home.
To help you, we've partnered with kitchen worktop specialists Mayfair Granite.  They're going to talk us through Granite and Quartz worktops and explain why they should be your first choice when it comes to kitchen design.
Granite worktops offer stunning natural beauty:
Laminate worktops cannot match the stunning beauty of natural, granite stone. Granite is formed below the Earth's surface from minerals such as quartz and feldspar. As such, no two pieces are the same. Granite is rich in natural beauty, featuring veins of pinks, greys and earthy tones.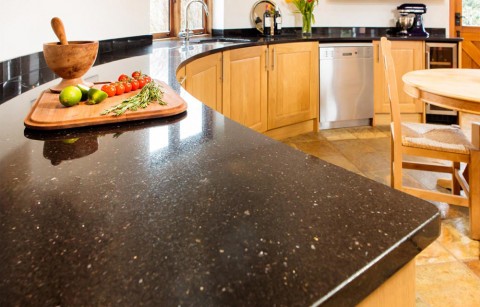 Granite is strong, durable and has heat resistant properties. This makes it the perfect choice for the kitchen (especially where the worktops are used many times daily!)
When sealed correctly, your granite worktop will be stain and liquid resistant too (a common problem with laminate worktops).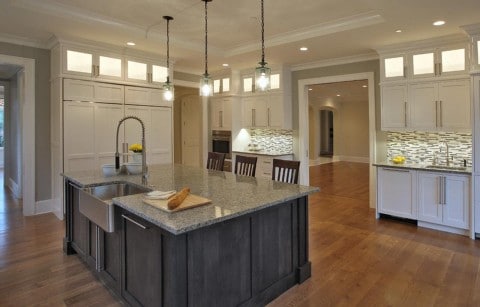 You can cut Granite into virtually any shape, which makes it versatile.   This flexibility makes Granite a desirable material for kitchen worktops.
Finally, although Granite costs more than its cheaper counterparts, it's worth the investment. Granite worktops are the high quality, luxury choice, adding value to your home.
Quartz worktops are low maintenance:
Unlike Granite, Quartz is not a natural product. It is engineered, made by combining minerals with resins and other materials. It has many wonderful properties that make it an excellent choice for kitchen worktops.
The first benefit is colour consistency. Because the Quartz is man-made, it is far more consistent in colour than Granite. It also comes in a wider variety of colours: from bright red (see below) to muted grey to earthy brown.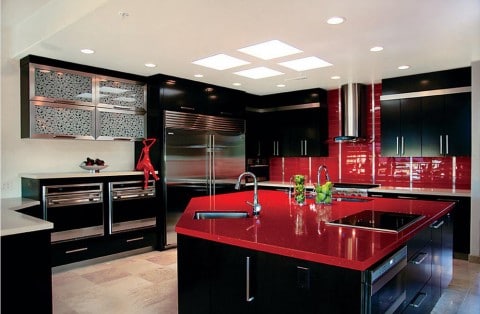 A Quartz worktop will not need sealing as the material is completely non-porous. This means it requires virtually no on-going maintenance. The non-porous quality also means your worktop will be stain-resistant too.
Quartz is durable and strong, which ensures it will last for years. It also has heat and chip resistant properties, which means clumsy cooks are less likely to damage their worktops! (If your current kitchen has a laminate countertop, you'll understand that this is a big bonus!)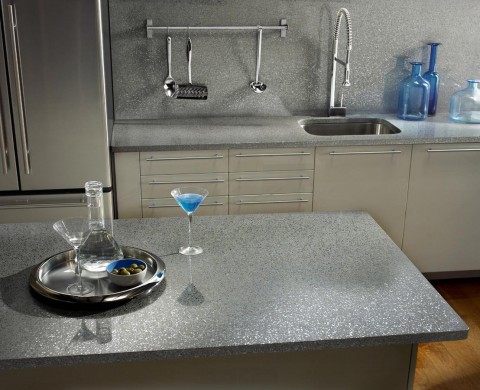 Quartz is a flexible material that is easy to work with, making the installation process easy. Like Granite, you can have it cut into a variety of shapes and sizes. This will minimise the number of joins between worktops, ensuring fewer seams.
Which type of worktop will you choose?
Which type of worktop will you choose for your kitchen? The naturally beautiful Granite, or the consistent and colourful Quartz? Both materials offer a high quality, luxury option for your kitchen and will add value to your home.
END.
Mayfair Granite knows a thing or two about kitchen worktops! They're one of the premier producers of worktops in the UK. They use only use the finest quality granite. If you need help choosing between Quartz and Granite for your kitchen worktop, visit: mayfairgranite.co.uk