Hands up if you've got a huge kitchen. Don't worry; if your hand remained resolutely by your side, you're not alone. Big kitchens are the dream for many people, but most of us have to make do with small to medium sized rooms in which to cook and entertain.
But don't despair – you see, even a tiny kitchen holds more opportunity for clever design than you might think.
So, without further ado, here are a few simple kitchen design ideas to help you see your own small kitchen in a completely different light.
Opt for floor-to-ceiling cabinets
Cabinets are obviously something you can't do without in a kitchen, but if you opt for the wrong kind, you'll eat up a lot of valuable space.
To avoid this, opt for floor-to-ceiling cabinets for kitchen storage. These will make far better use of your precious wall space, and you won't need quite as many single cabinets spread throughout the room.
Consider a slimline island
If you have your heart set on some form of kitchen island (you know, like the ones you always see in kitchen TV adverts), but don't think you have enough space, think again.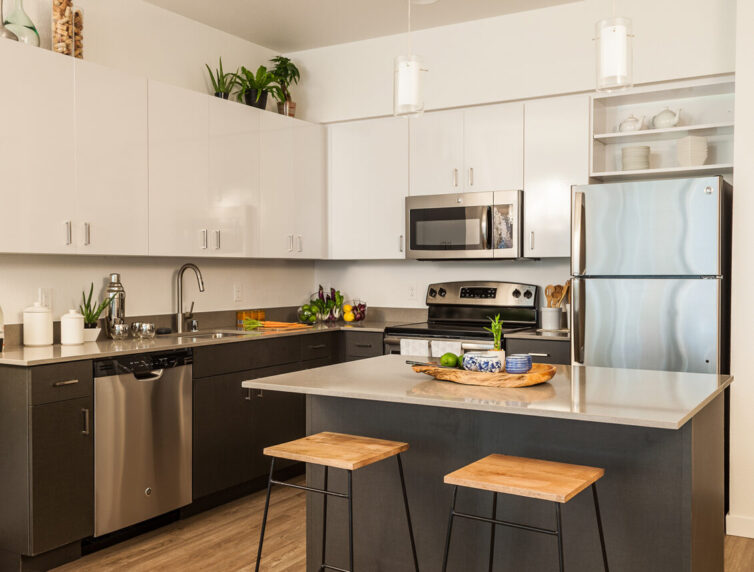 A slimline island may not offer quite the amount of surface real estate that you've dreamed of, but it can still work really well in a smaller kitchen space.
Even if you can fit just two small stools underneath it, this is a great way to maximise the floorspace in your kitchen while adding another usable surface.
Try out portable storage
Who says kitchen storage needs to be fixed? It really doesn't. There are some great options when it comes to portable storage, and it's all very affordable.
For instance, a kitchen trolley on casters is something you might only use on occasion. During all other times, it can simply be carted elsewhere for storage (the garage, for example).
Keep the kitchen colour scheme simple
Simple kitchen design doesn't get more, erm, simple than this.
If you have a particularly small kitchen and you want it to seem larger, you would be wise to keep the colour scheme as simple and light as possible.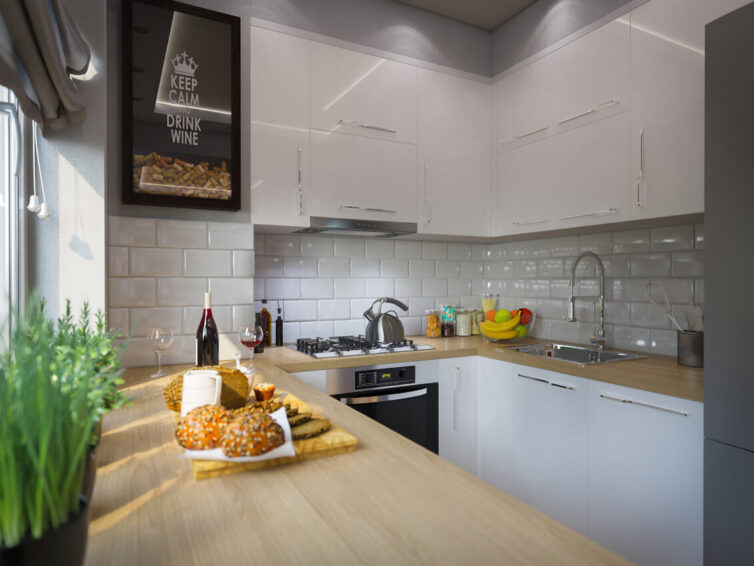 Nothing makes a room look bigger than white walls, and they have the added benefit of lending your kitchen space a sleek, modern and contemporary feel, too.
On the other hand, if you go overboard with colours or complex designs, your kitchen will feel smaller.
Keep work surfaces clean and tidy
OK, so this isn't strictly a design tip, but this point is so important that it just has to have a mention here.
Kitchen clutter is terrible for numerous reasons, not least that it will make any space feel much smaller than it is.
It's easy for clutter to build up in kitchens, unfortunately, but if you take the time to regularly tidy each object away as soon as you have finished with it, you can easily minimise the risk of becoming overwhelmed by a major decluttering task.
And, whatever you do, don't leave all of your paperwork and work tools out after using the kitchen as an office or workspace.
Go for a big sink rather than a dishwasher
This is undoubtedly the least palatable small kitchen design idea, but it's one you may have to face – and it will make all the difference.
If you're struggling to fit a dishwasher into your small kitchen, simply install a larger sink.
This will help you manage the manual dish washing far more easily, but will also give the impression of the room being larger and avoid clutter building up on surfaces.
Put the washing machine somewhere else
If you have a garage or utility room, use it to house one or two of your larger kitchen appliances.
This often works best with the washing machine (providing you have the plumbing in place), but you can do the same with other appliances such as the fridge.
Basically, if it's big and can be placed elsewhere, other than the kitchen – go for it. You will be rewarded for the extra to-and-fro leg work with additional kitchen space – and it also forces you to get a bit more exercise as an extra bonus!
Wrapping up
Hopefully, you can see that even if your kitchen is very small, there's a lot you can do with the available space to make it functional, as well as an enjoyable space in which to entertain.
Follow the tips above, and you'll no longer curse your small kitchen. In fact, you'll grow to love it more than you thought possible.