Spend a few minutes on Instagram and you'll notice that Millenials can't get enough of line-drawings and abstract faces in their home decor. Some of our favourite retailers have jumped on board with the trend, using the distinctive design to decorate everything from rugs to planters.
We bring you ten of our favourite pieces below:
#1) Abstract Face Cotton Rug – The French Bedroom Company, £75
Add this abstract face rug to your floor to instantly update any room. Handmade in India using 100% cotton, the rug is incredibly soft and cosy underfoot. The bohemian-style tasselled edge provides a lovely finishing touch. View it at TheFrenchBedroomCompany.co.uk.
#2) Salo Embroidered Face Cushion – Made.com, £25
Made.com's Salo cushion features an abstract face embroidered onto a colourful cotton background. The designers used this season's must-have colours: mustard yellow, rustic orange, pale pink and forest green (on the reverse).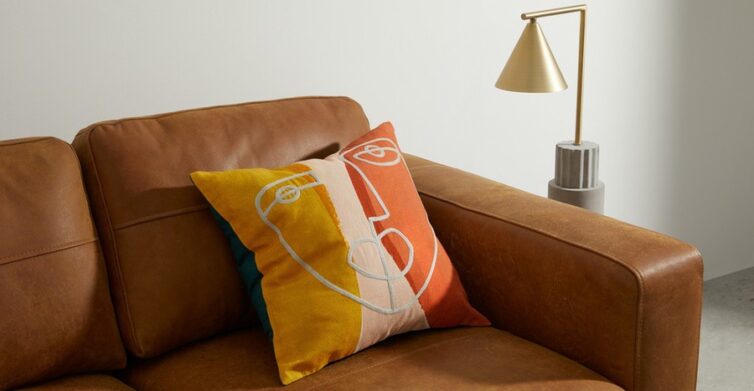 #3) Wired Face Jewellery Stand – Alphabet Gift Shop, from £24
This is the perfect item to add a dash of personality to your dressing table. Proudly display your rings, necklaces and bracelets on this gold-coloured jewellery stand. The Alphabet Gift Shop can add a name to the base of your stand for an extra £5 (making it a great gift idea too!)
#4) Abstract Reversible Throw – Sweetpea & Willow, £30
This taupe and blush pink reversible throw from Sweetpea & Willow provides an easy way to add the abstract face trend to your bedroom or living room. Simply toss it onto your bed or sofa for a quick room refresh.
#5) Various Abstract Line Face Prints – Desenio, from £4.95.
Desenio sells dozens of line art drawings and abstract face prints. Below, we've selected three of our favourites: the Hazel Face poster, Line Art Face poster and the Almost Kiss poster.
#6) Faces Multi-Coloured Patterned Vase – Habitat, £40
This Matisse-inspired vase by Habitat features an abstract face on a background of blue, orange and white. The stoneware's natural texture shows through the coloured glaze, providing a slightly speckled effect.  Made in Portugal and hand-glazed, each vase is slightly unique.
#7) Salo Set of 2 Hand-painted Planters – Made, £29
Display your most successful homegrown plants in these hand-painted pots from Made.com. Or, use them to store cooking utensils in your kitchen. Both pots are finished with an artsy, speckled pattern.
#8) Line Drawn Floral Abstract Face – S Prints by Shauna, £6
Looking for some on-trend artwork for your home? Try this line-drawing of a face with a floral twist! It comes printed on high-quality A4 card and will look brilliant framed and hung as part of a gallery wall. You can choose from five different background colours: white, mustard, pink, grey or green. View it at ETSY.
#9) Winky Women Coasters – Red Candy, £12
Bring the abstract face trend to your coffee table with these stylish monochromatic coasters from Red Candy. Two of the coasters feature the women drawn with an open eye. On the other two, it is closed.
#10) Portrait Large Face Line Drawing Wallpaper – MuralsWallpaper, £37 /m2
This eye-catching wallpaper design from MuralsWallpaper.com will make a statement in any room. Why not use it in your bathroom, bedroom or study as shown below? The wallpaper comes in four different colourways: black on white, dusky pink on white, sage green on white and nude on white.