Home furnishings and accessories are what it's all about at Christmas, be it bold bright decorations or subtle winter pictures.
This year Christmas cushions are particularly popular, and it's obvious to see why – they look great!
They can add to an already Christmas filled living room or add a subtle touch to a home that has opted for a more minimal look.
There are also many that will look great during Christmas, and during the rest of the year, as they are so versatile.
---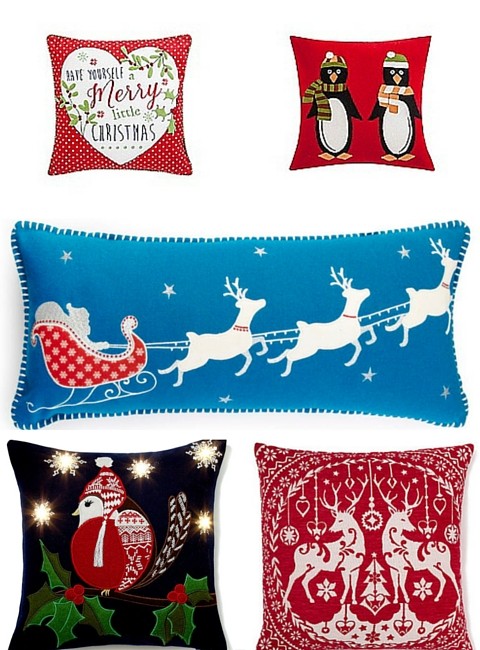 1. Debenhams At Home with Ashley Thomas – Red Merry Christmas Cushion, 2. Debenhams Red Christmas Penguin, 3. BHS Teal Santa & Sleigh Lumbar Cushion, 4. M& S Light Up Robin Cushion, 5. Chenille Stag Cushion.
---
These classic Christmas Cushions are so much fun, I love that the Robin one above lights up!
I also love any thing red this time of year, but it's great to see such a bold Teal colour being used for the BHS Santa & Sleigh cushion, as the colour will really pop amongst all the red and whites this Christmas.
---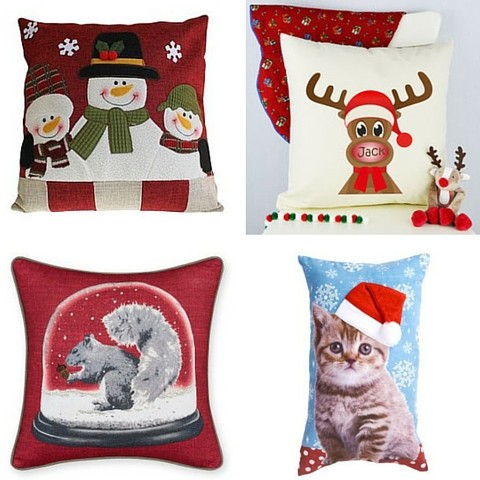 6. Not On The High Street Sleepyheads – Snowman & Friends, 7. Not On The High Street Andrea Fay's – Personalised Rudolph Christmas Cushion, 8. Next Squirrel Embroidered Cushion 9. Dunelm Cat In Santa Hat Cushion.
---
The personalised Rudolph cushion is a great way to include your children in the decorations, especially when they are small.
Though myself and my partner would happily receive one ourselves – his and hers named cushions, now that would be a lovely idea!
---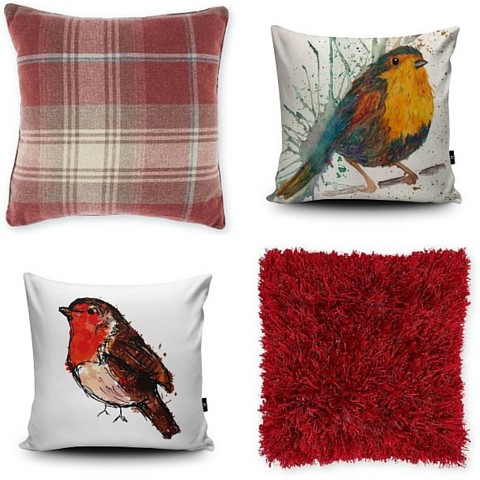 10. Next Red Woven Stirling Check Cushion, 11. Wraptious Katherine Williams – Splatter Bird Cushion, 12. Wraptious Louise Whitemore – Robin, 13. Next Red Glitter Cushion.
---
These four cushions would definitely look great all year round. They all have enough character and charm for Christmas, as well as the rest of the year – especially winter!
The bird design by artist Katherine Williams is my favourite. Full of colour, an adorable bird and the material is vegan suede – great for us vegetarians that don't like to miss out, and I love the contemporary designs.
---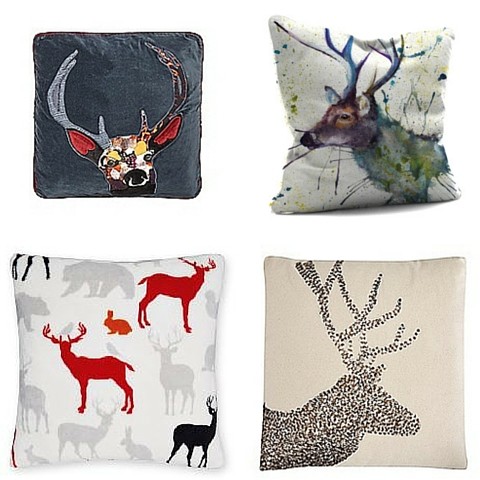 14. Debenhams Abigail Ahern/Edition – Navy Stag Cushion 15. Wraptious Katherine Williams – Splatter Stag, 16. Next Stags Fleece Cushion, 17. Debenhams Cream Sequinned Reindeer Cushion. 18. M&S Stag Cushion, 19. Wraptious Robert Farkas – Useless Deer, 20, M&S Deer Embroidered Cushion, 21. M&S Deer In Snow.
---
The majestic stag is a very popular design this Christmas. With so many to choose from it has been hard deciding which ones to show our readers.
So I decided to show a larger selection, including the beautiful fawn and deer cushion. I would find it hard to pick a favourite – I wonder if I can fit all eight on my sofa!
---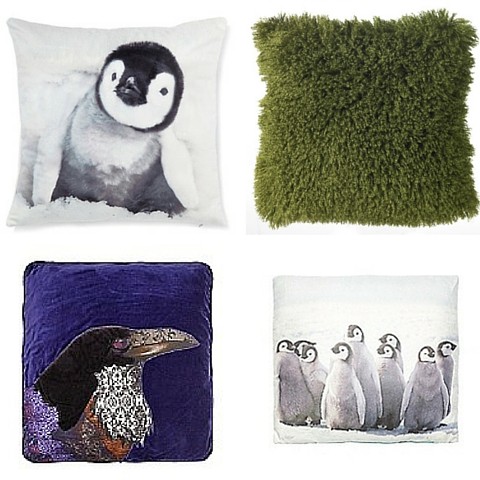 22. M&S Baby Penguin Cushion, 23. Wilko Faux Mongolian Cushion Green, 24. Debenhams Abigail Ahern/Edition – Purple raven Applique Cushion, 25. Debenham White Penguin Themed Cushion.
---
Green and purple have the same effect within a room at Christmas as red; they are great colours to play with when adding richness and depth to a room.
On the other hand, if you would like a whiter more minimal look, but would still like the cute factor that many animals associated with winter and Christmas bring, you can't go far wrong with crisp white snow and a penguin design.
---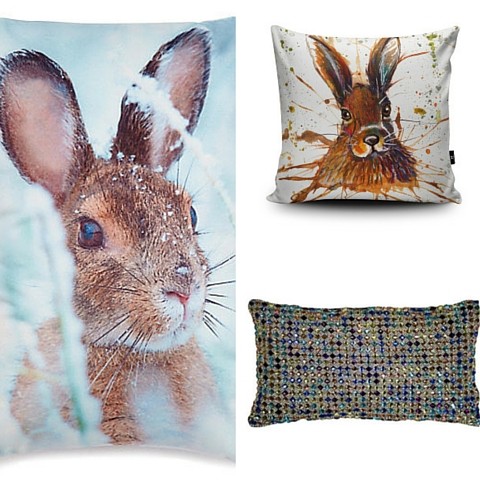 26. M&S Hare Cushion, 27. Wraptious Katherine Williams – Splatter Hare, 28. John Lewis Ted Baker – Disco Multi Cushion.
---
Last but certainly not least, in the image above are the wonderful hare's and the glitzy disco cushion.
Two different looks, that some people may find too different to mix, but give it a go.
A wintry animal design alongside a multi coloured sequined cover is a stylish yet fun look that incorporates the hare's beauty into the Christmas spirit.
---
If you have found any other cushions that you think we will like, feel free to leave a comment.
---
Main Image Source