House parties are incredibly common among teenagers and young adults. It is a way to have a great time with your friends, without having to shell out for a rented hall, or having to hire a taxi to fit twelve people to go clubbing. Plus when a house party finishes, you can simply jump into bed at the end of the day, instead of worrying about how you will get home.
However parties can be messy and you can end up spending hours the day after cleaning up. A great way to avoid this is to host a party in your back garden or in a field nearby. Actually, why not make it a backyard concert?
Hosting a concert in your back garden can save a lot of money and makes for a fun, memorable experience for all, especially on special occasions such as birthday or engagement party. However there are several crucial things to remember when organising and then hosting your backyard concert.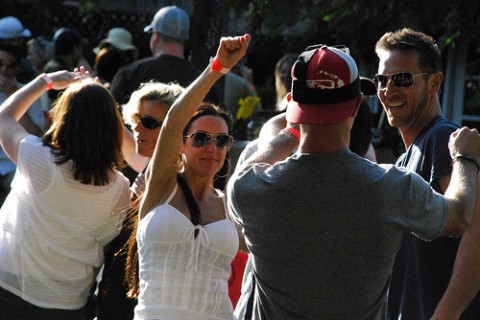 Budget
Like with any project, small or large, make sure you set yourself a budget. Take into account everything you might need to hire to make your party a success; drinks, nibbles, possibly even security if you are planning on making it a big event. If you're planning on bigger is better, it might be good to invest in a professional DJ or a barbeque, as your guests can get pretty hungry during concerts. Large speakers are also a must.
Profit/Charity
Like with anything, you might want to host a concert to make a profit. However as this is a casual event and not put on by professionals, it is better to request that your guests make a donation to help pay for the event. You could even provide a suggested donation and donate all excess proceeds to a charity of your choice. If your guests know that their donation will go to a good cause, they are more likely to volunteer an entrance fee.

Security
If you are hosting your party in your back garden, make sure all valuables are safely stored away. If you have a shed or garage in your back garden, ensure that it is locked at all times. If you are not keen on letting your guests inside the house, keep the doors locked and only allow yourself a copy of the key, or a very close friend whom you can trust. Consider investing in a couple of port-a-potties to detract people from wanting to go in the house.
For a field party, buying security fencing or concrete barriers can really help as they box off certain areas, such as the barbeque or DJ areas, and can really help to dissuade people from entering 'no go' areas. For really large concerts, fencing can also help with queues for food and such.
Backyard concerts are a great way to meet people and have fun, because they are much more casual than hosted concerts, but it is essential to make sure that you…
Warn your Neighbours
Check with neighbours beforehand, or ask your landlord if you are unsure. Remember that this neighbourhood belongs to everybody, if let people know beforehand, and set an end time for the party, most neighbours will be much more accommodating than if you simply spring it on them last minute.
Clara Hughes is a party planner who offers her advice on hosting garden concerts on behalf of Maltaward, suppliers of durable concrete barriers and other site security equipment to keep your event secure