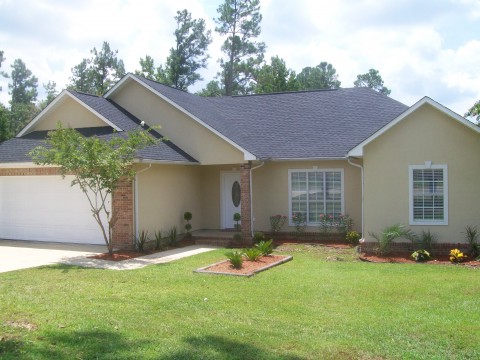 First impressions count for a lot in this world and buying a house is no different.
If you're looking to sell your property any time soon, then it's imperative that you improve the outside area.
Put yourself in the buyer's shoes; if the exterior is uninviting, you won't even want to look inside. Conversely, an appealing outside area can quickly improve your general feelings before you've even stepped inside the house.
To give your home the best chance of selling quickly, it's imperative that you take care of these aspects.
The first factor that needs to be considered is the house itself. A paint job can instantly brighten the property to create a positive aesthetic. Meanwhile, a grotty outside will stand out like a sore thumb and put doubts in your buyer's minds.
After all, if you can't take care of the outside then what chance is there that you've treated the interior with care? We know that's not necessarily the case, but it's vital to understand it is the conclusion that your viewers will make.
Perhaps more important than the walls, double glazed windows are an instant winner. They look nice and also make a great impression in terms of the property's energy efficiency.
If you haven't got this type of window already, it's well worth the investment. Besides, you'll make the money back on the added sale price.
Going green is a good idea full stop. Homebuyers are becoming increasingly concerned with living an eco-friendly lifestyle. Your property will have a better chance of selling if it's energy efficient.
While internal items like good insulation will all go down well, one of the biggest items can be found on the outside of your home. And it's something that nobody could ever miss.
PV Solar panels are an expensive addition, but you will see the money again when it comes to selling. Not only do they add value to the property, but you can also benefit with cheaper energy bills.
Even if you only live here for a year after installation, those savings won't go unnoticed. If nothing else, you'll also be helping the environment.
The outside of your property isn't just about the building itself, though. Taking good care of your front garden, driveway and pathway areas are all vital. Keeping your grass cut and tidy creates a great instant impact.
Meanwhile, new paving slabs will set a great vibe and can also give your property an extra appeal. Ultimately, creating that positive first impression will put your buyer in a great frame of mind before stepping into the rest of your property.
There are lots of tips that can be used to continue those good impressions inside the property, and they are well worth checking out. However, if the outside isn't up to scratch, then all of that inside work will go to waste.
It's not just the viewing where the outside is important. External photos are usually the first ones that potential buyers see when searching the properties offered by your estate agent. A bad looking exterior might even prevent them from looking at the property altogether.
The outside of your property is immensely important. Make yours look appealing, and your chances of a quick sale will soar.
Main Image Source