Now that the days are longer and mornings are brighter, it is becoming easier to get out of bed and into the bathroom for the pre-work routine.
Turn your bathroom into a fresh-faced room of relaxation with these simple, elegant ideas.
For the Stylish – 1920s Inspired Decor
Baz Luhrmann's adaptation of the Great Gatsby, released last year, has thrusts 1920s chic back into the limelight. Elegant, minimalistic changes to the bathroom's décor can completely revolutionise how your bathroom looks and doff its hat to Leonardo DiCaprio's stylish Gatsby without uprooting your bath or fixtures.
If you enjoy taking baths by candle light, place long candles in the necks of white wine and spirit bottles of all sizes. Using only clear bottles with any labelling washed and peeled off, place these around your bath and enjoy the sights and scents of the candle.
The colours black and gold are used heavily throughout the décor of Baz Luhrmann's Gatsby sets. Making these the predominant colours may make the bathroom too dark but they can be woven around attractive white tiling.

For the Traditionalist – Morning Cottage Appeal
If you fear that your bathroom lacks warmth, then recreating the quaint cottage look may be the ideal solution. Avoid using cool colours such as white and light blue for the walls and incorporate a sun-burst colour such as yellow or orange.
Simplistic touches such as wooden toilet seats and pictures hung on the wall can help move away from the cool, clinical look and add a personal touch. A wicker bin and wicker basket for toilet rolls and magazines add an ad-hoc 'lived-in' sensibility.
Utilise mirrors to expand the amount of natural light that this bathroom is exposed to for a light and airy feel.
For the Sophisticated – Clean and Modern
If your bathroom is in dire need of an update and you are interested in adding the latest modern conveniences, then a clean and crisp design coupled with traditional materials can help you achieve an up-to-date appearance without compromising warmth.
These stand-alone baths from John Louis Bathrooms marry traditional elegance with modern sophistication perfectly. A stand-alone bath adds identity to a bathroom, eschewing the standard wall-hugging fixture that populates the bathrooms of the majority of identikit estate houses. A matching toilet and sink basin will complete the minimalistic look.
Faux-wood flooring adds extra warmth to the room from an aesthetic perspective and can do too in a literal fashion when paired with under-floor hearing.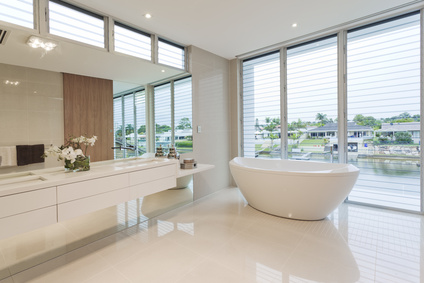 For the Space Conscious – Vertical Stripes
Add extra height to your bathroom without making any installations or breaking any ground by decorating with bright, colourful vertical stripes. This straight away adds colour without being overbearingly one-coloured. The neatness of the stripes can be complemented with slightly off centre additions such as framed pictures at differing heights.
The use of multiple colours also allows you to use your existing accessories and towels without the same fear of clashing. Simple white fixtures will complement this design so as not to feature too many colours and creating something of an eyesore.