It's been an exhausting year, and many of us are already anticipating 2021. Lucky for us, the latest bathroom renovation trends savour a fresh start, with designers focusing on "el fresco," or "fresh air" living.
After so much time indoors, many homeowners are craving a connection with nature, and the el fresco style offers just that. It blurs traditional borders between the interior and exterior of the home, minimising the line that separates architecture from the great outdoors. Bold, creative, boundary-pushing designs are in, and they're taking off quickly.
Wooden Features
Many designers are selecting destinations and crafting designs around their scenery. Then, they incorporate unique environmental features into their bathroom design, adding it everywhere from cabinets to tubs and trim.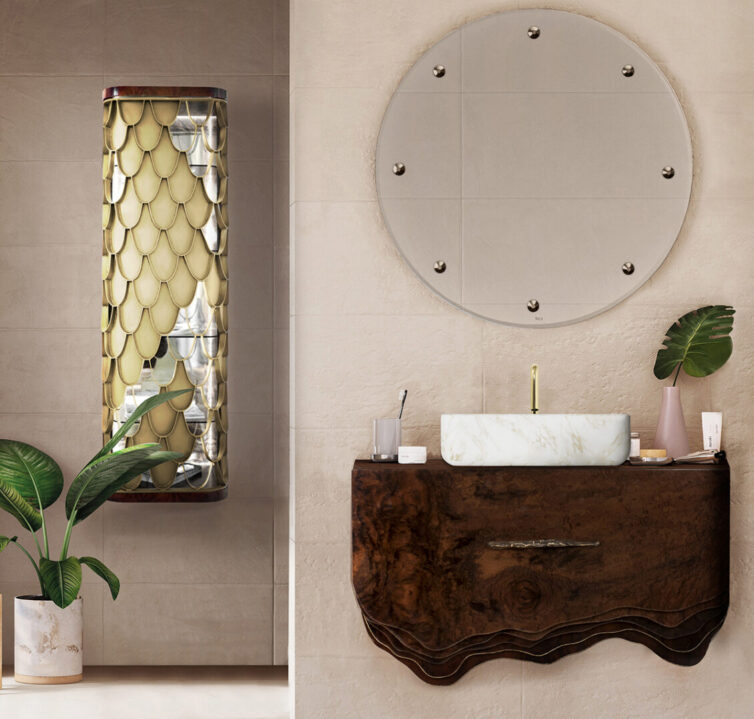 The Huang mountain range in China, for instance, inspired this Huang Suspension Cabinet, with walnut root and rosewood veneer adding a modern, natural touch. From the redwoods of Northern California to bamboo from eastern Asia, wood is an excellent way to "spruce" up your bathroom and cabinets are the simplest place to start.
Stone Features
Likewise, other designers are inspired by locations dotted with underground caves, or with faraway homes built into the landscape. Instead of traditional tile, they're veering toward carved limestone and colourful quartz, which create an elegant, yet airy feel. From your countertops to your tub, consider stone an inspiring way to renovate your restroom.
Subdued Lighting
El fresco living savours the bathroom as a place to relax, unwind and connect with nature; there's no need to disconnect from the rest of your home. To create this intimate effect, use soft, subdued lighting that reflects the outdoors.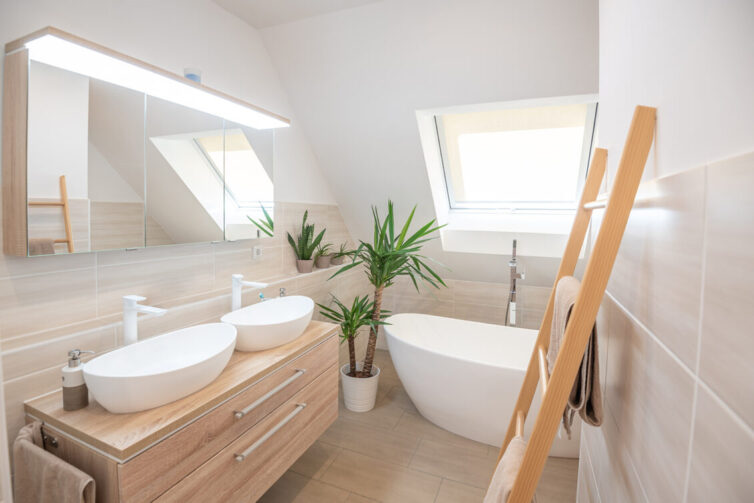 Skylights and large windows are ideal for this, of course, but they aren't always necessary. A single chandelier designed for the room's specifications, pendant lighting, or ceiling lights create an ambient vibe ideal for lying back in the tub. If the room's too dark for your taste, try tea lights designed out of crystal or stone for an elegant candlelit effect.
Bold Bathtubs
A simple way to blur the line between spaces, and to make the most out of minimal ones, it to place the bathtub at the foot of the bed. This artistic approach has a luxurious aesthetic that flawlessly combines both rooms, creating a welcoming, yet practical space. Seek out creamy colours with gold or bronze accents, or choose a vintage design. The tub should be just another part of the room, not the main focus.
Gold Hardware
Gold is back in a big way, and it's making an impact throughout your bathroom. This year, you'll find shades of gold and brass across sinks, toilets and mirrors, along with smaller touches like hardware and faucets. This warm tone adds depth to your space, giving it in a lived-in, yet luxurious feel. Tones range from the lightest of bronze to the most daring of golds, so you can design a look that ranges from chic to antique. For greater depth, match all of your bathroom's features in complementary shades.
Smart Toilets
Prepare for a tech-savvy upgrade. This smart home staple is increasing in popularity, with automatic features that will awe your guests. We're talking seat dryers, automatic lid openers and built-in deodorisers here— brand new upgrades that haven't been available on the market before.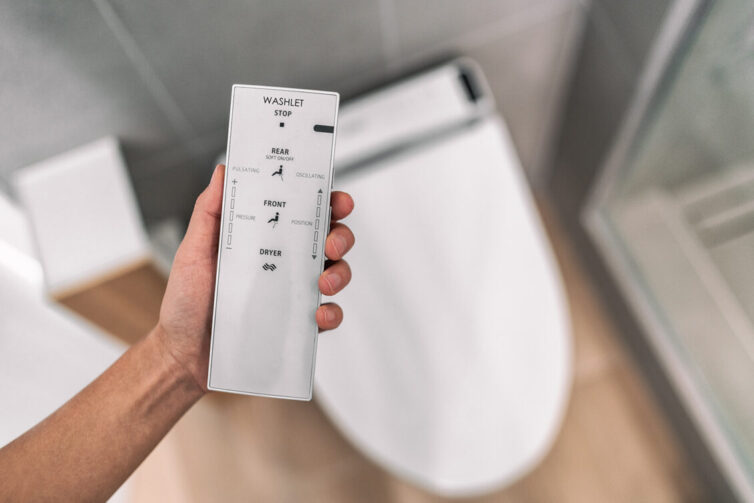 Homeowners are quickly noticing how efficient the flushing and cleaning process is, using wireless technology and sensors to do both jobs for you. Some models even offer innovative Tornado Flush Technology, which offers the fastest water siphoning process available. When maximum sanitation, minimal effort and cutting-edge tech combine, you have 2021's top trend.
Unique Mirror Shapes
Mirrors are getting more daring, with that large, square shape in front of your sink becoming a past relic. Seek out shapes that enhance the depth of the room, such as hexagons, circles or cubes. A one-of-a-kind shape creates a contemporary twist to any space while reflecting natural light. Complement the bold shape with matching trim in bronze, wood or stone, or leave it be and add ferns or moss around the edges. A shape switch-up makes a major impact, creating the feel of a luxury resort in even the smallest of spaces.
Oblong Sinks
Sinks are getting a major makeover, with oblong, structural sinks taking over the traditional look. Designers are aiming for a vintage washbasin aesthetic that draws from both sculpture and the resort world. In both wood and stone, they're choosing impressive pieces carved or cut into blocks into increasingly oblong shapes, from small round bowls to large, rounded basins. When thought of as art pieces, they bring a luxurious aesthetic to any bathroom.
Bold Tile Designs
You heard that right. Tile designs are getting bolder and more creative, so don't shy away from something unique. In 2021, tile isn't taking a backseat; it's quickly becoming the center of attention. Play around with shapes; designers are straying away from subway tile in favor of cube, hexagon, diamond and fish scale patterns. These eye-catching designs are useful throughout the bathroom, from the backsplash to the shower walls.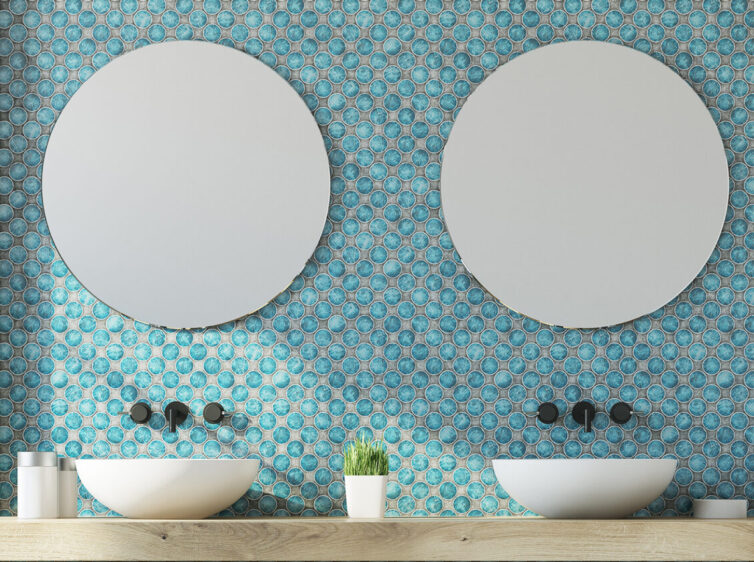 According to Long Island Tile Pros, they see most of their customers choosing these innovative designs. With a focus on natural elements, tile is the ideal topping to the rest of your bathroom. Emphasise their unique composition with soft, creamy colouring in shades of beige or white for a high-end feel, and play up the look with ferns, palms or moss. Other trending tones include shades of copper, bronze and grey. Whether warm or cool, they're easy to design the rest of the room around, and they make the ideal compliment to gold accents and wooden cabinetry.