We would all love to have multiple bathrooms and en-suites in our homes to accommodate our kids and ourselves. But in reality, this is not always possible.
Often, our homes only provide us with one bathroom that our entire family has to use day in and day out. This can understandably lead to frustration and arguments when everyone needs to use the bathroom at the same time.
If you aren't able to add additional bathrooms to your home, you need to make your family bathroom as practical as possible. This can help to make it more suitable for you and your family.
So to find out how you can do this, take a look at these expert tips and tricks.
Add cupboards and drawers
One of the simplest ways to make a family bathroom more practical is by adding extra storage where you can. Having cupboards, drawers and shelves available in this space can help it to feel more organised. You can keep your family's toys, toiletries, and towels in these storage solutions, which can also help to enhance the space.
Make use of both the horizontal and vertical space you have available in your bathroom, particularly if it is small. Also, consider storage solutions that have multiple functions such as mirrored cabinets. A mirrored cabinet can make your bathroom feel bigger, store your medication and be used when applying makeup or brushing your teeth.
Combine the shower and bath
It can be beneficial for young families to have the option of having a bath or shower each day. But having both a bath and a shower within your bathroom might not be possible due to a lack of space. So why not combine the two?
You could install a p or l shaped shower bath into your bathroom to get the best of both worlds. Whether you're bathing your kids or grabbing a quick shower before work, having both a shower and bath is extremely convenient.
If you have grown-up children, consider removing the bath altogether and install a shower in it's place. This can give you more space for your family to use or to improve the layout during a remodel.
Buy a heated towel rail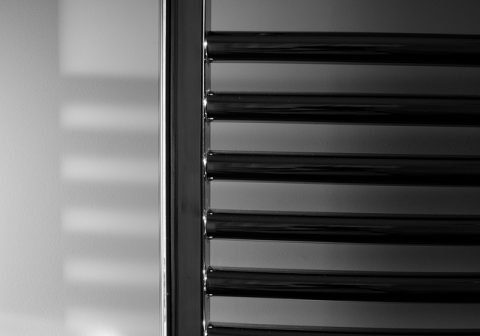 Image Source
Wet and damp towels are something that many families have to contend with on a daily basis. But how can you get them dry when you're in a rush to get to work? A heated towel rail could be the answer. You can install it onto the walls in your bathroom where it can be used to quickly dry your family's towels. Having warm towels available can also make your bathroom more comfortable to use.
Heated towel rails come in an array of designs to complement your decor and to add some additional style to the space. Their sizes also vary which enables them to fit into any sized family bathroom. Consider the style and size carefully to make sure you choose the most suitable rail possible.
While these tips may not be able to reduce your family arguments, they can help to boost the practicality of your family bathroom. So start using them today to see how functional your bathroom can become.