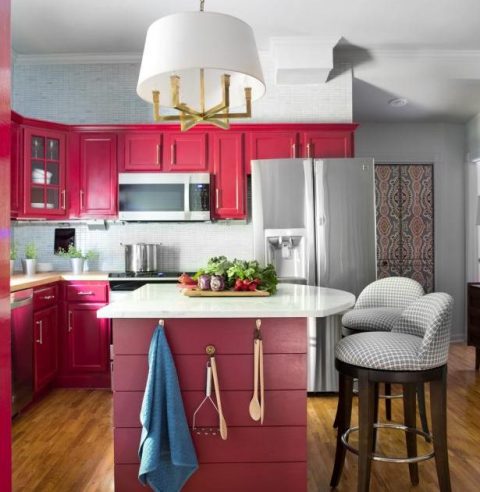 When you are in need of a kitchen facelift, but do not have the time or resources for a major renovation, there are many changes you can make to give it a modern look without undertaking a major project.
Here are some things you could consider:
New Hardware
This is a no brainer for a kitchen upgrade. Replacing the hardware, is relatively simple and there are a ton of great modern options out there.
Keep the design modern and fresh but also make sure you pick a timeless design that will not have to be replaced before your next renovation.
If you have a lot of cabinets and drawers, make sure you take a good look at the price per piece as the parts can add up quickly.
Hang a Mirror
This is such an easy fix to update any room, but especially a kitchen. It creates an instant visual effect of a larger space. In addition, if you have a window in the kitchen it is a wonderful way to reflect light.
Paint the floors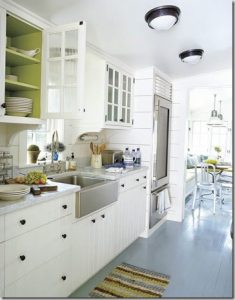 If your wood floors could use some work but you are not ready to refinish or change them, then consider painting them for a fresh look. While many people are tempted to paint the floor white, keep in mind it is your kitchen and white floors can show all the food that is dropped. For a modern look, consider a pale grey and blue, which will also keep it more practical for everyday living.
Image Source
Put Down a Rubber Floor
Another great option for flooring, would be to put in a rubber floor. Rubber flooring comes in various textures and colours that will give your kitchen a fun modern edge. It also is a functional non-slip surface that is easy to clean – making it much more practical than laminate or tiles.
Revamp the Fridge
If you are sick and tired of your old fridge but are not ready to upgrade, consider blackboard paint for a new modern look. Your kids will have a blast while you are preparing dinner or you can use it as a convenient way to keep a running grocery list.
Change the Backsplash
Updating your backsplash these days is no longer a major improvement project as there are a ton of peel and stick options out there. You can change the entire look and feel of the kitchen with a back splash and with the peel and stick options you can afford to update it as you please.
New Lighting

Image Source
Lighting is a great way to modernise your kitchen's look. There are numerous fixture options out there with sharp modern lines.  While you should call a professional to install your lighting, it is definitely an easy and affordable fix.
Paint the Cabinets and Walls
Dull cabinets can often give the kitchen the dated look that you are trying to avoid. A fresh coat of paint can work miracles in any room. You can also paint a wall with an eye catching colour to really stand out and add boldness.
Opt for an Open Shelf Look
If you are not up for painting cabinets, you might consider removing them and going for an open shelf look. Open shelves allow you to display your modern and colourful dish set, but if you do so, ensure you keep the contents tidy.
If you implement just a few of these suggestions, you will find yourself with a kitchen sporting a fresh modern look whilst also avoiding heavy costs and labour.
Main Image Source