With 2017 just around the corner, we've put together ten of the hottest interior design trends which are set to dominate the year ahead.
Read on to get up to date.
Marble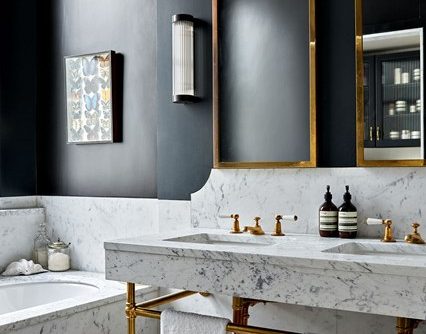 Image Source
Marble has long been considered opulent, and in 2017, the material is set to dominate design trends. Whether you opt for an entire marble floor or add a coaster to your coffee table, you'll add a sense of style and sophistication to your home.
Scandinavia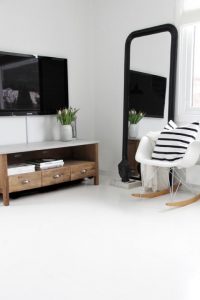 Nordic style furniture and fittings have been entering our design psyches over the last several years, but an explosion of new designers and trends will make Scandinavian furniture more accessible than ever. If you're looking for a contemporary approach to your home, opt for greys, pinks and whites.
Image Source
Terracotta
While not a material you'd think of when it comes to design trends, terracotta tiles will replace the popular white tones which have been making a splash in recent years. With a natural matte finish, terracotta tiles look great on bathroom walls and as fireplace cladding.
Cork
Another unconventional design trend entering the mainstream is cork. Although you may associate this material with your evening tipple, leading interior designers are now combining cork with glass, metal and ceramics to achieve a clean and sustainable design.
Jewel tones
Image Source
Although pastels are currently some of the most popular colour tones when it comes to home interior, jewel tones inspired by space, clouds and metals will take over and add visual interest.
Rattan
Rattan offers a soft and sophisticated take on the traditional home interior – pairing the style with some bold, textured materials is one of the best ways to maximise its appeal in your home.
Floral floors
Floral designs have been in the mainstream for many years, but leading interior design company Kia Designs is offering a modern twist on the pattern by incorporating it into floors and touch surfaces.
Vintage tiling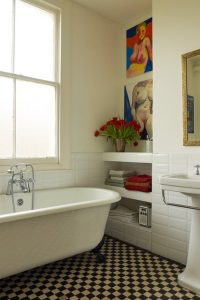 The rise in vintage tiling will continue in 2017 as more traditional and authentic styles enter the market. In older properties, it's possible to incorporate original tiling into a modern home to offer a unique finish, while design agencies are sourcing tiles from the 60s to use in new kitchen projects.
Image Source
Serenity
In the United Kingdom, 2016 has been the year of mindfulness, and this trend is beginning to seep its way into interior design. Calm and purity can be achieved with subtle wallpapers and warm hues.
Real flowers
Fake silk flowers and plants no longer cut it when it comes to designing a new look for your home. Today's home needs fresh flowers and shrubbery to maximise its appeal, so invest in some quality plants and flowers – and opt for cacti if you don't have time to water your plants every day.
By taking time out to analyse your home interior and making improvements based on the design trends of 2017, you'll be able to get ahead of the game and create a home that is trend-setting.
Main Image Source