The global pandemic has prompted numerous businesses to implement remote working policies. But just because staff can work from home, it does not mean the office is dead.
On the contrary, reports reveal that 40% of millennials are "struggling to work from home" and would prefer to work in the office – even in the aftermath of coronavirus.
Amongst the complaints are a loss of community rapport, feelings of being isolated and disconnected, and an absence of critical tools or resources to perform their job successfully or productively.

Moreover, face-to-face interaction is a key factor for innovation, collaboration and team bonding. The priority for companies is to make sure your workplace is Covid-Secure when your employees do return to the office.

Better Air Quality
The global pandemic has accelerated several pre-existing trends. CEO's and commercial property owners can no longer ignore health and wellbeing, sustainability, smart buildings and upgrades to the digital workplace.

A YouGov survey found that 70% of office workers complain about poor air quality in their office. Moreover, it is thought that around 40% of workplace illness can be attributed to unclean air in the office.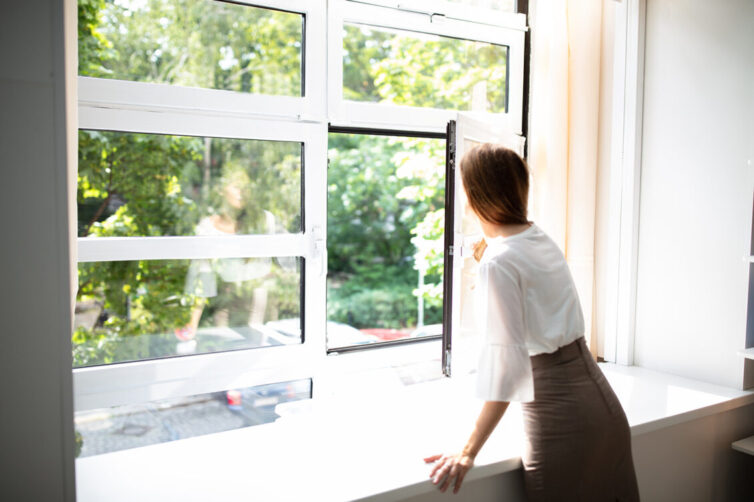 The latest air-conditioning units absorb stale air and circulate clean air. This will help to cut down the number of absentees but also reduce the risk of Covid-19 spreading throughout the office.
Installing foot-operated hand sanitisers, motions sensors on doors and taps will also enable employees to avoid touching potentially contaminated surfaces.
Social Distancing Desks
The novel coronavirus hasdisrupted the workplace in ways that nobody could have predicted. As a result, interior office consultants have to rethink trending strategies.
It's fair to say the concept of the agile work environment has been stunted. Social distancing and personal sanitation have scuppered the idea of an autonomous, collaborative workspace. However, the majority of businesses are choosing to refurbish their office rather than relocate to other premises.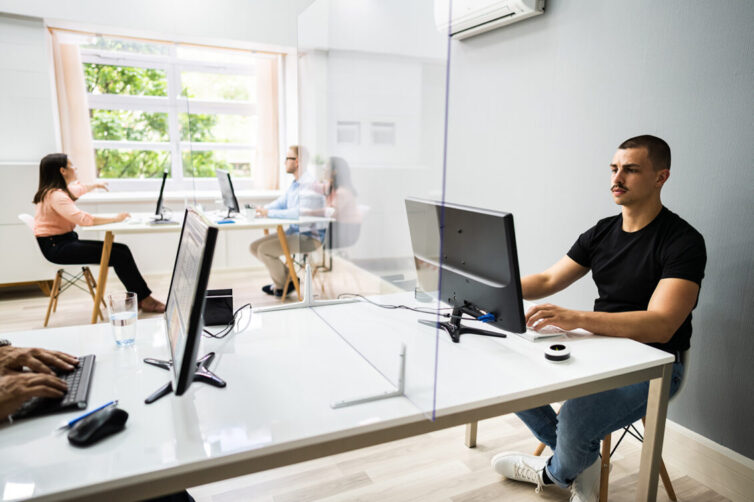 Covid-Secure environments do not have to ditch agile working concepts altogether. With a significant percentage of the workforce working from home, there will be more space available to install digital workspaces and maintain a safe distance between desks.

Partitions can also be installed to segregate areas and encourage a one-way system to navigate the office. Three-way desk screens with see-through visors also contain potential contaminants but allow natural light to enter the desk space.

Staggered Seating
Offices that do not have a sufficient space separate desks 6-metres apart, could stagger the seating plan to stretch the gap between team members to a safe distance.

A zig-zag pattern provides a logical solution for meeting social distancing protocols without having to erect partitions. In a small space, partition walls would feel claustrophobic and hark back to the dreaded cubicle office design of the 1990s.
Although cubicles proved to be an unpopular choice with office workers, the open plan arrangement is not fairing any better. Social distancing comes as a blessing in disguise because staggered seating is less intrusive. Noise pollution will also be lower.
Soundproof pods will also resolve a problem for employees that are constantly interrupted by noise. Private pods and telephone booths enable people to focus on thought-heavy work or call a client without disrupting their colleagues.