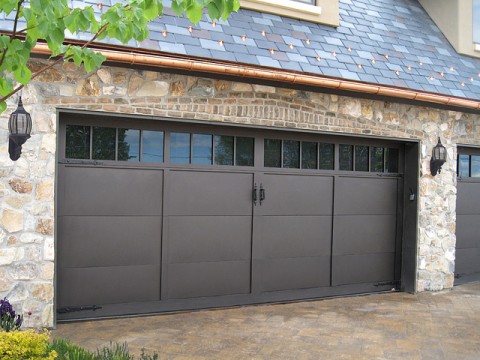 Many of the things we do in life have consequences on our homes as our living space has to adapt to meet our demands.
Take up a musical instrument? You'll be needing somewhere to practice. Working from home? It's time to clear space for an 'office'. Getting a pet? They'll need space for their bed…and 'obstacles' moving from harm's way.
When you're learning to drive, you'll either be thinking about buying your own car or sharing the family or your partner's car.
Either way, you'll need a tidy, organised and uncluttered space to park, if you don't want to park on the street and incur greater insurance costs.
Garages don't have to be gloomy, cobwebbed corners of the house, and with a lick of paint can be brightened up relatively fuss-free.
If you're looking to redesign your garage ahead of passing your test – or you're doing it for your child as they take to the road for the first time, here are five tips to help you do so.
Refresh your house with a new garage door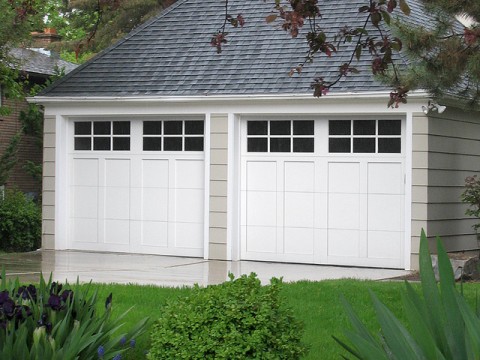 Though we should know by now that we're never to judge a book by it's cover, estate agents often say that when people are looking to buy a house they decide whether they want to buy it as soon as they see it, before they've even set foot inside.
Why not give your house a facelift with a new garage door, which is one of the first things passers-by will notice about your property?
With stronger and safer doors being built recently, there are plenty of options to choose from that are not only aesthetically pleasing, but also successfully protect the cars inside from the elements.
Lay some funky new flooring
Flexible interlocking tiles are slip-resistant, come in a variety of designs and colours and are easy to fit, just by cutting to shape, sliding into place and securing with the tap of a mallet.
They are more comfortable underfoot than plastic snap-together tiles and are more resistant to any leaks, so make the perfect flooring for your garage.
Other options available are rollout flooring mats or paints/stains that you apply directly to the concrete floor.
Clear the clutter with clever storage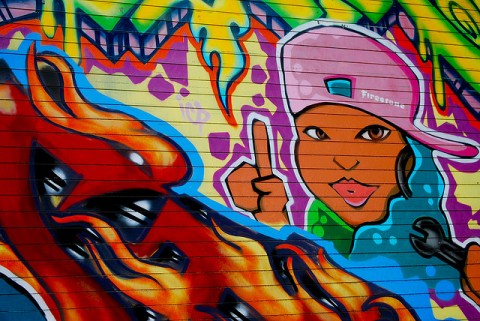 Utilise all of the space in your garage by using all of the walls in the room. You can add in a work bench with a pin board to hang any tools and accessories, or set a large storage system in place that will hide away any unsightly clutter.
This is an opportunity to let loose on the wall art too, especially if you've ever wanted to try something a little different from the interior of your house.
Arvid Linde, a motoring journalist and blogger, in conversation with Eurofit Direct says: "There are two quick wins for an outstanding garage: shelving and wall art. The shelves are an easy DIY job and they make your workspace organised and pleasant. As far as the wall art is concerned, have you ever wanted to try graffiti without getting an ASBO? Well, this is your perfect opportunity."
Light up the room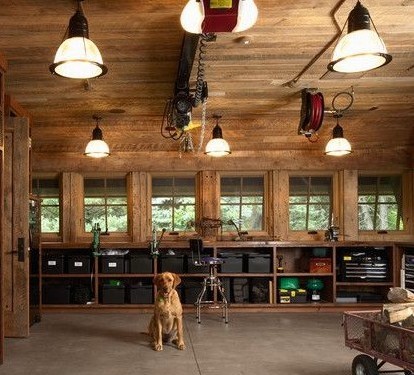 To avoid the gloom, install some new lighting that will flatter your fresh new surroundings. If you'll also be using your garage for DIY jobs too, install long strips of fluorescent lighting, rather than the bare bulb lighting, to ensure that the whole room is well lit.
If you'll just be using the garage to store your transportation, and are looking for something a little less harsh on the eye, look into installing spotlights in the ceiling.
Have some fun
Your garage is an extension of your house, so feel free to inject some personality! Add in a dart board or a sound system if you've got enough space, or a fridge for extra food and drink storage over the holidays.
Make the most of this space and it could be extremely useful – and the key to clearing clutter from your home as well as cutting down on insurance bills.