Does your bathroom need a makeover? Are you gaga for gadgets? If so, you're going to LOVE today's post.
It includes SO many wonderful ideas for turning your bathroom into a total tech paradise!  Without further ado, here are our top must-haves:
Shower speakers:

Who doesn't love a good old sing song in the shower?  Bluetooth connectivity lets us hook up laptops, phones and tablets to bathroom speakers, safe in the knowledge that our tech is safe and dry in the room next door.
Many different solutions exist, which means there's something to suit all budgets. Opt for a cheap water resistant speaker if you don't want to spend a lot of cash (for example, Bush Splashproof speaker from Argos on the right).
Have money to invest?  Choose a Bluetooth-enabled shaver mirror with lighting and speakers built in!
Aromatherapy diffusers:
Turn your bathroom into a spa and indulge in a little "me-time" by installing an aromatherapy shower diffuser. Companies like Essio sell shower "pods" that attach to your shower head and release rejuvenating essential oils to enhance your experience. Relax and revitalise your mind and body as you bathe.  Bliss!
Creative lighting:
There's so much choice when it comes to bathroom lighting!  We're guessing tech lovers will want to install something creative and colourful.  Again, you'll find a number of options to suit all budgets.
You could invest in a bespoke LED lighting system with different coloured bulbs, controlled by smart technology. Such innovative systems are expensive to install and often require help from a professional.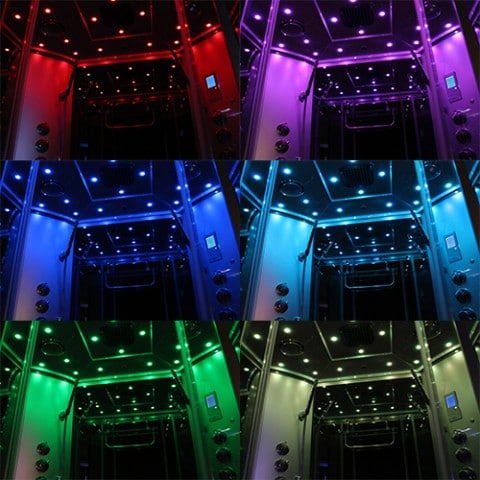 One simple method for injecting a bit of colour into your bathroom is by connecting an LED colour changing head to your shower!  These start at about £10 and can be purchased online (simply Google for a range of choices).  When the water flows, shower head automatically cycles through a rainbow of bright colours. How fun?
Pictured above:  The chromotherapy lighting choices in an Insignia steam shower cubicle.
Self demisting mirrors:
How many times have you stepped out of the shower to brush your teeth, or pluck your eyebrows and the mirror has steamed up? Avoid that problem by investing in a clever, self demisting mirror during your bathroom refurb.  Get one and you'll wonder how you ever managed before!
Interactive shower timers:

Do your bit for the planet AND avoid being late for work by investing in a shower timer!  We think the "Waterpebble" is an innovative product (see right). It senses the water flowing around it, which means there's no need to switch it on or off. It goes through a "traffic light" warning system, designed to tell the person in the shower how much time they have left. The timer starts off green, then turns yellow half way through. After four minutes, the timer turns red signalling it's time to get out.
The timer simply flashes its lights, helping you benchmark how long you spend showering. Save time, energy, water AND money using this clever gadget.
Steam shower cabins:
The ULTIMATE in bathroom tech! You don't have to love gadgets and gizmos to want NEED a steam shower cabin.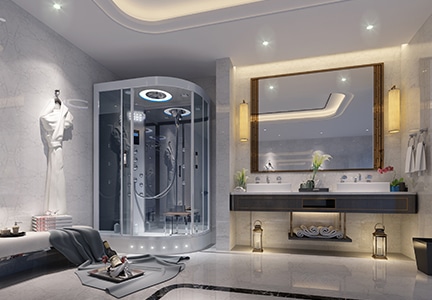 OK, so they're not cheap. Insignia (the leading brand) start selling theirs at around £600-700. So, it might be a hard-sell if your other half just wants to buy a traditional shower unit.  But trust us, you'll soon be able to talk them round!  That's because these luxury shower cabins are jam packed full of features (including many of those listed throughout this article). For example, whirlpool bath settings, massage settings, jets, colour changing lights, aromatherapy add-ons, hydro-massage settings and more. Who could say no to all that?