Taking the work group out for a day or evening of team building and a social, does not just have to mean a pub quiz or a few pints in a loud pub on the Friday night.
The city has a wealth of opportunities for any social and ones which will suit any group of workmates.
Urban Golf
Imagine taking the long walks out of golf and replacing them with a glass of wine and a pint of beer.
Urban golf is a simulated round of golf where you swing real clubs, hit real balls, but then instead of walking after your ball, you simply turn around and pick up your drink.
The game is set up to be appropriate for players of all abilities and enthusiasm.
The playing booths have comfortable seating and table waiter service.
Comedy Evening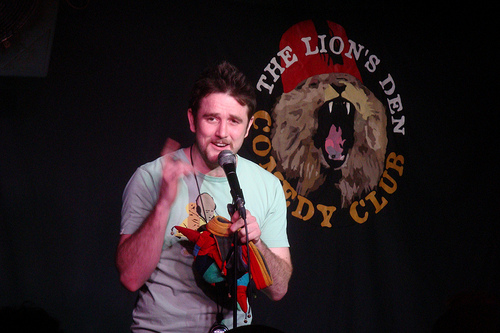 Unless you are sat at the front, a night at a comedy club is a great way to laugh off the worries of work and to share a sociable time with your co-workers.
There are a whole host of comedy clubs in London and their success always relies on the calibre of comedians they have performing.
Booking a high profile venue will almost ensure that you are watching a great act.
The London Comedy Lunch will provide you with a well-known act whilst enjoying a meal in a world class venue.
The event is housed in the Artillery Gardens at The HAC in the City.
Not only will you be provided with a great meal in a stunning location and be entertained by some very funny comedians, but the whole event is run in aid of charity so you would be supporting good causes at the same time.
The London Underground Treasure Hunt
The only props you will need for this day out are a keen eye for detail, a team name and an Oyster card.
Teams start at one station close to the office to make it easy for everyone to get to.
Then every team is given a clue and use the Underground to travel around the city solving clue after clue. A final destination will allow for all the groups to report back in and present their findings from their journeys.
Ice skating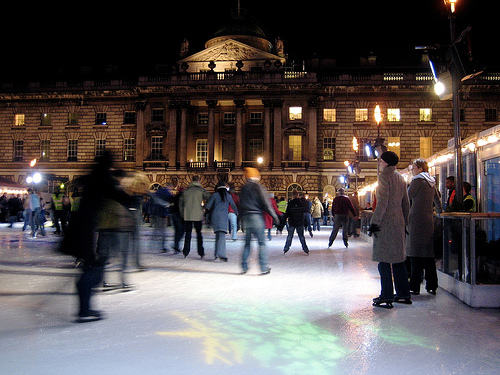 Around Christmas time, the city of London becomes awash with pop-up ice skating rinks.
The Tower of London, Somerset House, The Natural History Museum, Hampton Court and the London Eye all set-up an ice rink over the Christmas period and it couldn't be easier to take a team from work out.
There can be no bigger team building exercise than having to physically hold up one of your colleagues to stop them from spending the entire evening flat on the ice.
Social barriers will be broken down and new formed relationships will flourish.
Bespoke corporate hospitality events
If an off the shelf option does not seem to meet all your needs then using a corporate sports hospitality provider may be a better option.
If you want a Michelin star meal served up at Wimbledon, a rock concert just for your business or even an inspirational speaker to come into your staff meeting.
You may also want to support various charities to ensure that not only do you get a world-class event, but that there is a social benefit to the event.
Hospitality providers can make your wishes come true and your work social an event to remember forever.
Talia is a PR for a London events company. She runs a PR insider blog about events and fun things to do in London.