Furnishings made from natural plant fibres have soared in popularity over the last few years.
This is due to a number of reasons:
Firstly people are looking for ways to reduce man-made fibres within their homes as they are preferring more natural fibres that contain fewer synthetic chemicals, especial as so many more people are suffering from house hold allergies nowadays.
We as a nation are also leaning towards more environmentally friendly practices, not only with our transport and energy suppliers, but also our shopping choices.
Jute is a lot more environmentally friendly to grow and make products with, therefore greatly reducing your carbon foot print – natural plant fibres are definitely the way forward.
Why we love Jute:
Jute is one of the most popular natural fibres thanks to its numerous environmental advantages, namely, its sustainability (jute is an annually renewable resource.  The plants take just 4-5 months to mature.)
In addition, Jute plants work as air purifiers!  They absorb carbon dioxide and emit oxygen.  Plus, when Jute roots and leaves rot, they improve the fertility of the land.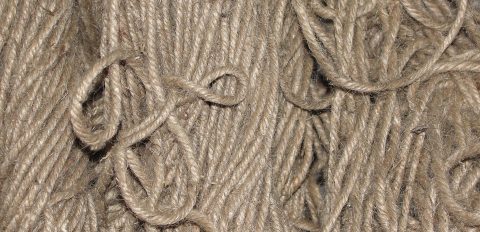 If you'd like to decorate your home with environmentally conscious, cruelty-free items, jute is clearly the leading choice.
Here are some of our favourite Jute accessories for the home:
Jute Herringbone Rug in Natural/Neutral
Looking for a new rug?  This lovely piece from modern-rugs.co.uk is perfect. It features a flat woven herringbone pattern, constructed from natural jute fibres.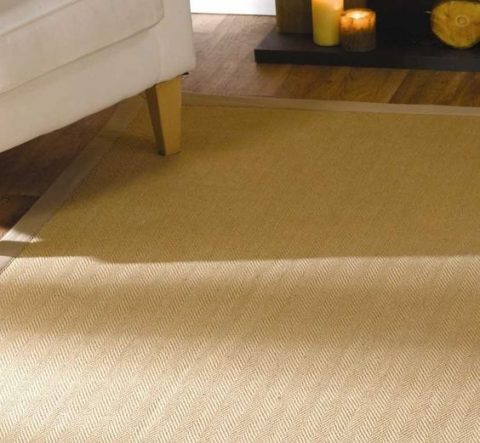 Style tip: Did you know layering small coloured rugs on top of large jute rugs is currently on-trend?  Look at this article by Apartment Therapy for tips and photographs.
Jute Woven Baskets in Indigo
Store odds and ends, like loose change, knick knacks and jewellery, in these lovely Jute baskets from montysvintageshop.co.uk.  They come as a nest of three.  The weaved baskets have been dyed in a lovely deep indigo blue colour.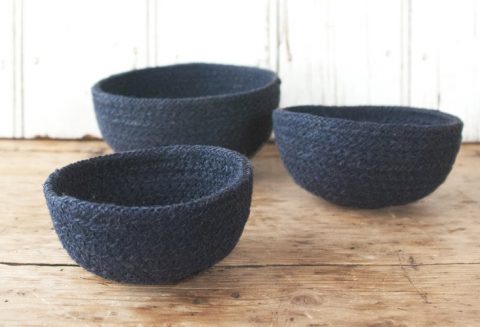 Wrap Chair in Wood and Jute
Handcrafted by artisans from wood and jute, this chair from Out There Interiors ticks all of our boxes.  It'd make a bold and stylish statement in any room.   Trying to achieve the popular scandi/nordic style in your home?  This chair is ideal, thanks to the designer's use of natural materials and simple lines.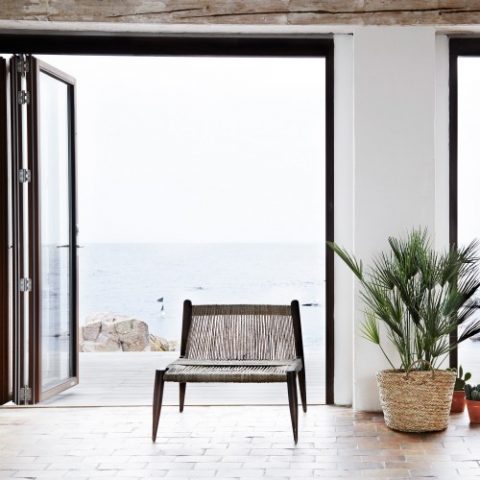 Jute pouffe in Natural and Grey
Put your feet up and relax on a stylish pouffe!  This one from Danish brand Bloomingville (sold at Barnaby and Co., pictured bottom left) is made from corded and dyed jute.
Grey not your colour?  Try this all-natural pouffe from Dash and Albert (below, right) instead.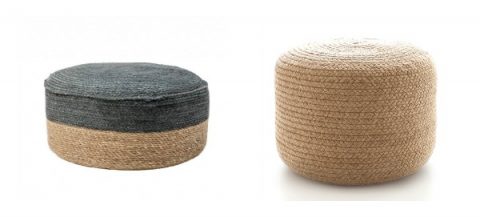 Jute Ikat-pattern Armchair in Navy
Nkuku's Beso chair is covered with fabric made from jute fibres.  Skilled craftspeople wove the fabric using traditional handlooms.  The faded blue colour adds to its charm.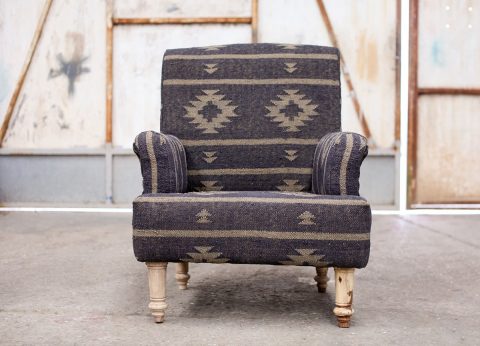 Jute Swing Chair in Off White
Have an empty corner to fill in your conservatory? This beautifully handmade jute swing chair from Out There Interiors is the perfect accessory.  It can be used outdoors too.