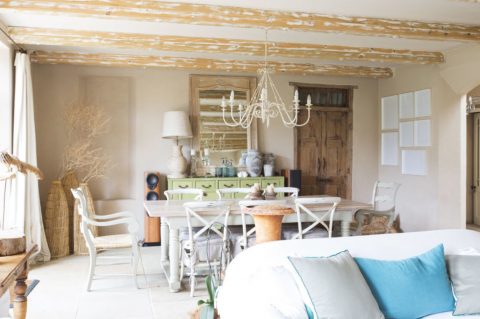 If your home looks as though it hasn't been redecorated in the last few decades, it's probably time to give it a re-vitalising makeover.
Recent trends in rustic home décor have sprouted in homes up and down the country. People are turning away from the "modern-era" look, in favour of authentic wooden floors, stone fireplaces, quilted blankets and romantic lighting that is bursting with charm and elegance.
Old-style country houses and cabin inspired rooms are incredibly easy to mimic. Just remember that the main aim of a rustic inspired home is to emphasise romance, charm and complete authenticity.
Here are a few of the best suggestions to help you nail this charming style:
Colour Schemes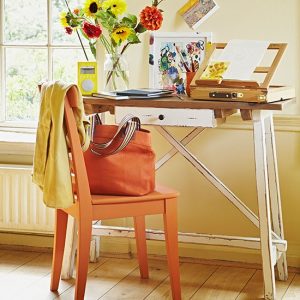 Before you hit the store with your credit card in hand, you have to start thinking about your colour schemes. Warmer shades of red, brown, gold, yellow and orange take the lead as the most used hues for this rural enthused trend.
Re-vamp old furniture with paint to give it an immediate boost. Duck egg blue is one of the cooler shades that is often used to help capture the rustic vibe.
Consider mixing it up by painting only a section of the furniture and leaving the rest of the wood untouched. This will help to bring your furniture to life, whilst keeping the wooden effect firmly intact.
Image Source
Wooden Floors
You will never be able to give your home a rustic appearance without wooden floors. They are the epitome of country-style houses and will immediately make your home look and feel more rustic and authentic.
Wood flooring products come in a range of styles and materials including oak and engineered walnut. Wooden floors are in keeping with the rustic look and are incredibly easy to maintain and clean.
Bedroom Quarters
Decorating the bedroom with this theme allows you to get creative. Consider adding a rustic wooden headboard, perhaps with some decorative carvings and details to emphasise the look.
Quilted blankets are continuously found in countryside homes and are ideal for mimicking the essence of rural living. Country Living advises that homeowners add mismatched quilts and layered rag rugs to their bedroom décor to really master the style.
Image Source
Thematic Décor
When it comes to decorating a rustic home, you have a whole range of ideas and possibilities open to you. Romantic lighting is one of the major aspects of this theme. Hanging lanterns, colourful lampshades and candlelit dinners are perfect to replicate a more romantic ambience with lighting techniques.
In terms of home décor, consider adding wooden frames to your precious photographs. This will help to emphasise that country style feeling. Another great idea is to take some large logs into your home and use them as decorative tree trunks. You could even place one close to the front door and use it for practical purposes, such as holding the mail!
Once your rustic home makeover is complete, you can sit back with your feet by the fire and enjoy a nice hot chocolate in your new cosy home!
Main Image Source