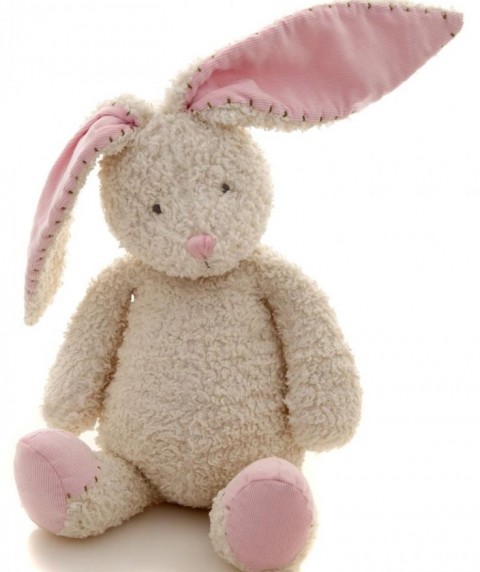 This article aims to show how easy and how many different types of children's toys you can now buy that are not only less toxic for our children, but also environmentally friendly.
With more and more parents becoming environmentally aware and worried about what chemicals their children are exposed to, it's no wonder there has been a huge increase in the number of toys sold that are not only avoiding chemicals, but are also environmentally friendly.
Children grow out of toys very quickly and unfortunately many end up in local landfills. With landfill sites rapidly filling up and residents understandably not wanting new landfill sites near there homes, companies and parents are starting to look at alternatives.
Here in the UK there is already a big drive to pass on toys to other less fortunate children, to give to charity shops to resell, and to offer on sites like freecycle, which are all brilliant ideas, but I feel these following toys help the situation that one step further.
Mobile Home Cardboard Dolls House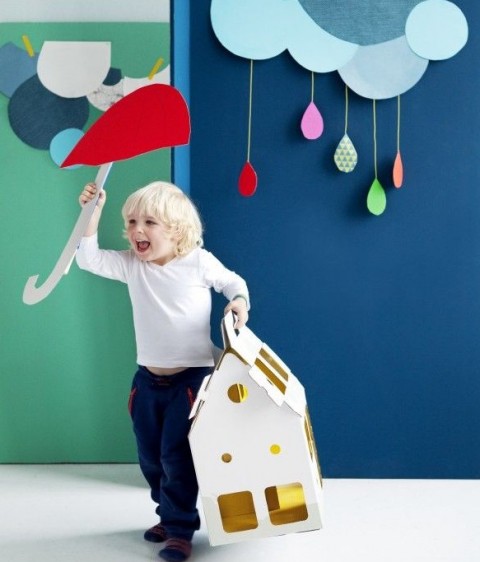 Image Source
Children love playing as adults, filling the dolls house with furniture and having their toys' friends round for tea. Imaginary play is also very beneficial to child development.
The dolls house that I found on the LoveTheSign website is made of recycled cardboard, so it's also biodegradable or can easily be recycled again.
---
Recycled Tea Set

Image Source
The next teddy bears picnic will not only look great, but will be fully functional, as you won't need to worry about your children actually drinking from the cups, as not only are they made from recycled milk bottles, but they are also Phthalte and BPA free, and meets the FDA specifications for food contact.
Green Toys are an American company, but there are many companies for example Ethical Superstore that sell them here in the UK.
---
Wooden Rocking Horse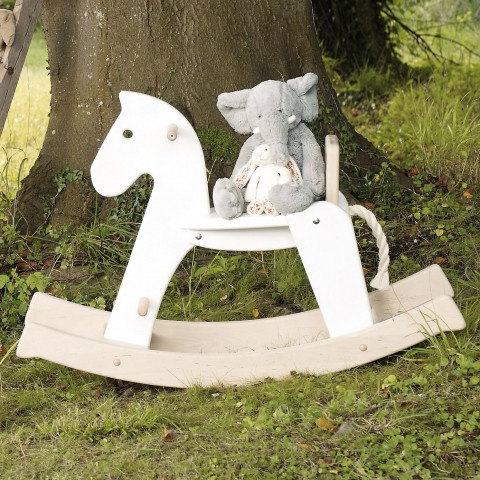 Image Source
This white wooden rocking horse is of a minimalist design, but that adds to the beauty rather than taking it away.
Bajo the makers of the rocking horse use only sustainable products and non-toxic lacquers, making the rocking horse environmentally friendly as well as safe for children.
We use only the safest certified non-toxic paints based on natural components, which fulfill EU safety standard (EN71) and US norms.

We support our community by using only carefully selected high-quality materials from certified local suppliers, who respect European eco-standards of the wood production.
---
Charlie Bears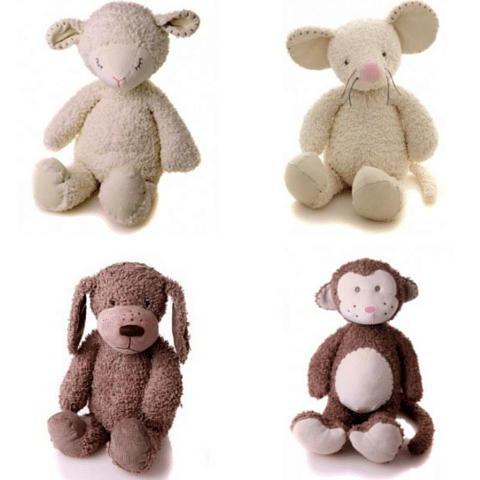 The Charlie Bears organic soft toy collection consists of a number of characters. From the picture above we can see the Charlie Bears – Lamb, Mouse, Dog and Monkey, and on the main picture we can see the Charlie Bears – Rabbit.
These snugly soft toys are handmade entirely from organic cotton, dyed with non-toxic paints, filled with 100% recycled fibre and all the Charlie Bears are 100% non-allergenic.
Especially when children are at such a young age, being able to find soft toys that are safe in so many ways, would definitely gives me peace of mind.
---
Recycled Pink Tool Set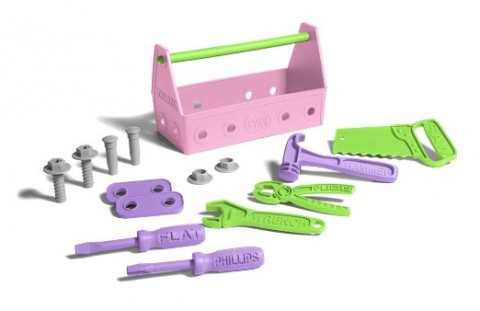 Image Source
The plastic of the Green Toys pink tool set is made from 100% recycled plastic, and is also packaged with recyclable and recycled materials, and printed with soy inks.
---
Wishbone Bike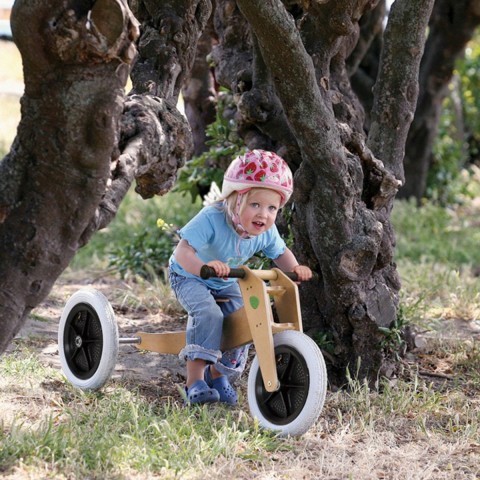 Image Source
The Wishbone bike by Wishbone Design Studio is an amazing invention. The wheels are made of recycled plastic, and the body of the bike is made from sustainably-harvested birch and eucalyptus wood, non-toxic glues and finishes.
The bike will grow with your child, from a baby walker and push tricycle, to a small through to a large balance bike.
This is due to the bike being designed in such a way, that the bike can be alterted to fit a child ranging from the age of one up until the child is approximately five years old
Like many of the other environmentally conscious companies Wishbone Design Studio also uses recycled paper and non-toxic inks for their packaging and printed materials.
---
Wooden Eco Home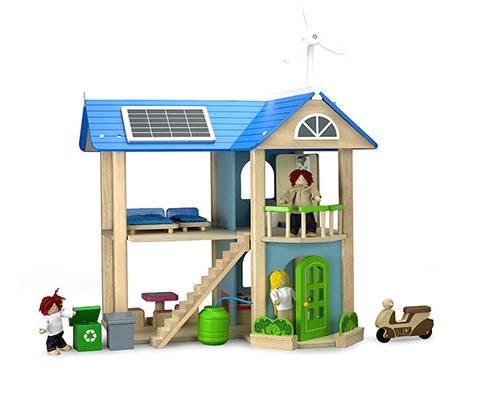 Image Source
This is a brilliant way of ensuring that children see environmentally friendly energy and homes as the norm.
The toy itself has also been made with environmentally friendly rubber – wood, that has been left after the culling of the old used rubber trees.
Wonderworld has also won a number of awards including: Parents Magazine and Creative Child, amongst many others.
---
Totem City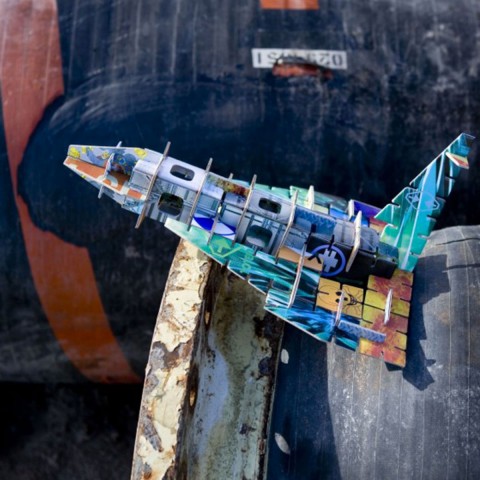 Image Source
Totem City by Studio Roof is a toy designed for children seven plus. They can either use their imagination or follow the instructions and build four styles including a 3D building, or a 3D spaceship.
The Totem City is made from recycled and biodegradable cardboard which has been made in a way that keeps each piece super sturdy, and can be incorporated into other Totems.
It's great to see many of the environmentally friendly toys and companies win awards over the years, as it show people are loving the products and that times are changing.
Totem themselves have been awarded Best New Products award at the Top Drawer Spring London 2008, plus they were also nominated for the TOTY awards by TIA USA (Toy Industry Association).
---
Fairy Tale Wooden Dolls House

Not only is this adorable wooden dolls house made of sustainable material, but according to Ethical Supermarket "EverEarth is the only toy manufacturer who owns an FSC Certified forest".
---
Main Image Source
---