No matter how much storage you have, you always need more. Effective storage solutions are worth their weight in gold, especially if you are working with a small space.
Bedrooms can be particularly tricky because they should be a hub of relaxation, yet we rely on them to store many of our personal belongings. Shoes, clothes, memorabilia, make-up, hair products, books, linens, and accessories are just a few of the items you need to find a home for in your bedroom.
Finding the storage solutions you need without having to sacrifice any of your prized belongings seems like a daunting task. The good news is that with a bit of creativity, you can easily meet your storage needs without cluttering your bedroom. Make the most of your bedroom space with these top storage solutions.
Perfect Opportunity for a Little Spring Cleaning!
If it's been a while since you've done a purge on your belongings, now is the time! One way to reduce clutter is to get rid of the things you no longer need or want. Not to mention, there is no point in wasting time or money on storage options for items that you do not plan on keeping anyway.
Before you begin installing the perfect storage solutions, do a bit of spring cleaning in your bedroom. As you go, make notes on which items you need storage for. This will help you make the best use of your space.
Make Your Bed More Than a Place to Sleep
There is no question that the bed is the focal point of any bedroom. However, it can also serve as functional storage space in two different ways: under the bed and headboard storage.
Under the Bed Storage Solution
There is a lot of wasted space underneath the bed. Understandably, you do not want to start shoving items under there. It will quickly become a disorganised mess, and you will never be able to find what you are looking for.
If it's time to replace your bed, you can opt to purchase a storage bed with drawers underneath where you can neatly organise your belongings. If you do not want to buy new furniture at this time, you can always purchase drawers that are specially designed to roll neatly underneath beds. Beds sit at different heights, so be sure to measure the bed's height before ordering to ensure they will easily fit underneath.
Headboard Storage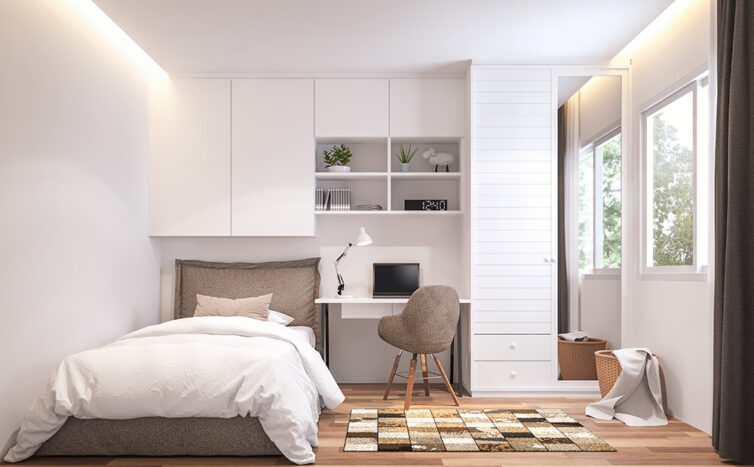 Your headboard can double as a storage solution. Open shelving or cubbyholes work great for décor or storing items such as jewellery in baskets. Suppose you're going for a sleek look and do not want your belongings on display for everyone to see. In that case, you can opt for doors that are not only visually appealing but offer ultimate privacy by concealing the contents within.
Bonus tip: If you enjoy using your headboard to read in bed, work, or enjoy a morning cup of coffee, just make sure storage is placed high enough to clear your head when sitting in bed.
Reading Nook and Storage All-In-One
Window seats are excellent for so many different reasons. They make a room look and feel incredibly cosy by adding a decorative flair. You now have a designated place to curl up with a good book or magazine. But, best of all, underneath the seats is copious amounts of storage space! You can store out-of-season clothes, blankets, linens, and so much more! Window seats come in a variety of shapes and styles. When choosing yours, be sure to measure the available space carefully for a perfect fit.
A gorgeous window seat is a great way to use otherwise wasted space without blocking the window.
Place a Storage Ottoman at the End of Your Bed
The perfect ottoman or bench at the end of your bed seems to become one with the bed. The seat of storage ottomans lifts to reveal trunk-style storage underneath. Enjoy having a convenient place to put on your shoes and socks that doubles as storage. Extra blankets, clothing, books, or even memorabilia are excellent options to store in ottomans.
Make the Most of Eaves
Loft conversions tend to make the most unique bedrooms. However, utilising every inch of space can be challenging. It is near impossible to place traditional furniture under eaves, meaning the area is usually wasted. This presents a great opportunity for storage. Investing in custom furniture such as shelves or cupboards is a great way to add a significant amount of storage space and make the most of your bedroom's layout.
Invest in a Standalone Wardrobe
One of the quickest ways to add more storage to your bedroom is a standalone wardrobe. The really neat thing about this type of furniture is that you get various storage options in one solution. Wardrobes come in different designs. For example, if you need more hanging space, choose a wardrobe style that primarily offers hangers. Or if it's shelving you lack, choose a design heavy on shelving. The possibilities are endless.
Depending on the free space in your room, you can do one of two things. First, you can go the traditional route and install a wardrobe as you would any other bedroom furniture piece. Secondly, you can choose an alternative direction and make a fitted wardrobe wall. If you have a free wall and enough space, purchase multiple wardrobes that total the wall's length and make a fitted wardrobe wall. Not only will this provide plenty of storage, but it gives your room a unique look.
In fact, ensure your wardrobe matches the rest of your furniture perfectly by purchasing entire bedroom sets. Browse Instrument's complete line of bedroom sets, including wardrobes that feature lighting, mirrors, and much more.
Ensure Each Piece of Furniture Offers Maximum Storage
Deliberately choose each piece of furniture in your bedroom with storage in mind. We've already discussed the bed, but let's talk about other traditional pieces of furniture in your room. The night stand, for instance, or bedside table is often overlooked as a storage option. It's relatively easy to find bedside tables with multiple drawers extending to the bottom of the piece of furniture. It's a great place to store eyeglasses, rings, knick-knacks, or even clothing such as delicates or socks.
When selecting a chest of drawers and dressers, have the same thing in mind. Make sure they offer as much storage as possible. When it comes to a chest of drawers, consider tallboys. Tallboys are chests of drawers that are taller than traditional pieces of furniture, making use of vertical space. It is also advisable to use drawer organisers to make the most of drawer space and prevent unsightly clutter.
Bonus tip: For storing out-of-season clothes, consider vacuum sealing them to cut down on the amount of space needed for storage.
Bookshelves Are Not Just for Books
Despite their name, bookshelves are for more than just reading material. They can give your bedroom a very sophisticated look while offering storage space for miscellaneous items that do not have another home. You can insert baskets on the shelves to better organise small, loose items.
Bookshelves can either be open-faced or having sliding doors that keep the contents out of sight. Which design you choose is based on personal preference and what kind of items you want to store. For a book enthusiast, removing the covers off of hardbacks and keeping them with the spine facing outward provides an elegant touch. On the other hand, if you design a minimalist bedroom, a bookshelf with doors is the way to go.
Take Advantage of Wall Space
You will not want furniture taking up every bit of wall space. However, there are other unique ways to use wall space that will function as storage and décor.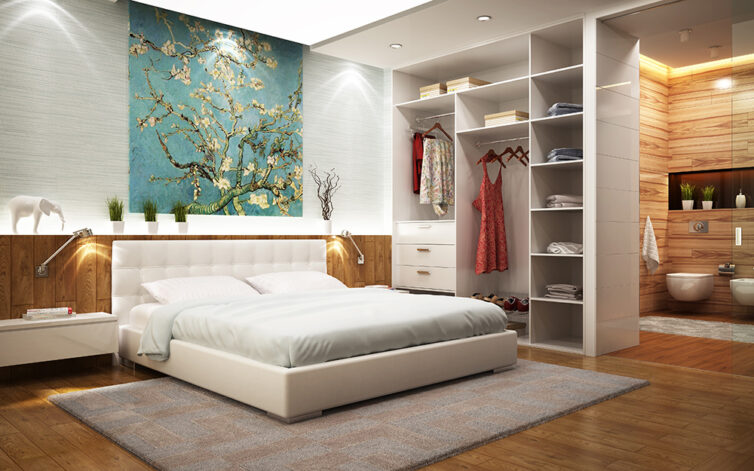 A floating shelf with drawers provides a unique touch while offering a little extra room to put things.
Wall hangers and pegboards are a great way to display your collection of hats or necklaces.
Incorporating recessed shelving (if you plan on or want to make structural changes to your bedroom) is a great way to add an architectural design element while providing built-in storage. You can even take it one step further and install built-in furniture with both shelving and drawers.
Do not forget about wall space near the ceiling. Installing shelving or even cabinetry near the top of the room can offer a substantial amount of additional storage without making your bedroom feel cluttered. This is especially advantageous if you are working with a small space.
Add a Unique Touch with a Ladder Shelf
When used correctly, a ladder shelf is a really neat feature in any room. You can use it to store jewellery, books, your favourite magazines, etc. The best part is that ladder shelves come in different sizes. If you have minimal space to work with, purchase a smaller size and place it behind a bedside table for a little extra flair.
Get the Storage You Need
No matter how small your bedroom may be, you can get the storage you need with a bit of planning. Choosing fully functional furniture, taking advantage of under-the-bed space, and strategically using wall space will ensure you have a clutter-free bedroom that you will enjoy for many years to come!